KitchenAid 13-Cup Food Processor w/ Dicing Kit & Exact Slice
Recommendation Test Anchor, don't delete
Recommendation Test Anchor, don't delete
In Stock
Sold Out
We're sorry.This item is not available at this time.
Pre Order Possible.
Low Stock
Recommendation Test Anchor, don't delete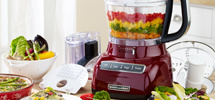 Great Meals, Any Way You Slice It!
Reviews & Community QA
KitchenAid 13-Cup Food Processor w/ Dicing Kit & Exact Slice
174
174
Broken, but Replaced
After four months of light use, our food processor suddenly stopped working. My husband called KitchenAid today and was treated very kindly. The company is sending us a new food processor - we only have to package up the defective one and return it free of charge. I'm hoping for better results with the new one being sent to us. It really does dice vegetables well. I'm disappointed;, however, that I can't get the glossy cinnamon color anymore. Nothing's perfect, and it worked well for a few months, so I gave it three stars.
05-11-15
Absolutely Wonderful
This is a must-have appliance if you do any kind of cooking! I replaced my 9-cup KitchenAid Food Processor with this one because of the dicer attachment. I make a lot of soups and the dicer attachment works beautifully - it has saved me countless hours of chopping vegetables - it's wonderful! I wish QVC would get this back in stock because everyone that sees mine wants one too. I find it really easy to use - yes, I had to read the directions to learn where the attachment needs to line up, but after that first time - it's a breeze. This has been the best purchase from QVC I've ever made.
05-08-15
Love all the extras!
Bought this same one last year as TSV but it was smaller & didn't have all these new extras! Slicer, dicer...it all works exactly as promised!
05-04-15
Wonderful
I'm disabled & can run this with ease! Best price I've seen any place!
04-24-15
KitchenAid 13 cup food Processor
I received item and about two weeks later tried to use it. It would not work I read instructions and followed so many times and still it would not work. Not only did it not work it made not sound what-so-ever. After two and a half hours messing with it I finally gave up and sent it back. It was really disappointing since the brand is supposed to be so good. I will most likely never try another one. I later went on-line and read the reviews and found that it seemed to be a common theme with the complaints most reviewers had.
04-21-15
Food Processor
One of the best purchases I have made. Didn't keep it long when my daughter seen me use it. Very neat little kitchen gadget you must be aware of the blades, they are very sharp.
04-16-15
Love It!!!!
I bought this product and was very impressed not only with what it can do but how easy it is to use. I find myself looking for recipes just so I can use it more. Great find and great buy. I would recommend anyone that may be on the fence about getting it to go ahead and get it, it's sooooo worth it.
04-13-15
Not for me
While you can't argue with the quality and performance of a Kitchenaid product, I found this to be cumbersome with too many pieces. This would probably be best for someone who does a lot of cooking...or even a chef in a restaurant.
04-10-15
KitchenAid 13-Cup
I previously had a kitchenaid, I loved it. Bought this one for the dicer. I still love it
04-06-15
Love this
You may have some trouble opening it, at first. BUT keep at it. Once you figure out how it works, it's so easy.And really isn't difficult. I'm so glad I got this.
04-03-15
Best Purchase Ever
I love this food processor. I have used it several times since ordering, it is very easy to use and quick.
03-31-15
Not What I'd Hoped it Would Be
Love KitchenAid as a whole but this processer was a bear to use. Had to return it. First - getting it apart and assembled correctly for use was way too difficult and once I did get it assembled correctly and used the dicing attachment it was a huge mess. The celery, carrots and onions all got stuck in the dicing blades (which make huge chunks by the way) and you have to use the attachment to clean it out. Also, the food gummed up in the seal between the lid and bowl. Will stick to dicing by hand rather than use this.
03-26-15