KitchenAid 13 Cup 3-in-1 Wide Mouth Food Processor w/ Accessories
Recommendation Test Anchor, don't delete
Recommendation Test Anchor, don't delete
In Stock
Sold Out
We're sorry.This item is not available at this time.
Pre Order Possible.
Low Stock
Recommendation Test Anchor, don't delete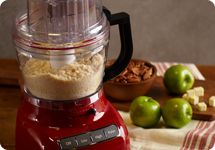 Click on the links below for more information about this KitchenAid food processor.
Reviews & Community QA
KitchenAid 13 Cup 3-in-1 Wide Mouth Food Processor w/ Accessories
328
328
Kitchen Aid is top quality!
This item is quality. It is not small though so be sure you have enough room to store it. I keep mine on the counter. It's great for slicing apples to make apple pies which is what I use it the most for. The storage container for the blades is awesome and a must so you don't lose the pieces. I highly recommend this product. It has lasted a long time.
04-25-15
Died after a few months
Bought this in August and have loved it for making dough, slicing, shredding, etc. However, last week when I went to make my bread dough, it shut off halfway through.... Tried again today to see if I could get it running and nothing.... Thought that Kitchen Aid would've had better quality. Only 8 months and over $100 wasted.
04-11-15
What A Workhorse!!!
I waited over four months to write this review. I really wanted to put this baby through it's paces before I did. I am now very happy to report that this machine is just about the best thing in my kitchen. I must use it at least four times a week. Up till now I have had three different sized ones, all more than ten years old, and all from goodwill stores and I would not get rid of them until I was absolutely sure about this machine. Well they hit the re-cycle bin today. This machine takes the place of all three and does everything better and faster than my old ones did. I love the accessories that it has and have used them all with great success. What also really appealed to me about this one was the thoughtful way the storage had been planned, no more almost decapitating bits of myself as I raided cupboards looking for attachments; all are neatly stored in that great box. Did I mention how little space this thing takes-up. If I could give it ten stars I would have done. I am so very delighted with this. Thank you Q.
01-27-15
Love this food Processor!!
Absolutely Love this food processor. I can grate a huge zucchini in less than 2 minutes, grate cheese in seconds, and make perfect pie crust or crumb topping for deserts. The gloss cinnamon is gorgeous color and I leave it on my counter to show it off. The only thing I'm missing is the dicing kit. This processor is perfect and makes food preparation so much easier for any home cook. It is huge, but worth the counter space. I also bought one in black for my mother-in-law and she loves it.
01-25-15
Nice, but hard to operate
This works well, but for my aging mom, with arthritic fingers, pushing it on, off, high, pulse etc is impossible. I have to do it for her. The buttons aren't actually buttons, they are just kind of like a hard rubber that moves when pressed to operate what appears to be an invisible button underneath. Also fitting the top closed is very hard. This processor is Impossible for my mom to work and inconvenient for me. I don't enjoy using all my strength to turn on the processor. It does a good job though and is attractive to look at in the gloss cinnamon, so I didn't return it.
01-22-15
Awesome.
This food processor is really amazing. The food is cut uniform and pretty. I think looking at this machine might look a little scary. But, it is super easy to use and quick to take in and out. If you have a problem using this stop walk away and come back and read the directions again. It should help. :)
12-09-14
I Wanted To Love It...
I wanted to love this KitchenAid food processor but it was D.O.A. It never powered-up. I'll buy local from now on.
11-16-14
Not Reliable After 1 Year
I've never had a problem with Kitchenaid in the past, but here I am. I loved my 13 cup food processor gloss cinnamon. After 1 year of slightly being used, the low and high buttons don't work. And when I get them to work, the machine seizes up. Now what? I do a lot of canning and rely on this machine.
11-13-14
Great product
Works great, well made, love the organization for all the accessories. The box keeps all the accessories neat & clean. The only thing I'd change is how HUGE the processor is. I have a small kitchen with limited counter space. It is a very substantial product. It is not only wide but tall. If you read the directions, you won't have any trouble operating the unit. The only reason I didn't recommend it as a gift is that it is so large (unless recipient has a large kitchen with large counter space). My favorite part of the unit is that I can set the thickness to what I want & it couldn't be easier to set another thickness (just slide the gauge).
11-05-14
Who knew?
I've had this awhile now but kept bypassing it and going back to my knife for chopping; boy was that foolish on my part! I was in a chili competition for charity recently. I started my chili LATE the night before dreading all the chopping of onions & various peppers I needed to do and then out of the corner of my eye was my KA food processor! I had everything chopped and into the pot within minutes! I can't believe it took me so long to actually use this....it is now my go to appliance and I'm about to purchase 3 of the 9 cup models for my kids! PS I placed 2nd in the competition!
10-25-14
Stopped functioning after 15 seconds of use
Was super excited to get this food processor as Ive been wanting one for a long long time. Attempted to chop up some onions and green pepper, it stopped functioning after 15 seconds. Returned for a full refund.
10-21-14
Preview Your Review
This unit broke down on its maiden voyage and refused to restart. I was making hummus and the family was gathered around watching. Everyone laughed at me for buying such an expensive, broken food processor. Ended up throwing out the partially blended hummus. I never write reviews, so for me to be sitting here typing this up says something. I used to trust QVC to bring me the best value. Trust gone. Long-time customer lost. End of story.
10-19-14