KitchenAid 12-Cup 700Watt Wide Mouth Food Processor w/ Accessories
In Stock
Sold Out
We're sorry. This item is not available at this time.
Pre Order Possible .
Low Stock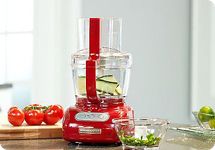 Click on the links below to learn more about this KitchenAid food processor.
Check out a video tour of this kitchen essential.
Take a look at the use and care instructions.
See a list of delicious recipes you can create with this food processor.
Description
Expertly prepare food--and colorfully coordinate your kitchen--with this KitchenAid food processor. Fully featured with an array of accessories and offered in your choice of colors, it eliminates hassle to make food prep fun--and fashionable!
No job too big or small. Equipped with a wide-mouth feed tube and pusher, this food processor easily accommodates foods like tomatoes, cucumbers, and potatoes--no need to section them before putting them through the machine. There's also a narrow feed tube built into the wide feed tube, perfect for dicing long, slender foods such as carrots or celery. It allows you to add extra ingredients while the unit is running--how convenient!
Three bowls ensure you have the size for every job, and allow you to go from task to task without pausing to clean a bowl. The 12-cup work bowl is the right capacity for large jobs, while the 10-cup chef's bowl can be placed inside the work bowl to shred food while keeping the work bowl clean for another ingredient. The four-cup mini bowl with mini blade is just what you need for smaller tasks.
Handy, any way you slice it. The stainless steel multipurpose blade is made for everyday mincing, mixing, and emulsifying. But if you need to fine-tune your chopping, you have two sizes of slicing discs and one shredding disc to choose from. All stainless steel, they slice and dice with precision.
One machine, many jobs. Included with the machine are a dough blade for mixing and kneading yeast dough; an egg whip to whip cream or egg whites into meringues, mousses, or souffles; and a citrus press to juice fruits, from the smallest lime to the largest grapefruit. You even get a slim-line accessory case to stow and protect every part. All together, it's an incredible value and quite the workhorse--one you'll use every day. Now all you have to do is pick the perfect color! Choose from Black, White, or four shades that are exclusive to QVC until December 31, 2010--Gloss Cinnamon, Red, Buttercup, or Blue Willow.
From KitchenAid.
Includes:
Base
Extra-wide feed tube and pusher with built-in narrow feed tube and pusher
12-cup work bowl
10-cup chef's bowl
4-cup mini bowl with mini blade
Multipurpose stainless steel blade
Fine 2mm slicing disc
Medium 4mm slicing disc
Medium 4mm shredding disc
Dough blade
Egg whip
Citrus press
Slim-line accessory case
Spatula/cleaning tool
Clean touch control pad for easy cleaning
Powerful 700W induction motor
Pulse function for precise control
Quick lock lid prevents use unless lid is locked in place
Measures approximately 10-1/2"L x 8-1/2"W x 16"H
Bowls and accessories dishwasher safe
UL listed; 1-year Limited Manufacturer's Warranty
Made in China
Reviews & Community QA
K28043 - KitchenAid 12-Cup Wide Mouth Food Processor w/ 4 & 10 Cup Bowl
163
163
Makes My Life a Little Bit Easier!!!
I love this product, especially when I have a large amount of chopping, slicing, or mixing to do. It has made my cooking and baking so much easier and helps with my time management in the kitchen!! I love kitchen aid products that perform at top quality and this one sure does!! The only part I have not used yet is the juicer. I'm not a big juice fan...lol!!
01-28-13
Great cooking helper!
I absolutely love my kitchenaid food processor. I use it for just about everything - chopping, shredding & making salad dressings and sauces. It has been such a time saver for me in the kitchen.
01-23-13
Don't Buy
I had the other food processor for many years and loved it. When it broke I decided to get this one because of the updated features. Big mistake. I've used it twice and hate it. It clogs up between the bowl and blade and has to be taken apart with each potato. So far the company has not responded to my email. Get the othe one and forget about this one.
12-18-12
NOT WORTH IT!
Have had for about two years and used about 10-15 times. went to attach the bowl and part of the inside of the handle fell out. Now its worthless until i purchase another bowl for $30.00 plus $2 shipp[ng. I've used kitchen aid products for 25 years and never had a problem. I am very dissaprointed in the food processor I could get better quality for 1/4 of the price. The lady from kitchen aid acted like I had done something wrong to cause the problem. Kitchen Aid brags how they stand by their products but thats not true when it comes to the foodprocessor. The handle mechanism is a bad design. It is faulty and they should replace it. 150 + is a lot to pay for such few uses.
11-30-12
DON'T WASTE YOUR MONEY!!!
I don't usually leave reviews esp. negative ones, but I just have to say this was not a good purchase for me. I boought this unit 2 yrs ago and with mimimal use, it stopped working on Thanksgiving day in the middle of preparing a meal for my family. It was the top piece that just stopped making a connection with the motor. To make matters worse, I contacted Kitchen Aid and was told I had to pay for the part! Never again!!!! It was a 29.00 part. That's all it would have taken to resolve this matter and keep a coustomer. I don't do bad bussiness with anybody. I'm leaving 2 stars b/c the motor is still working.
11-23-12
Skip this but buy a mixer
Let me start by saying I am a loyal kitchen aid customer. I have a lot of Kitchen Aid items from spatulas and utensils to skillets to 2 big mixers and I love them all. But I hate this food processor. I wouldn't recomend it to anyone. I'd say the mixers are so worth the money but these food processors are not. I got the gloss cinnamon color which is beautiful. I mean it's a pretty machine and when I think Kitchen Aid I think quality and effortless to use. This machin is the exception. It's never been "easy" to use. It doesnt flow, it's always a hassle and a pain and a half to clean. It just doesn't work for us. I have a Kitchen Aid brand hand grater set and a chopper set that I would reccomend buying instead of this. I'd rather stand and chop a hundred onions by hand on my Kitchen Aid cutting board with my kitchen aid knives than use this annoying machine. Waste of money, skip it but DO treat yourself to a mixer, they're other products are all FANTASTIC, easy to use and durable. I recently moved this to the basement .
08-18-12
Worse Purchase Ever
This is by far the worse item I have ever purchased from QVC. So many pieces to clean up. I only wish you were still selling these so I could warn a potential buyer to keep their money, buy a grater and save yourself tons of time and money. KitchenAid instructions on how to use their products leave a lot to be desired. I also bought a stand mixer and it is less than what I expected. The glass bowl is hard to place on the base, and your ingredients fling all over the place but there is no shield available for the QVC mixer that you can buy. I'm done with KitchenAid and just about done wit QVC as well.
04-07-12
Mounth Not So Wide
I don't see how this can be called a "wide mouth" food processor if the feed tube for the slicing/shredding discs is just as narrow as every other food processor that's ever been sold. Not worth the money. But my wife wanted it, so I can't send it back.
03-25-12
Greatest small appliance ever
Love it. This machine will do it all. Saves me lots of time, and it's easy clean-up.
01-30-12
Love It !!
I bought this for my Daughter and she loves it. The quality is superb. She uses it often and finds it very easy to use with easy clean up. It is a little pricey but well worth it.
12-08-11
Don't waste your money
I have this, granted I have had it a few yrs, about five but I rarely use it, a couple of times a year maybe. I recently was shredding zuchini out of my garden to freeze which should be a very easy task for a machine like this one. The shaft is frozen in place to the base, I cannot remove the bowl or anything, I had to wash it as good as possible while connected to the base. Kitcheaid's customer service was not very helpful either, they suggested I send it in for repair, $32 for shipping and additional cost for repairs, why would I spend money not knowing how much it was going to cost only if it could happen again. According to some cooking forums online, this is a common problem with kitchaid processors, if the machine was used a lot I could understand but this one has not been. I will be purchasing Cuisinart's processor this time. Kitchenaid makes wonderful mixers, I have had one for 22 yrs and my newest one for 4 or 5 yrs which I use all of the time, they run like a dream but they have not mastered the processor in my book.
11-30-11
OUTSTANDING PRODUCT
Had a Cuisinart before; this is much better. Powerful, thorough, easy to use. Very safe as well and cleans up in a jiffy. Along with my Kitchen Aid Professional mixer, I'm all set for Thanksgiving!
11-13-11