Kenneth Jay Lane's Princess Simulated Sapphire Ring
In Stock
Sold Out
We're sorry. This item is not available at this time.
Pre Order Possible .
Low Stock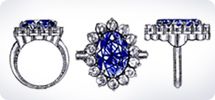 A Note from the Designer
"I've always felt that any girl could become a princess. It's my pleasure to offer a ring that has become a royal sensation. Having a long relationship with the British Royal Family, I wish the couple a long and happy marriage."
—Kenneth Jay Lane
Description
Blue blood brilliance. Sublime beauty reigns supreme in this stunning simulated sapphire ring. The oval, faceted simulated gemstone is surrounded by a sparkling border of clear, round simulated diamonds in prong settings. A polished fluted gallery frames this ring that shines with regal radiance. From Kenneth Jay Lane.
Silvertone
Polished shank with milgrain texture
Sizes 5, 6, 7, 8, 9, 10
Measures approximately 1-1/8"L x 3/4"W
Box, romance card, Manufacturer's Certificate of Authenticity
Lifetime Limited Manufacturer's Warranty
Made in China
Reviews & Community QA
J156985 - KJL Princess Simulated Sapphire Ring
30
30
a true disappointment in every way imaginable
I was so anxious to order this ring that I neglected to read the reviews. That was a lesson learned because I will never not read a review before ordering again. I own a lot of Kenneth Jay Lane jewelry, bought through QVC, major high end department stores and vintage shops. I love all my pieces. Each is a piece of art and worthly of the KJL logo. This ring must have been a major rush to get a ring out to honor the upcoming nuptials. The quality is below standard and the actual ring does not look like the drawing featured in the description. The stone is super dark and barely shows any blue and that is only if you hold it at a particular angle. I have purchased $10 rings from department stores when they have their costume jewelry rings out in mass that look more real than this ring. A true disappointment in every way possible.
01-28-11
Love my ring, But big on my finger.
I just got my ring today and I love it, But it is big on my finger and a little heavy. In certain light it is like a blue and I seen a little purple in it too. When I first seen it in the box the stone looked black. But overall it is a beautiful ring and I am very happy with my purchase.
01-22-11
The ring is just stunning!!!!!!!
Hahahahahaha...I can't believe all the flack I've been reading about this ring. It is gorgeous to say the least, AND it matches Princess Diana's ring to a 't'. This one is more realistic than the original ring I got some 30+ years ago when Charles and Diana first became engaged. My first ring was round and more of a cobalt blue sapphire......this one is OVAL and a darker, deeper sapphire color. Now, yes, this one is a wee bit larger than I expected, BUT, I can get a ring-sizer inside should it slip a bit. But it matches Diana's ring so well, I was so used to the one I got years ago I didn't notice the change until my sister just pointed it out to me. And, again, the stone in this is OVAL, not ROUND. In short, I'm tickled to death with it. I'm in total agreement with a handful of other posters (smile) who adore it as much as I do. Oh, and if you pull up some pictures of Diana wearing the ring, you'll notice that the sapphire photographs nearly black...that's a sign of a true sapphire. I have a small marquise-shaped sapphire that is nearly black too. BRAVO QVC and Kenneth Jay Lane!!!
01-21-11
Thanks for the Warning!
Thank you for putting up the reviews that this is not a good ring. I decided to compare the pictures of this ring and the Diamonique version after reading these reviews, and immediately cancelled my order! The pictures of this ring really do show the lack of quality compared to the Diamonique ring. I am now on the waiting list for the Diamonique version. It must be a good seller! Thanks again for saving me from the hassle of returning this ring later.
01-04-11
Worst Princess Ring Ever!!!
Do yourselves a favorite ladies and do not purchase this ring. Save your money. Diamonique made one that is a home run. So happy that I got in on that ring. Like the other reviews this one looks like it came from a gumball machine.
12-23-10
Epic Fail
Just from looking at the pic of this ring I knew it would not come close to Diana's ring. It looked cheap in all the pics. The woven band is wrong, the size of the 'sapphire' is wrong and the amount of simulated diamonds are wrong, not to mention they are rather big in the pics. I'm shocked that so many people bought this. That "A Note from the Designer" pic is a HORRIBLE representation of the ring. Reminds me of a gumball ring.
12-22-10
Is there a zero star rating available...???
The ring just arrived in today's mail. I could hardly wait to open the box. What an unpleasant surprise...!!! Cheap looking, clunky, heavy..and just plain ugly. Now...would you like to know what I really think...??? It will be going back immediately. What a disappointment.
12-22-10
Holiday Bummer
The stone in my ring was also very dark and looked purple under light. Substantial setting and sparkly clear stones but center stone was awful. I sent mine back today. It also does not seem like a very good replica of Diana's ring from the pictures I have seen. I may try the diamonique version QVC is offering. It seems to be getting better reviews.
12-22-10
very nice and beautiful
I received this ring for my sister as the x'mas gift and it was beautifully made. I read many bad reviews for this ring especially for its center stone color which looks like black. But, I have to disagreed with many of these reviews. A real nice Sapphire is dark and deep rich blue color which is exactly what this ring has. A lighter or bluer color of sapphire makes it look very cheap or fake instead. After all, this ring is so beautiful and so sparkles. I'm sure my sister would love it very much. In fact, I would order 2 more rings for myself and my in laws.
12-22-10
Not the princess ring
I was so excited to receive this ring. But to my dismay it was not what I expected. This was suppose to be a christmas gift , now I don't know what to do. My husband wanted to pick out my gift but I insisted on this one. I should have listened to him. The ring is purple not blue. It looks more like costume jewerly nothing similar to the ring thing. Like some of the others viewers stated. This ring will be returned. I am on waitlist for the diamonique version.
12-22-10
So disappointed!
I was real excited to get this ring too and was planning on wearing it Christmas day but sadly won't be. The setting is very nice and the surronding stones really sparkle. The middle stone is black. The only way you can see a sliver of blue is by turning it upside down and looking at the ring under a lamp. It is so black that I feel like I shouldn't have to pay to return this as it is not blue like presented.
12-21-10
Really Disappointed!
I am very sad about this. I was really looking forward to getting this ring. It arrived yesterday and I am going to send it back. As others have mentioned, it does not look blue at all. Instead mine looks purple (both in the light abd out of the light). Also, it does not seem to be true to size. I ordered my normal ring size, and this ring is too large and almost falls off my finger. It seems like KJL rushed this too much to get in on the royal wedding mania, and the lack of quality shows. I noticed QVC is offering a similar ring by Diamonique with very positive customer reviews so far, and this KJL ring is getting poor reviews. I am going to send this one back and order the Diamonique one ASAP.
12-21-10