Kenneth Jay Lane's Princess Simulated Sapphire Ring
Recommendation Test Anchor, don't delete
Recommendation Test Anchor, don't delete
In Stock
Sold Out
We're sorry.This item is not available at this time.
Pre Order Possible.
Low Stock
Recommendation Test Anchor, don't delete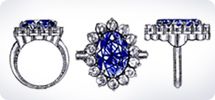 A Note from the Designer
"I've always felt that any girl could become a princess. It's my pleasure to offer a ring that has become a royal sensation. Having a long relationship with the British Royal Family, I wish the couple a long and happy marriage."
—Kenneth Jay Lane
Recommendation Test Anchor, don't delete
Recommendation Test Anchor, don't delete
Reviews & Community QA
J156973 - KJL Princess Simulated Sapphire Ring
64
64
KJL Knocks It Out Of The Park!
This is magnificent! I feel sorry for those who didn't get it now that it is not available...maybe it will come back? When I opened the box I thought it was way too big, but doing research I found this is the exact size of the original! I've seen other versions of this ring going for three times what this one is and not nearly as nice. Sapphire is my birthstone like many others and what a fun way to say it! Frankly it's better than the Diamonique version.
05-05-11
Too Big!
I have this ring and it's much too large and too heavy. If you look at Diana's ring on Kate, her's is not that large and much more dainty. It's very heavy. There are a lot better copies than this.
04-27-11
KJL - Stunning as Always!
I have admired replica jewelry, especially this piece since it was originally introduced back in the 80's when Diana Spencer first got engaged, however was too young to own such a sophisticated piece of jewelry ( I was barely a teenager). When I saw this ring on QVC I watched the presentation and listened to the descriptors and compiled with the fact that it is a KJL piece I had to own it. When I received it at home it was even more beauiful than I could have imagined. It was completely true to size and luxurious for a ring with a stone of this magnitude. Due to my overwhelming love and respect for Kenneth Jay Lane as a jewelry designer I highly recommend this piece as a quality addition to any collection!
03-30-11
it's nice
bought this for my wife and it turned her finger green
03-29-11
On Trend
4 stars because is too big to wear all the time. I got this ring when it was first offered when only the prototype was available to QVC. In fact my husband got it for me for our anniversary in December 2010. I do agree that it is big, but big and bold is the trend right now. I have not worn it yet since you cannot wear it and put winter gloves on. Is more a summer riing. I do not know whether the sapphire is the correct karat weight or not, but is still pretty. If you are wanting a "piece of history" then I do believe this would work. I am wondering whether the ring Kate has is a18 KTW then that would explain the smaller size. I think this one was described initially as haviing an 18 KTW sapphire in middle. I have seen a lot of other places sellling "Princess" jewelry. Pictures made that jewelry look cheap. We did not pay the full price for it. We got it at the special price as stated in the description above.
03-25-11
Nice...but not the Princess ring I expected.
The stone appears purple in anything but bright light. If you are expecting a saphire look you will be disappointed. Overall the ring is much larger than the one it is suppose to look like. The rope detail around the band is nice. But, again is not like the original. The simulated diamonds around are too big, making it look fake. Get it if you like the ring on its own, not if you are thinking you will get a Diana look a like. This one went back. Still love QVC!!!
03-24-11
IF YOU LIKE BIG I MEAN BIG-- YOU'LL LOVE THIS RING
I'm keeping it for laughs. However, I have very small hands and was shocked when I received this ring from the first order back before Christmas. It takes up half of my finger. I had to laugh out loud when I opened the box. This ring is about three times the size of the real ring and I think QVC should inform potential buyers of this. It's a beautiful piece and very well made but waaay to big for my liking. Just let your customers know the truth. I actually purchased another more realistic replica from your competitor.
03-24-11
This turned out to be my Favorite
I ordered two separate rings, yours and QVC. I recieved this ring first and liked it very much. I wore it on my index, or middle finger. Then came QVC's ring in the mail. Well, I liked that ring also, but, in a different way. They were both wonderful in different ways. I told may husband I didn't know which one to send back. He said to keep them both, I have a lot of KJL jewelery and I loved the band on the KJL ring. I kept them both!! Turns out my JKL ring has been my go to ring, and I have really enjoyed it. Thank you for such a stylish ring. Everyone knows it's a copy of Diana's ring, and say they love it. No one has ever made mention of my QVC ring being a copy....So I like them both for different reasons. It seems I always have my JKL ring on. Thank you!! I received my ring with the first group. Wished I would have written this before.
03-23-11
Pretty Ring at First Sight
This is a lovely ring and a really WOW when you open the box, but I was very disappointed in that it was so over the top. We all knew in the beginning it was big but not until you got it home did you realize just how huge it is in reality. The Sapphire Stone was just way too dark. It would have been much prettier two shades lighter so we could have seen a bit of a hint of blue in the ring, like in the photo above, once it was on your finger. Once on your finger it could have been taken for an onyx stone. Also, if it had been sized down just a little bit as we aren't a princess to wear a ring this large and people would never believe it is real. I appreciate all the work put into the design, but I think it was just a bit too large to be realistic like I would have liked it to be. I got items to go with it before it arrived. So now I need a new ring to go with my other things. Oh Well, thanks for the design. Linda
03-09-11
Beautiful Ring
I saw this ring and had to have it. I'm a big fan not only of royal inspired but KJL jewelry Even though I had to wait, it was worth it. I have a real royal ring that is very miniature and this ring is just as beautiful. My only complaint is it's size. It is a big ring meant for long fingers but that's ok because of the ring's beauty. If you want something a little extravagant to wear on a special occasion, this is the ring. (4 stars just because of the size)
02-16-11
Love the Ring
Received this as a gift from my husband after hinting I wanted this ring. This "Di" ring is beautiful on my right hand as I have long fingers. Love the sapphire also as it is my birthstone!! Yes this ring is big and bold, but I love it!!! Thanks KJL.
02-13-11
So Disappointed - So Sad
When Diana & Prince Charles married I fell in love with her ring and desperately desired one similar. When this was presented on QVC I immediately ordered it and then waited for weeks on end for the arrival. When it came in December, I was shocked to open and see what looked like an enormous black onyx. Nothing about it looked blue to me, or even pretty. I did wear it around my home for maybe five minutes at the time and just stared at it for days on end. Finally I broke down and returned it. I knew that particular ring was not the right one for me. Hopefully someone else will provide a "Di" ring that all her fans are desiring.
02-10-11