Josie Maran Escape to Morocco 7-pc. Argan Holiday Collection
In Stock
Sold Out
We're sorry. This item is not available at this time.
Pre Order Possible .
Low Stock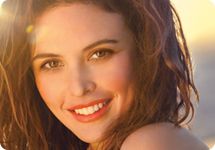 Give the Gift of Argan Oil
* The Manufacturer's Suggested Retail Price is based upon the supplier's representation of value. No sales may have been made at this price.
Description
What is it: A dreamy escape to Morocco in a box! And, it's a great way to give gorgeously--and treat yourself--this holiday.
This set of full and travel-sized body-care essentials--all featuring 100% Pure Argan Oil and Josie's NEW Moroccan Escape scent--provides skin-pampering luxury and aromatherapy in one. Also included in the Moroccan-themed gift box is a full-sized bottle of Josie's luxurious Moroccan Argan Body Oil--a great gift all by itself.
Who is it for: You--and a friend! Ideal for all skin types, this set contains full sizes and travel sizes of Josie's best-selling body products so you can give one and keep one for yourself.
Why is it different: Each product in this deluxe set is infused with Josie's signature ingredient--100% Pure Argan Oil--to soothe and hydrate skin from head to toe. Each item features Josie's NEW Moroccan Escape scent, a luscious blend of fresh pear and Moroccan vanilla that's a treat for the senses.
How do I use it: Massage Argan Sugar Balm Body Scrub onto skin using circular motions. Concentrate on dry areas such as knees, heels, and elbows. Rinse well.
After bathing or anytime skin feels dry or tight, massage Whipped Argan Oil into skin.
Apply a few drops of Moroccan Argan Body Oil in the bath, or massage directly on body.
Generously apply Whipped Argan Oil Intensive Hand Cream to dry hands as often as needed.
From Josie Maran.
Includes:
4.4-oz Argan Sugar Balm Body Scrub in Moroccan Escape
2-oz Argan Sugar Balm Body Scrub in Moroccan Escape
8-fl oz Whipped Argan Oil Body Butter in Moroccan Escape
2-fl oz Whipped Argan Oil Body Butter in Moroccan Escape
4.6-fl oz Whipped Argan Oil Intensive Hand Cream in Moroccan Escape
1-fl oz Whipped Argan Oil Intensive Hand Cream in Moroccan Escape
1.7-fl oz Moroccan Argan Body Oil in Moroccan Escape
Reviews & Community QA
Josie Maran Escape to Morocco 7-pc. Argan Holiday Collection
389
389
Best Ever Scent from Josie Maran
I LOVE, LOVE, LOVE, THIS MOROCCAN SCENT FROM JOSIE. GIRLS IF YOU SMELLED THIS, YOU WOULD BE HOOKED LIKE ME. I HAVE ORDERED 3 OF THIS MOROCCAN COLLECTION SINCE JOSIE BROUGHT IT OUT TO QVC. I GET MANY COMPLIMENTS WHEN I WEAR THIS SCENT WHICH IS ALMOST EVERYDAY. JOSIE DON'T EVER LET THIS SCENT GO AWAY, IT TRUELY IS A NEUTRAL TROPICAL FRUIT SCENT THAT SMELLS LIKE A DESSERT. LOVE THIS!!! NEXT BEST THING SINCE SHE BROUGHT US ARGAN OIL.
11-18-14
Wonderful Product
The oils in this product are truly amazing. I want to buy more body scrub, it is wonderful. Leaves your skin so smooth, you almost don't need any cream after bath.
11-18-14
PERFECT
Ordered one for myself and one for my daughter. She wanted this and glad it became available again. Love the scent and of course, love Josie's products, especially the oils and whipped body butters..
10-27-14
LOVE the scent
The body butter is wonderful. It keeps my skin soft even in the winter. This scent is heavenly. Please sell the Escape to Morocco in a body butter by itself. Reason for 4 stars instead of 5 is because I don't need more argan oil or the scrubs.
10-25-14
Great Purchase
Excellent value. Would like to have the oil by itself in a 6 oz size.
10-23-14
Best ever!
This is my absolute favorite Josie Maran scent! I love it! It is also ultra moisturizing. My skin feels so soft! Please bring back in more affordable pieces like the body butter. Thank you!!
10-16-14
Best Smelling, Ultra Moisturizing
I ordered this when it was a TSV on auto delivery & recently, the auto delivery expired. I was so bummed. I'm very excited to see that is still available though. This scent is the best smelling scent ever, and I'm really picky. My skin is so soft and supple and I get nothing but compliments on my skin as well as my scent. PLEASE don't ever discontinue this one!
10-12-14
Love this Fragrance!
Josie's fragrance, Escape to Morocco, is my ultimate favorite scent......can't live without it! Which is why I am asking for individual products in this delicious smell....please? The products are all that they are advertised to be....delightfully indulgent and soothing. Please make available each product individually, or in a smaller gift set....I simply cannot afford to purchase the entire selection each time I wish to avail myself of this decadent product. Thank you
10-09-14
My Favorite Collection
This is a heavenly fragrance. I first bought the collection and shared the items with my sisters. Please bring it back as a regular part of your whipped collection. I've tried the others, but Escape to Morocco is absolutely my favorite! My dermatologist said, I don't know what you are using on your skin, but keep it up!!
10-03-14
Terrific scent
I love your products so much I ordered this collection. When I received it I fell in love with the scent. I ordered three more collections before they ran out. Please please please bring this scent back. Even my coworker loves the scent. No one believes I'm 59. They say I look 10 years younger. I've had oily skin my whole life and was hesitant to start using oil on my face. Well, I decided in the summer to use it on my face also and the results are unbelievable! I swear by the body butter. It keeps your skin hydrated throughout the day. My skin is so soft. It even keeps the heels of your feet soft. The only thing I ask is that you make even a bigger tub of body butter for your followers who can't live without it like me!!!
09-19-14
Wonderful
Bought this set to share with my mom. It's perfect for sharing as there's two of everything except for the bottle of argan oil. It's all great. I especially like the body scrub.
06-16-14
Love it!!!
I would like to know if I can reorder it because it was a Christmas idem
06-06-14