Joan Rivers Glitz & Glamour Fabric Flower Pin
Recommendation Test Anchor, don't delete
Recommendation Test Anchor, don't delete
In Stock
Sold Out
We're sorry.This item is not available at this time.
Pre Order Possible.
Low Stock
Recommendation Test Anchor, don't delete
Recommendation Test Anchor, don't delete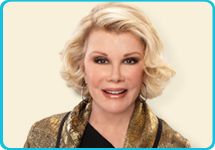 A Chat with Joan Rivers
A simple flower pin can transform even the shabbiest jacket into something extraordinary. Joan jokes that if Coco Chanel saw her flower pins, she'd be furious because they're softer and more affordable than hers were back in the day. Watch the full clip.
Recommendation Test Anchor, don't delete
Recommendation Test Anchor, don't delete
Reviews & Community QA
J145845 - Joan Rivers Glitz & Glamour Fabric Flower Pin
11
11
BIG, BOLD, BEAUTIFUL
ORDERED THE GREEN (BRIGHT OLIVE) & THE BLUE (DUSTY NAVY); A LITTLE DISAPPOINTED THAT THE BLUE WAS MORE OF A NAVY THAN THE COBALT OR SAPPHIRE COLOR SHOWN ON THE DESCRIPTION, BUT I CAN USE NAVY AS WELL. THE SILVERY SPARKLES GIVES THEM AN ELEGANT, DUSTY LOOK. SALE PRICE MADE THIS PURCHASE AN EVEN BETTER BUY.
06-24-11
Bigger is Better!!!!!!!!
Absolutely love this. Have it in Black, and it is just stunning! Definitely a statement piece. I wear it on my hats, jackets, blouses. You can't be shy wearing this one. I do wish the pin was a bit longer in the back. As always Joan you know how to make the American woman elegant. When I'm not wearing it, I use it as a decorative piece on my dresser.
08-05-10
simply the best
I can't believe how wonderful this flower pin is!!! I wear it all the time. I love the size, and i hope Joan brings this one back in additional colors. Get it. You too will love it.
07-15-10
Love this pin
I have this pin in red. I ordered it around the holidays and it was perfect for Christmas and for Valentine's Day. I am now ordering the blue. Joan, could you please, please make this pin in more colors especially for Spring. I would love it in yellow. The yellow rose pin would be perfect on your blue jacket!
03-09-10
it sheds !
mine must have been defective. i love the idea and look, but mine shed on the white top i pinned it to. then on another. just hope i have no prob. returning it.
01-30-10
Love this pin
Look every where for this pin shawn wears some like these should have known they were a Joan pin LOVE LOVE LOVE them I even bought the other version that she has just went back today and bought 2 more colors bekki
01-07-10
Better than even on TV
I got the silvery flower pin - it's amazingly huge, but not garish or tacky. Will add a lot of punch to my suit jackets - may even try to attach it on a headband in my hair as well. I think the price is not expensive at all, unlike what others have said - I've seen flower pins in department stores go for 10 times the price, and aren't even as nice. Like other pins I own by Joan, this will attract a lot of attention - I volunteer at an art museum and always get compliments on Joan's pins - especially by MEN!
01-04-10
Great look for any season
What a great brooch/pin! Well made, nice fabric and despite its being huge, it's quite tasteful and classic - only when worn alone with no other accessories, of course! it looks great worn near the shoulder, but also wonderful at the waist. I bought it for myself in the hot pink, and for my MIL in the silver and the green (couldn't decide which - she loved both. Note: the green one looks almost gold) . If you think it's "too much" for you - you're wrong! It will completely update the look of your old jackets. I plan to wear it on my jeans jackets too. A winner, Joan!
01-02-10
Very pretty
I was fortunate to get this pin in pink before it sold out. It is very beautiful. It goes perfect with my fuchsia Precious Fibers cashmere sweater. I also have the same sweater in turquoise so I came back and ordered this pin in blue to go with that sweater. I am contemplating getting the silver one as well, which will give me a good excuse to get another cashmere sweater to go with that pin. LOL
12-31-09
Confidence Builder
This flower is beyond huge, It takes a lady with a lot of style and confidence to wear this flower. I purchased it in gray and plan to wear on the steel gray Louis Del'Olio knit jacket and sequined skirt. I think it will take this plain jacket to another level.
12-27-09
Nice Pin
I really like this big bold flower pin. The color is basic black with silver sparkles. It is very nice on a suit or sport jacket. It is expensive, but I like ordering and receiving products from QVC because of convenience and the return policy. I am now awaiting another big fabric flower pin from the JR collection.
12-26-09