Jacqueline Kennedy Rope Style Crystal Link Bold Bracelet
In Stock
Sold Out
We're sorry. This item is not available at this time.
Pre Order Possible .
Low Stock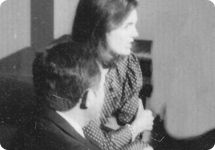 The Inside Story
By 1969, Jackie was Jacqueline Kennedy Onassis and living in New York because her children went to school there. Ari had suggested the children go to the best private schools in Europe, but Jackie insisted they attend school in the United States. However, she spent many summers in Italy with her children, even when JFK was alive, as her sister Lee kept a summer home there. The home was on the Amalfi Coast. Italian jewelry was becoming popular around this time, and many fine stores carried it. The wire-rope design is Italian and appears to be inspired by ancient carvings from the Roman-Empire period.
Description
Traditional and timeless. Enrobed with brilliant crystal accents, this elegant bracelet shows off an open oval link design with a ribbed texture. From the Jacqueline Kennedy Collection.
Goldtone
Secures with foldover clasp
Snug fit: approximately 7" and 8"
Measures approximately 7"L plus 1"L extender link x 3/4"W
Box, romance card, Manufacturer's Certificate of Authenticity
Made in China
Important Details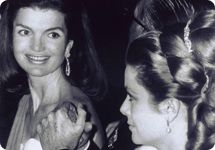 End of an Era
For the past 10 years, we've had the honor & privilege of sharing Jacqueline Kennedy's story with you through the romance of her jewelry & accessories collection. From the start, we always knew that the pieces would be limited in availability & duration. Due to your amazing support & loyalty, we've enjoyed extending the timeline far beyond our original intentions. Now we feel it's time to bring this fabulous chapter to a close. We've rendered all the pieces in her collection that are currently available to us, and we'll continue to offer the line only as long as inventory exists.
Information provided by On-Air Guest Phil Katz.
Reviews & Community QA
Jacqueline Kennedy Rope Style Crystal Link Bold Bracelet
44
44
BOLD BRACELET!!
I have looking at this bracelet for a while and I finally got it!! It is Gorgeous!! I was in the mood for a chunky gold bracelet to go with my accesories, and this one fit the bill!! It is more of the European gold which is the buttery gold look, however I love it!! It looks good on me with any shirt colored black and I also like the way it looks with green!! The diamonds are just enough sparkle to dress it up or wear casual!! Absolutely Love it!!
05-14-14
ANOTHER WINNER!!!
I love this bracelet! It doesn't have a lot of sparkle, but it has a wonderful sound when wearing with the extra link - like the tinkle of a charm bracelet. Maybe not everyone would appreciate this, but it just adds to the charm of this bracelet for me. Because it has just a bit of sparkle, again, this piece can be worn every day. Love the rope look of the links too. I would recommend this, but then, I have not received a piece of the Jacqueline Kennedy collection that I did not love.
05-10-14
Beautiful and Nice Weight
Love this bracelet! I will wear this many times. It has a wonderful weight to it, perfect for so many outfits and to pair with other Jacqueline Kennedy pieces. I have a six-inch wrist and the fit is perfect without the extra inch. Very happy.
04-28-14
Love this item
I was surprised I hadn't reviewed this bracelet since I have owned my original for several years and liked it enough I bought a back up when this went on clearance. It is lightweight - which I like - rolls around in my hand when I play with it nicely and the 'diamonds' are small enough to not be over the top. If this drops in price again, I plan to pick up 2 more. I think this bracelet can easily be attached and 3 would be 24 inches, and then I would have one extra for the bracelet. I believe linking them together would work well and give me the link look of something I can't afford in real. So, I highly recommend this. I've never had a quality issue with either of the 2 I have and have never babied them. I will miss this line!
04-04-14
Missing Crystals, Where Are You?
I received this bracelet in yesterday's mail and it's in today's mail to go back! At first glance, still in the box, it looked nice. However, removing the crystal lined bracelet from the box, changed everything. First off, it's lighter weight than I thought it would be. Second, the way the links are formed, they easily move and shift , tangling making it difficult to put on. Third and most important, after noticing a loose crystal laying in the box, I looped the bracelet and noticed that there was two crystals missing from the bracelet! (The crystals are tiny and glued into the bracelet). Even at the lowered QVC price, I'd pass on this one. Definitely not for everyday wear...there would be missing crystals by the end of the day!
04-03-14
I absolutely love it
I absolutely love this bracelet. The look, the fit, the weight are perfect. I have never been disappointed with "Jackie Jewelry" and this carries on the tradition.
04-02-14
Not worth the risk!
I love the look of this bracelet, which is why I tried it twice. I ordered one, but when I opened it I noticed right away that 6 crystals were missing. So, I tried another one. It was a little better. It had one crystal missing. I'm very disappointed. I have had to return quite a few JBK pieces for missing stones lately. I think I am finished with this line of jewelry.
01-03-14
Absolutely Beautiful
I bought this as a Christmas present to me. It is amazingly beautiful. Looking forward to wearing it for a long time.
12-27-13
Actually looks fairly real, crystals look nice
I bought this as an impulse buy - then thought better of it but it had shipped. I was concerned the crystals would look like pasted in material, the bracelet would look and feel cheap, and overall, I would be faced with a return. I was pleasantly surprised to find it exceeded my expectations. The crystals are quite small, just an accent, the weight is nice, and it stands up to my 14K and 18K heavy bracelets. It does give the look of a "real" piece, and I am glad I didn't cancel the order.
12-23-13
Perfection !
I used to have a Monet bracelet I work constantly. It finally wore out. I have always wanted a gold, heavy designed bracelet to replace it. This is perfect! So stylish and I didn't pay a pig for it! great price, great look.
12-23-13
Lovely, but it broke
My husband got me this bracelet for my birthday in April of 2013. I have worn it maybe 15-20 times and it has already broken! It is beautiful and weighty, but obviously did not hold up. I am very disappointed because this bracelet is expensive and I could have put the money toward a fine jewelry piece that is of better quality.
08-07-13
Fits a large wrist
This is a lovely piece, comfortable to wear, and it fits my large wrists--it's loose on my thinner wrist and tighter on my fat wrist, but not snug. It is beautiful.
07-04-13