JAI Sterling Slide Leather & Gemstone Bead Necklace
In Stock
Sold Out
We're sorry. This item is not available at this time.
Pre Order Possible .
Low Stock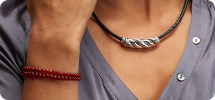 About the Sukhothai Collection
Meaning "Dawn of Happiness," Sukhothai is the name of an ancient Thai kingdom known for its classic architectural form. The clean lines, paired with ornate lotus details, characterize the timeless style of this collection.
Description
Three pieces--endless options. This JAI trio builds your jewelry wardrobe with versatile essentials with designer flair: a black leather cord necklace, a gemstone bead necklace, and a sterling silver slide. Mix, match, and make the look your own.
Better than basic, the gemstone bead necklace and the braided leather cord necklace are simple and versatile, but elevated with sterling silver endcaps and beautiful craftsmanship. Wear them solo, use them to hang pendants or enhancers, and layer with other necklaces for all kinds of stylish possibilities.
Best of all is the fabulously detailed sterling silver slide. With its polished and ribbed twist design accented with pear-shaped plongs at each end, it has unexpected texture that's classic and clever. Slip it easily over either necklace option for an effortlessly chic look.
Treat yourself! It's three must-have pieces--for one can't-miss value. From JAI.
Red Agate, Green Agate, or Black Onyx.
From the Sukhothai Collection
Includes black braided leather cord necklace, gemstone bead necklace, and sterling silver slide that fits either necklace
Sterling silver
Gemstone weight is not given for beads
Necklaces: textured sterling silver endcaps with oxidized finish, lobster claw clasp closure
Removable slide station: twisted polished and ribbed texture; pear-shaped plongs at each end; oxidized finish; slides easily on and off either necklace
Approximate measurements: necklaces 16"L x 1/8"W plus 3"L extender; beads 4.0mm; slide 1-7/8"L x 3/8"W
Made in Thailand
Reviews & Community QA
Rated

3.9

out of

5

 by

67

reviewers.
Rated

1

out of

5
 by
snowmangirl
TERRIBLE TARNISH
Purchased item to give to best friend for her birthday. Tarnish was so bad I could not clean all of it off to give as a gift. Why would QVC send jewelry in terrible condition? Very disappointed! Returned immediately!
02-12-16
Rated

5

out of

5
 by
violann
Among my top ten purchases EVER from QVC!
How many ways do I love this set? STILL COUNTING!!!!!! I've wanted it since it was first introduced, but I could never decide which color was my favorite. Now I have ALL THREE. Each piece is a stand-alone. The leather cord is smooth and flexible, doesn't catch your hair or make your skin itch. The colored beads are nicely matched and lovely colors. The red is a warm, earthy color that works with burgundies, browns, pinks and black/white. The green can go holiday, spring, summer, with blue, brown, and also black and white. The black? Everything! The silver fittings on the cord and bead necklaces are each a small, elegant piece of art. THE SLIDE? I've already worn it with its two component necklaces AND both gold and silver chains. All chains/cords slipped right in and through. I've also worn all three of the slides together on one cord, and two enhancers together, one enhancer on the shortest length of the leather cord and another enhancer on the longest length of the beads. The design on the enhancer is beautiful, fluid, tailored, jeans to evening wear. Summing up, if you loved this look when you saw it earlier, it's time to BUY!!!!
01-20-16
Rated

5

out of

5
 by
Customer 6
Gorgeous
The slide is wonderfully detailed and substantial. The cord and beads in black make this versatile. Great addition to any jewelry wardrobe!!!
01-14-16
Rated

5

out of

5
 by
kimbaleh
beautiful and flattering pieces
I love these pieces and so happy with my purchase. I got it in the red, so lovely! The red is a deeper red and even goes well with plums.
01-10-16
Rated

3

out of

5
 by
Nolly
Not substantial.
I had purchased this as a gift for a friend and sent it back. It is pretty, but seemed small and flimsy. It was not worth the price. i agree with previous reviewers who stated that it arrived tarnished.
01-03-16
Rated

5

out of

5
 by
Shop too much
Love it
This set is great. Well worth the money. Yes I will have to polish it a bit, but for the clearance price, no problem. Bought all three colors.
12-23-15
Rated

4

out of

5
 by
princes petutkhamen
Ugh!
I want to thank the reviewer that sent their tarnished Jai back, because I received it! I took a polishing cloth to it. It did shine up, but its not the same. I could not fit the slider through the beads. I do like the Jai silver work, even though I had to polish it to see it! I will use the beaded necklace for other enhancers.
12-22-15
Rated

5

out of

5
 by
Birman Gal
More than Pleased
I've been wishing for this set for a long time and couldn't pass it up when offered at a LTS price. I purchased the black set and absolutely love it. Yes, it was a bit tarnished when I unwrapped the slide, but that was solved in about a minute with a polishing cloth. No big deal at all. The quality of all three pieces is what I would expect from the JAI line. The slide is quite substantial and moves effortlessly on both the leather and beaded necklace. I thought I would wear it on the leather and use the beaded piece as an accent. Actually, I think I like it best on the beads! That was a surprise. This is just a magnificent JAI set (especially at the LTS or clearance price). Glad I decided to give myself a holiday gift!
12-22-15
Rated

3

out of

5
 by
SPD
terrible tarnish
I have NEVER rec'd anything from QVC this badly tarnished!! It looks like it has sat around for a long time in a warehouse (probably since the day it was a TSV.) All silver parts are literally BLACK and with all it's twists and small details the piece is VERY hard to clean! Will have to put alot of effort into preparing this piece to wear but I like it and hopefully it will be worth it. Before purchasing think long and hard as to whether you want to spend time cleaning this piece before you even wear it! Also because of its condition I would not recommend it as a gift!
12-22-15
Rated

1

out of

5
 by
SharonZ
Tarnished?
First off, I can't believe that anyone willingly paid $242.00 for this necklace. I received mine today, it was wrapped in kleenex in a plastic bag and badly tarnished. I'm sending it back, I just can't bring myself to have to clean a brand new piece of jewelry. I love this line, this piece just really fell short.
12-22-15
Rated

5

out of

5
 by
sosandD
lovely gift for someone
I ordered this for my daughter. I thought she could wear this casual or with her business suits. Just love John Hardy jewelry.
11-23-15
Rated

5

out of

5
 by
sunnygurl
Stunning Pieces.....
that blend beautifully together. I received my 1st John Hardy piece today and I absolutely love the entire set, it's perfect. I love the beads, the Sterling Slide, and I find the Leather Cord to be the BEST Leather Cord I ever owned and, I've tried Leather from top designers around the Globe! I never kept any of them as I found them to be too scratchy, this Leather Cord is soft and subtle. The beads can be worn with or without the Leather Cord. I wear them as photographed - I think the beads add a softness to the Leather Cord and I feel more feminine wearing all three pieces. The Sterling Silver is Stunning! The design is flawless, how clever to think of making the back/neck side flat so it lays better? I'm super impressed. I love that the Silver is not that 'In your Face Bright Silver' as I think Silver naturally has some darkness, and besides it matches the accessories, so why spoil the look? Needless to say, I love my 3 pieces of John Hardy's designer line and I will be shopping for more. His work is beyond a shadow of a doubt exquisite, and well thought out too - I like this type of thinking, I'm impressed, it shows somebody cares what a woman wants, nice!
10-09-15