Heys Exotic 19" Spinner and Beauty Case
In Stock
Sold Out
We're sorry. This item is not available at this time.
Pre Order Possible .
Low Stock
Description
In the jungle of baggage claim, this wild bag is easy to spot. The high-gloss exterior is printed with an exotic animal design, while hard sides help protect what's inside. The matching beauty case makes a beautiful, coordinating carryon. From Heys USA.
Includes 19" rolling upright and 12" beauty case
Rolling upright: four EZ-glide spinner wheels; built-in, three-digit, TSA-accepted lock; 1-1/4" zip expansion; three full zippered pockets; divider
Beauty case : top zipper access, pockets, dividers, mirror, carry handles, and an elastic carrier strap
Polycarbonate composite body; lining 100% polyester
7-year Limited Manufacturer's Warranty
Made in China
Important Details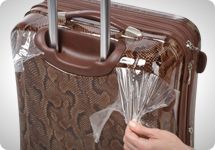 Plastic Protective Coating
A clear protective coating has been applied to the outside of your new luggage. This easy-to-remove thin wrap of plastic is applied at the factory to protect the high-gloss finish on your new luggage. To remove, start at the upper-right corner on the front of your bag. Lift an edge of the plastic wrap and peel it away. Repeat until all the plastic is removed.
Reviews & Community QA
F06850 - Heys Exotic 19" Spinner & Beauty Case Hard Luggage Set
18
18
cute luggage set
Guess it really doesn't matter one way or the other to write this review since it is sold out but it is a really nice set of luggage. Yes it does have a smell to it but I am airing it out and it is going away. I was hoping mine didn't have a smell but it does and I expected that before I got it. I have waited a long time to get a set like this and I will keep it. I am hoping to find similar pieces to match this set. Wish they would bring it back in the other prints. It deserves a 5 rating but with the smell it is a 4.
07-29-10
Absolutely Love It !
I held off for a long time after reading the reviews of this set having a smell so bad people had to send it back but last week decided to take a chance. It does have a slight plastic like smell but nothing over powering. I had orginally wanted the leopord but waited too long so had to purchase the zebra which now that I have it in my home I have to say I fell in love with the print. Love all the compartments in both pieces and love the fact that it has the built in TSA Locks. This is great value for Heys Luggage. Thank You QVC
06-28-10
Perfect luggage
This set is so cute. I love Heys and these cases are perfect. They roll easy and look great.
12-16-09
sooooo cute
I love it!!!!! I have priced the heys luggage in the stores ,his is a great buy you practially get the beauty case for free! There is a little smell, but it's going away since taken out of the box. I may get the snake too if it comes back in :)
12-15-09
It does smell
Tried to chime in on this earlier -- I REALLY wanted this luggage but it smelled terribly - tried to air it out in vain I had to return it - I was so sad - good price and sooo cute IF it did not smell!
12-03-09
If you like moth balls...
I was so excited to receive this trendy little set until I opened the box and the overwhelming smell of moth balls greeted me! Unbelievable for $150.00...I could not get the smell to go away...left it open in my master closet trying to air out...everything around it began to have the smell! It also looked like someone, before me, had tried to spray some air freshener on them because there were marks on the exterior. This was not for me!
11-07-09
STYLISH AND FUNCTIONAL!
LOVED THE SPINNER AND BEAUTY CASE. I NOTICED NO STRONG ODOR.
10-23-09
Awesome!
I bought this for my daugher. It exceeded my expectations and she loves it. She says that it is great for travel. You can always spot it in the airport. She says that it is easy to take down the airplane aisle. It will spin side-ways and can roll, as opposed to having to stop and pick up luggage to get it down the aisle. It expands to have enough room for her and her husband to travel for a weekend. One takes each side. She REALLY likes it and I may find the rest of the set to purchase for her for Christmas. I got her the Zebra. I highly recommend this item.
10-20-09
So excited about this!
I ordered this because checking luggage is now so expensive. I was a little concerned about size and interior details since they weren't presented on air. When I received it in person I was SO impressed with the beauty and the details of both the suitcase and beauty case. I didn't notice a smell at all. I ordered the giraffe (although I would have gotten the snake if it were available) which is great fun but still kind of neutral. I will warn that it does not come with instructions to set the TSA lock, so we had to look those up online.
10-17-09
terrible Smell
I bought this in the zebra and then tried the leopard just to be sure it wasn't just one set that smelled but the leopard was just as bad. I LOVE the style and the spinner wheels so I tried airing it out for 3 weeks and it still smelled awful. I put a tissue in it to see if clothes would absorb the odor and sure enough the tissue really held onto the smell. I went on line to see if there is a solution and all I could find was that it was the glue between the fabric and the case that caused the smell. Both sets went back. I sure hope they figure out the smell problem because the set is adorable.
10-09-09
Odor
I agree with the other reviews - the smell is terrible. As soon as I opened the box I could smell it. I don't know how in the world I could put clothes in this. The clothes would smell terrible, too. Don't know what to do with it. I get a lot of things from QVC with this same smell. Usually leather jackets or handbags.
10-06-09
Travel in Style
I received the snake pattern and I just love it!!! I needed something smaller to carry on the plane and this is perfect. The best part has to be the wheels that go 360 degrees. Very cool Heys! The lock is also very cool and both peices together are not heavy empty ( some luggage can be). My luggage did not have a smell at all. Can't wait for my next trip!!
10-03-09