HairMax Lux 9 Hair Growth LaserComb
In Stock
Sold Out
We're sorry. This item is not available at this time.
Pre Order Possible .
Low Stock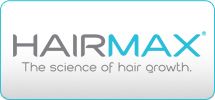 Description
What is it: A rechargeable, home-use medical device that utilizes laser phototherapy to gently nourish hair follicles and promotes new hair growth as you slowly comb it through your hair. Continued use is required to maintain the benefits, with visible results in as few as 16 weeks.
Who is it for: Men and women who have early to moderate stages of hereditary hair loss. It is not intended for those who have advanced stages of hair loss. Please refer to the attached PDFs to see which hair-loss patterns are suitable for HairMax use. Women should refer to the Ludwig (Savin) Classification Scale. Men should refer to the Norwood Hamilton Classification Scale. Everyone should refer to the Fitzpatrick Skin Type Classification Chart for a detailed description of the skin tones/types outlined in each of the scales.
Why is it different: It's the first medical device clinically tested and FDA cleared to promote hair growth in both men and women with certain degrees of hair loss. Plus, HairMax is a one-time purchase--there are no ongoing costs.
How do I use it: Hold power button for three seconds to turn on the device. Next, press the laser button to activate the lasers. Simply move the HairMax slowly across your scalp in a combing motion, leaving it on each spot for four seconds, throughout the recommended 11-minute treatment session. The HairMax will beep every four seconds to help you time the application. For best results, perform an 11-minute treatment session three times per week.
From HairMax.
Includes LaserComb, battery charger, and power cord
Measures 9-1/2"L x 1-3/4"W
Ages 18 and up
UL listed; 2-year Limited Manufacturer's Warranty
Reviews & Community QA
HairMax Lux 9 Hair Growth LaserComb
464
464
Never worked from day one
When I open the box and took it out to charge nothing happened I called the manufacturer and they said that they knew there was a flaw in their computer chips that were in the recharging part of the comb. Called Comcast they told me to return it to get another one just got an email that said they received my return but had no more and they were just going to refund my money very disappointed in the entire purchase......
05-31-15
Didn't work
I got pains in my neck, lymph system, whenever I used this item. I returned it.
05-26-15
AMAZING!!
I am starting my 8th week of use with my HairMax Lux 9. It is working. I have new growth all over my head. I can't begin to tell you how much this means to me. I am sooooo happy. Thanks, Q, for giving us so many opportunities to try new things. This one is FABULOUS!
05-24-15
Great Great Great
Changed my life, I had baby fine hair, and I was losing it, started using hair spray to keep it in place, and prayed it was not windy out, now let the wind blow, now i look in the store window when it is windy with a big smile, no more hair spray, love love this product, you owe it to yourself to try it.
05-16-15
Good product
I bought this product last autumn and have used it regularly for the 6 or 7 months. I am satisfied that the thickness of my hair has improved. I used to hate being able to see my scalp through my thin hair and this product has changed that. Hairmax has worked wonders to improve thickness and to provide new growth of hair. Unfortunately, I think this product is going to be an all or none kind of purchase. If it doesn't work people are going to be very dissapointed but think it is definetely worth trying. That's why looking at the reviews you are seeing all 5 or 1 stars. It takes the full 120 days trial to really get the hair folicles stimulated and growing. I didn't really notice anything for the first 60 days but then it started with tiny growths.
05-14-15
IT WORKED FOR ME!
I had a severe and prolonged illness over about a 2-year period, resulting in a lot of trauma to my body and extreme malnutrition, causing major and extreme hair loss (not cancer or chemotherapy). I had lost at least 75-85% of my hair or more. I didn't have big bald spots, because the hairs were falling out evenly all over my head. It was super thin all over my head. I had always had long, reasonably thick hair, and now there was barely any hair left. I could not even make a 1/4 inch thick ponytail. Everywhere I walked, I left big puddles of hair all over the floor, on my pillow, on my sheets, sofa, clothes, etc. While in the hospital, the cleaning lady would sweep my room, and she would comment, "WHERE IS ALL THIS HAIR COMING FROM???" When I washed my hair, I'd have to put huge, thick piles of hair in the trash can every time I washed it, so much that it would fill a small trash can with each wash; and when I combed it out, more thick piles in the trash can. It was so alarming and upsetting. So I set out to get back my health and my hair with an intensive, multi-pronged plan. I was using scalp-nourishing topical products, a natural, botanical cleansing conditioner, I was taking hair vitamins and nutritional herbal supplements, AND I was using my new HairMax faithfully - even more frequently than 3 times a week, sometimes 7 days a week. I was working on it from the inside out, as well as from the outside in, at the same time. Over the coming months, my hair started coming back in, and growing thicker and longer like crazy, and starting within about 4-6 months and throughout the coming year, it actually became much thicker than it was before I lost my hair! It worked!! I am so delighted with the results, much of which I must attribute to the HairMax, because that was the only element of my recovery plan that I had not ever done prior to getting sick, and that I believe helped give me the thickest, healthiest hair I could recall ever having had in my life. I would definitely recommend, and actually HAVE recommended (and loaned), this product to others. Don't let anyone tell you there's no hope for getting your hair back. Sure, there may be such specific cases, but don't give up hope until you have given yourself every chance, by supplying your body with the proper raw materials it needs to grow healthy hair AND by using this HairMax for AT LEAST 6 months or more. At least try it. I'm so happy I did. I LOVE it!
05-11-15
Disappointed
I have been using this Hair Max since the end of November, so it has been five plus months. My hair has thinned considerably with age and I was so hoping this product would at least bring back some of my hair. There has been no improvement whatsoever. It was a complete waste of money and time. I wish I had not expected it to work and wish I had returned it in the allotted time.
05-07-15
Stopped Working
Disappointed because this stopped working completely after a year. This was a gift to a relative and he had some hair grow in when it would turn on but now says it won't even charge up. A lot of money for a product not to last longer than a year.
04-29-15
It is working
Purchased this for my mom; age 79. She has fine thinned silver hair; fair skin. She is in her 4th week and hair is growing along the hair line and in those areas that the scalp could be seen. Her smile and feeling encouraged about the hair growth makes this a good investment.
04-29-15
So hopeful
I am in my mid sixties, and have thin hair on top of my head. This happened during menopause. I watched the hair max for months before taking the plunge. I used as directed exactly for four months, but no results. I even began taking a high quality biotin tab daily. It is easy to use, but I wish I had another month to see if anything happens, but can't afford to take a $400 chance. Thank God for our dear Joan Rivers great hair day.
04-23-15
I wish it had worked
I am still using the device and it's been almost 6 months. I don"t think it is working but I hesitate to quit. I SO wanted this to be a solution for me.
04-17-15
NO RESULTS
I HAVE USED THIS PRODUCT FAITHFULLY AS DIRECTED FOR 15 WEEKS. THE RECOMMENDATION IS 16 WEEKS TO SEE ANY RESULTS. IF I HAVEN'T SEEN ANY NEW HAIR GROWTH BY NOW, I DO NOT WANT TO RISK KEEPING IT FOR ANOTHER WEEK AND LOSE MY REFUND, SO I WILL BE RETURNING IT. I AM REALLY DISAPPOINTED, AS I HAVE RECEDING HAIRLINE ON EACH SIDE WHERE THE HAIR WOULD NORMALLY BE PARTED. AS A COUPLE OF OTHER REVIEWERS MENTIONED, IT SEEMS THAT COLORING THE HAIR WORKS AGAINST POSITIVE RESULTS. I COLOR MY HAIR. IF I LET IT GROW OUT TOO FAR WITHOUT COLOR, YOU CAN SEE MY SCALP THROUGH THE GREY HAIRS. I HOPE THIS HELPS ANY WHO ARE CONSIDERING IT. I AM HAPPY FOR THOSE WHO RECEIVED POSITIVE RESULTS!!
04-13-15