HALO 5500mAh Portable Power Charger for Cellphones & Electronics
In Stock
Sold Out
We're sorry. This item is not available at this time.
Pre Order Possible .
Low Stock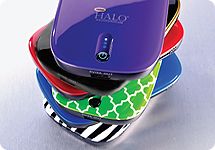 Learn More About HALO Portable Power
Description
The HALO is back, bigger--and even better! This 5,500mAH Portable Power Charger is a supercharged electronics accessory that provides peace of mind on the go.
What makes the HALO Portable Power Charger special? This backup battery ensures cell phones, cameras, Bluetooth devices, gaming systems, tablets, and other gadgets are able to charge when you're away from a power source. Ever wonder how you'll charge devices when traveling, during power outages, or even while camping? This is your solution.
Is it compatible with all cell phones? The HALO Portable Power Charger is compatible with devices that utilize one of the three supplied tips: micro USB, mini USB, or 30-pin. An iPhone 5 adaptor tip is not included, however, this portable charger can be powered using the iPhone5 USB connection cable.
How big is it? It's compact enough to fit in a purse or pocket and is very easily transported.
How do I charge the HALO: Hook it up to your computer with the provided USB cable. You could also charge it with an AC adapter that accepts USB ports (not included).
What's in the box? The HALO Portable Power charger; a USB charging cable; three interchangeable adapter tips: 30-pin, mini USB, and micro USB.
From HALO.
Please consult the manufacturer's documentation regarding the safe and proper use, handling, storage, charging, and disposal of products containing lithium-ion batteries.
Includes charger with built-in USB input and USB output cables; USB cable with three connector tips: micro USB, mini USB, and 30-pin
5,500mAH capacity
Compatible with many mobile phones, tablets, MP3 players, MP4 players, handheld gaming systems, GPS, Bluetooth devices, and more
Can charge two devices at once: one with the micro USB output and one with one of the three included connector tips
Overcharge protection
USB outlet to accept other cables; use USB cable that comes with devices like iPhone 5
Measures approximately 4-1/2"L x 3"W x 1/2"H; weighs 5.5 oz
1-year Limited Manufacturer's Warranty
Made in China
Reviews & Community QA
HALO 5500mAh Portable Power Charger for Cellphones & Electronics
413
413
Works Great
I love this its so convenient! I haven't had any issues with it at all.
04-13-14
Total bumb
Had it for 6 months. .then just out of no where quit working...got it because I do a lot of reports on my phone for work during the day..worked great at first..then just quit on me..
03-27-14
Had trouble from the beginning!
It worked great for a about a month. Then it wouldn't charge. I was going to send it back, but I gave it another try. It worked. Now it is not charging again. It has been a year. Im sure the warranty has expired by now. The sad thing is I ordered more of the same brand for Christmas gifts. I hope they last longer than mine did. That was just a back up charge, so I didn't use it a lot. Don't waste your money.
03-17-14
Starts off great but doesnt last
I used it very rarely but when I needed to charge my cell and was not near an outlet it was great n fast.Only problem is out of nowhere it just stops working . I tried again and exchanged it but same exact problem occured. It shows a full charge and just stays lit but doesnt charge anything after I would say 10 uses each time about.. If it didnt malfunction it would be great !
03-13-14
Very disappointed
Thought thus would be the most perfect Christmas gift ever. Lasted about a month before it quit holding charge. Very disappointed with the money I spent. On the other hand the other one I got works great
03-11-14
zebra halo
I bought this product in May 2013. It recently quit working.................would not recommend. Hopefully QVC will return and credit my account.
03-06-14
Disappointed
I love the idea of this product. But I bought the previous version of this and it worked for about a day and then stopped working even though it was fully charged it would not turn on unless it was hooked to my computer. I exchanged it thinking that I just got a dud, but when my second one came the same thing happened. I wish it would have worked out because like I said I love the idea of this product but it doesn't do a whole lot of good when it doesn't work.
02-26-14
not reliable
I purchased the previous version of this and it works some time, does not stay charged as claimed. I wish I would had returned it and payed more attention to the reviews.
02-25-14
Not worth the money spent
It is cute, but very awkward to get the little doodads out so you can either charge it or use it to charge other stuff. My biggest complaint is that it doesn't hold a charge long enough. Half the time when I go to charge something the Halo doesn't have any power left to do it. I don't know if it runs out even when not being used or what, but it is a pain to deal with. It defeats the purpose.
02-14-14
Misrepresented Item - DOES NOT WORK WITH IPHONE 5S
I purchased this charger because it was advertised to work with the iPhone 5S which I had just upgraded to. Having had a smaller Halo Charger previously that I liked to use with my IPhone 4S was anxious to have this for my 5 and IPAD mini. They kept saying it works with the iPhone 5 but what they really were saying, now that I read the small print is it works with their charger cord....who cares it will not charge my phone unless I buy a tip which is not included. Just tried this now and too late to return. DISAPPOINTED!!!
02-09-14
Doesn't work
I tried to use this too late to return it. It totally doesn't charge my iPhone.
02-06-14
Great Charger
This is a great charger to have on hand especially when traveling. Since I'm not terribly computer savvy, it took me a while to figure out how to charge and operate the item. I was disappointed that there was not a device to connect to the IPad mini. It is great for charging phones and the charge time is short.
01-29-14