HALO 2800mAh Pocket Power Charger for Cellphones & Electronics
In Stock
Sold Out
We're sorry. This item is not available at this time.
Pre Order Possible .
Low Stock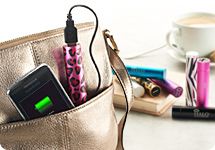 Say Hello to HALO!
Learn more about the HALO Pocket Power charger:
Description
Power up on the go! The HALO Pocket Power Charger is a super-popular, supercharged electronics accessory that provides peace of mind away from home.
What makes the HALO Pocket Power Charger special? This backup battery ensures cell phones, cameras, Bluetooth devices, gaming systems, and other gadgets are able to charge when you're away from a power source. Ever wonder how you'll charge devices when traveling, during power outages, or even while camping? This is your solution.
Is it compatible with all cell phones? The HALO Pocket Power Charger is compatible with cell phones and devices that utilize one of the three supplied tips: micro USB, mini USB, or 30-pin. An iPhone 5 adaptor tip is not included, however, this portable charger can be powered using the iPhone5 USB connection cable.
How big is it? It's compact enough to fit in a purse or pocket--comparable to a tube of mascara in size. Very easily transported, this extra power supply is a practical choice for everyone on your gift list.
How many times can it charge my device before I have to recharge the Pocket Power Charger itself? It depends on the device. When the 2800 mAH HALO Pocket Power is fully charged itself, it can:
Charge a Blackberry over 1.5 times on a single battery.
Charge an iPhone 3 over 1.5 times on a single battery.
Charge the iPhone 4 1.5 times on a single battery.
Partially charge a Pandigital tablet.
Charge the Samsung Galaxy S 1.25 times on a single battery.
It can also partially charge a Samsung Galaxy S in 10 seconds in order to make a call!
How long will it hold a charge? When fully charged and not in use, the Halo Pocket Power can hold a charge for up to 12 months!
The Halo provides additional talk time of:
9 hours to the iPhone 3
10 hours to the iPhone 4
8 hours to the Samsung Galaxy S
7 hours to the Blackberry Bold
What's in the box? The HALO Pocket Power Charger; a USB charging cable; three interchangeable adapter tips: 30-pin, mini USB, and micro USB; and a pouch.
From HALO.
Includes Halo Pocket Power Charger; Charge It Charge Me USB charging cable; three interchangeable adapter tips: 30-pin, mini USB, and micro USB; and pouch
2,800mAh
Charges mobile phones, gaming systems, Bluetooth devices, cameras, and more
Compatible with devices that utilize one of the three supplied tips: micro USB, mini USB, or 30 pin
Compatible with all devices equipped with a USB male connection cable
LED power status indicator
Can charge one device while being recharged itself with Charge It Charge Me USB cable
USB 2.0 port for powering/charging devices
When fully charged and not in use, can hold a charge for up to 12 months
5.0V/500mA rated input
5.0V/500mA rated output
Measures 4"L x 3/4"Diam
90-day Limited Manufacturer's Warranty
Made in China
Reviews & Community QA
HALO 2800mAh Pocket Power Charger for Cellphones & Electronics
1120
1120
Best charger around!
I purchased this for myself, my kids and their spouses as gifts. They all love them and use them all the time. I had mine in my purse and used it off and on for months, before having to recharge the Halo. Halo is a great product!
04-23-14
Poor
Does not hold a charge long. It is not worth paying for.
04-14-14
Horrible & messed up my new cell phone
After purchased, used it once on my MP3 player just to see if it worked, otherwise would have returned. I had an old regular cell phone so it wouldn't work on that. Has held a full charge (per the green lights) for a year, but just tried to charge my new LG L39c phone with it and it didn't charge. Now my phone is powering up really slow, even after I charged it with the phone charger.
04-10-14
I regret this purchase
After a few months of using this product, I realize that I needed to charge it frequently. I was expecting high performance from this product but was disappointed with the results. At this point I just regret ever purchasing the product. Highly upset!
04-03-14
Disappointed
Halo works fine, I had a friend who had one with a flashlight on the end. I was expecting the same product from QVC, but mine has no light. It is what it is.
04-03-14
I had one from before when could get it colors.
I love my Halo charger and my hubby was constantly taking it to work with him. So we got him one. For Christmas I got each of the kids one as they were always complaining of their phone charge going dead before the end of their work or school day. They loved them! So easy to use and can charge two phone at once with two different types of connectors, like the Iphone 4 versus the Iphone 5.
03-28-14
need to inprove
This was given as a holiday gift. Got word today, that part of the charge cable broke off inside the phone where you plug the cable. Must get a new phone now.
03-26-14
Disappointed
Does not hold a charge for long. It took longer to charge.
03-19-14
Best Purchase Ever as well as most practical
I purchased the HALO Pocket Power Chager for myself at Christmas time and loved it so much went back and purchase 4 more for my friends and family. I love that the charger is ready when I need it, it portable, and small enough to fit in a pocket or purse. I have the security of knowing that anytime that I need to recharge my phone I can recharge anywhere any time. I have used it for my phone, for my e-readers and love the ease of use and the fact that the HALO comes with a bag with exchangeable tips. I would recommed this to anyone that travels, takes vacations, has teenage children that they want to insure have the ability to power up their cell phones and are never stranded.
03-06-14
didnt like at all
not good at all didn't hold a charge didn't likeit
03-03-14
A Must Have
This is one of the best products I have purchased. I always carry one in my handbag. Several have been purchased as gifts. Those I have given them to are always thanking me.
02-27-14
Best purchase
I bought the zebra print halo about a year ago and have used it many times since. Every night I charge from wall outlet and the next day when I need a charge for my IPhone 5, it charges very quickly and keeps the charge for hours. It's being able to use it properly and you will never have a problem with it. Only one drawback. The storage bag is too small fir the items.
02-26-14