HALO 2,800 mAh Portable Charger for Cellphones w/ Flashlight
In Stock
Sold Out
We're sorry. This item is not available at this time.
Pre Order Possible .
Low Stock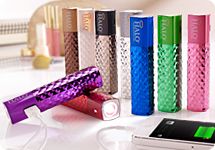 Description
The HALO StarLight 2800 Power Charger is a newly designed electronics-charging accessory with super new features from QVC's most popular brand in portable power.
What makes it special? This lipstick-size backup battery ensures cell phones, cameras, Bluetooth devices, gaming systems, and other gadgets are able to charge when you're away from a power source.
This new model includes a built-in LED flashlight and a handy retractable cord with two of the most popular charging tips.
Plus, the new quilted look in fresh metallic colors make this charger a fashion accessory, too!
Is it compatible with all cell phones? The HALO StarLight 2800 is compatible with cell phones and devices that utilize one of the supplied tips: micro USB, mini USB, or 30-pin. An iPhone 5 adaptor tip is not included, however, this portable charger can be powered using the iPhone5 USB connection cable.
The HALO StarLight 2800 can fully charge an iPhone 3GS, iPhone 4, iPhone 5, or a Blackberry Bold.
The HALO StarLight 2800 provides additional talk time of:
8 hours to the iPhone 5
8 hours on 3G to the iPhone4
6 hours to the iPhone3GS
3-1/2 hours of video file play time to the Samsung Galaxy Note II smartphone
6 hours on 3G to the Samsung Galaxy SIII
7-1/2 hours to the Blackberry Bold
How long will it hold a charge? The HALO Starlight 2800 will hold its charge for up to 12 months--so it's always ready when you need it.
What's in the box? Halo StarLight 2800 Power Charger; retractable USB charging cable with two micro USB ends, 30-pin connector, mini USB connector, pouch, and instructions.
From HALO.
Please consult manufacturer's documentation regarding the safe and proper use, handling, storage, charging, and disposal of products containing lithium-ion batteries.
Includes Halo StarLight 2800 Pocket Power Charger with built-in LED flashlight and USB 2.0 port; retractable USB charging cable with two micro USB ends, 30-pin connector, mini USB connector, carrying pouch, and instructions
2,800mAh
Charges mobile phones, gaming systems, Bluetooth devices, cameras, and more
Compatible with devices that utilize one of the three supplied tips: micro USB, mini USB, or 30 pin
Compatible with all devices equipped with a USB male connection cable
LED power status indicator
Can charge one device while being recharged itself with included USB cable
USB 2.0 port for powering/charging devices
Short-circuit and over-current protection
5.0V/1000mA rated input
5.0V/1000mA rated output
Holds charge for up to 12 months
Measures 4-1/8"L x 7/8"W x 7/8"Deep; weighs 3 oz
1-year Limited Manufacturer's Warranty
Made in China
Reviews & Community QA
Rated

2.6

out of

5

 by

273

reviewers.
Rated

5

out of

5
 by
medtran13
Glad I bought!
Great item to keep charged & in my car or purse! Different colors to choose from makes it fun.
01-12-15
Rated

1

out of

5
 by
tamdow
Total Junk
Purchased two of these, first one lasted about a month and then decided to not work, returned for a refund. No sooner than my time to return ended, the second one died. Do not recommend, not worth the time or effort.
01-10-15
Rated

1

out of

5
 by
Southern Pride
Horrible!!
Bought this charger in November and by April it didn't work. I only used it three times!!!! Complete waste of my money!!!!!
06-29-14
Rated

1

out of

5
 by
MsCinnamon
Stylish but not worth it
I bought these as Christmas gifts for family members. They had problems with the units holding a charge from the start. I offered to return them but they decided to keep them for emergency charges only. Since then, each one has only been used less than a dozen times. Now the attachment cords are separating from the base of each unit. I would hate to purchase another set of cords only to have the same problems, as the existing ones are thin and flimsy. DON'T WASTE YOUR MONEY!
05-21-14
Rated

1

out of

5
 by
NanaNettie
Dont Give This Item As A Gift or Personal Item
I ordered about 10 of these for Christmas Gifts as well as one for me and one for my husband. No one was pleased with this item.. They said they didn't work. Didn't hold charge and were generally useless. I was very disappointed and embarrassed.
05-16-14
Rated

5

out of

5
 by
Cast_C
Halo
Amazing! came in handy during a power outage in my area and the flashlight and charger were such a good combo in one! now with all the new patterns will definitely be ordering more as gifts!
04-02-14
Rated

1

out of

5
 by
RJSALS
Does Not Work
Purchased it and after 4th charge it stopped working. Just returned it.
03-29-14
Rated

2

out of

5
 by
TT Bear
Description deceiving
Gave it 2 stars, partly my fault for not reading thoroughly. Part of the description says compatible with IPhone 5, another part says you have to use something from your IPhone.???????? Bought it because I wanted one to work for my IPhone 5 and I don't have the other attachment for it to work on my phone. So back it goes. Wish they would call it like it is. Heres to reading descriptions Really think it is overpriced now that I look at it. So big deal, it has a flashlight
03-08-14
Rated

5

out of

5
 by
Songstress48
Great Device
I received mine as a gift and it so does the job for me. I charged it for about 8 hours prior to using it. I took it with me in the handy sack and did a lot of running around and when my cell was almost dead plugged in the device and continued with my errands. I was so pleased, and had to buy this one for a friend. You have to follow the instructions, if it's not charging your device, it might be defective, but if you read rather than just do you'll have a better outcome.
03-07-14
Rated

1

out of

5
 by
mjmurray
3 X A Failure!
I purchased 3 of these for Christmas gifts. None of them work! All 3 of them never kept a charge. DO NOT waste your money!!!
03-05-14
Rated

5

out of

5
 by
selsaas
So Far, So Good
I bought two of these, one for each of my adult daughters living on their own. They have both used them many times with great results. My oldest daughter is a nail technician and has lent it out to many of her clients as they are getting services done and my youngest is a massage school student and a server and has also shared her power with classmates, coworkers, and customers, ALL of them asking to where she got such a thing. Hopefully, for this price point especially, it isn't short lived. I bought a larger more powerful version for us to use at home/on the road.
02-28-14
Rated

1

out of

5
 by
alibono
Do not waste your money
Charger indicates that it is charged..solid green. Plugged it in to my iPhone 4. NOTHING. So annoyed. Too late to get a refund.
02-27-14