FoodSaver Vertical 2 Speed VacuumSealer w/ Accessory Hose
In Stock
Sold Out
We're sorry.This item is not available at this time.
Pre Order Possible.
Low Stock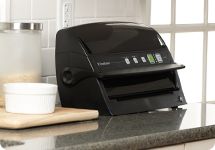 The Seal Deal
Click the links below to learn more about this FoodSaver Vacuum Sealer.
Reviews & Community QA
FoodSaver Vertical 2 Speed VacuumSealer w/ Accessory Hose
303
303
Briefly Happy
This w a s a great purchase.I use it every week .This is the second one I ''ve purchased and the motor seems to burn out.I Don 't think I would purchase another one of this brand.
12-21-13
Awesome Product
This is our first Food Saver and I have to tell you....I love it. We purchased meat on Tuesday, our Food Saver arrived on Wednesday. The meat from the Tue night had already started showing signs of freezer ice....We used the machine on other meat and on the next day it was perfect.
11-15-13
Loved It
This is my second food saver and I LOVE IT ! I have used food saver systems for years and they paled in comparison to this model. It's so quiet too.
11-07-13
Love it
I always had owned a vacuum sealer,I seen this,and had to try it,I've had it for about a week,and I love it,it's so easy.and it has a cancel button on it,so if it's not sealing,or something isn't rite you can stop it rite away.makes life easier.
10-18-13
Food Saver
I purchased my food saver a few weeks ago and absolutely love it! I had been waiting to purchase one, and when this one was aired, I knew it was time to buy. I haven't been disappointed. As one shopper mentioned in the reviews, the coupon for additional bags had expired, but when I called the 800 number, the nice associate arranged to send me the coupon special. Waiting to see if they arrive:) Purchase this item: You won't be disappointed.
10-09-13
Good purchase I thought
Purchased this food saver love food saver but I remembered today I had a free bag rebate Found the rebate order form and it was expired on 3-31-2013. Why tell about the rebate on tv if it was expired. David please read the rebate form before airing the product. I did read someone else's review and nothing was done about the bag rebate. Qvc could you try to help your customers
10-08-13
great product
my wife loved it. saved us a lot on our grocery trips. definitely a must buy especially if you have a small family and loves to shop wholesale.
10-03-13
Why did I wait so long to get one of these?
I love this machine and use it regularly . . . almost daily . . and I am wondering how I have lived this long without a FoodSaver!!! I keep it on the counter and it blends in nicely with the kitchen decor. It truly has saved $$. Won't live without one of these anymore.
10-02-13
Best of the Best
Love, love, love my new FoodSaver! It was time to replace my original --- which I had definitely gotten my money's worth out of. I like being able to buy in bulk and break it down in portions. Every kitchen should have a Food Saver!
10-02-13
Bitter Sweet Purchase
I had waited on a good price for this item, and it sounded great on air; I have owned this product in past and knew what to expect, the product so far is okay, but very displeased with the advertising, first the price on flex pay on air was not in reality the price you will pay, and on this item it was to have enclosed rebate/extra bags $20 dollar savings, the coupon that was in my box expired March of this yr ; how helpful was that; I called QVC, the nice rep said she would put in a note to Food saver, I would have to follow up. How helpful is that? That was the sellilng feature on the purchase of this item. I never heard back from anyone. Live and learn.
09-29-13
LOVE this machine!!
I love using this valuable kitchen utensil. We are finishing the harvest of our garden and I have used this foodsaver sealer so much. To keep frozen vegetables longer, it's a dream. Lots of times I freeze the items on a cookie sheet and then use the vacuum sealer. I use it for all of the on-air suggestions and more. I have had more than one of the sealers and I have to say this is the best one that I have owned.
09-15-13
Great
Bought this one to replace an old outdated one , has more features than the other one . very pleased with mine . Thanks !!!!
09-12-13