FoodSaver Automatic Vacuum Sealer Flip-Up Design & Accessories
In Stock
Sold Out
We're sorry. This item is not available at this time.
Pre Order Possible .
Low Stock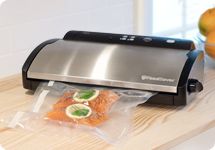 Description
You wouldn't throw cash in the trash--don't throw your food away, either. This automatic vacuum sealer from FoodSaver helps you seal food and store it longer, spoil-free--which could help your family save hundreds of dollars in groceries a year.
Are you the type to shy away from buying perishable foods in bulk because you're concerned about spoilage? Worry no more. With this sealing system, you can stock up and enjoy the savings, then stow your groceries away to use as needed. Once given a proper airtight seal, meat, poultry, and even fish will stay fresh in the freezer for way longer than they would otherwise.
It's super easy to use. First, use the built-in roll holder and cutter to create custom-sized bags to divide your bulk steaks, salmon, or chicken breasts up into individual servings. Then, insert each bag into the machine--and it automatically does the rest. The SmartSeal technology grasps the bag, removes the air, adjusts for any moisture in the food, and produces a reliable airtight seal. Thanks to the double-wide sealing strip, you can even seal in liquids to marinade your food. Simply want to store leftovers? You can do that too. And when you're ready to reheat, the vacuum-sealed bags can go right from the freezer or fridge into boiling water or the microwave for quick, no-hassle preparation.
If you grow your own vegetables or frequent the local farmer's market, this vacuum sealer lets you enjoy the goodness of seasonal produce all year-round. The manual CrushFree instant seal control won't crush soft fruits and veggies--and is perfect for sealing in the freshness of cereals, breads, and other baked goods, too.
Save money--and space! With its innovative flip-up design, the unit won't take up a lot of counter space in your kitchen. With three colors to choose from, you can pick the one to perfectly suit your decor. Keep it out all the time! This handy helper will certainly be used daily--and it will definitely help take a big bite out of your grocery bill! From FoodSaver.
Includes vacuum sealer, two 11" x 10' rolls for making custom-sized bags, and accessory hose
Built-in roll storage
Built-in bag cutter
Space-saving flip-up design
Easy-locking latch system for vertical or horizontal storage
Double wide sealing strip for high liquid content
Manual CrushFree instant seal control
Easy-clean drip tray
Accessory hose attaches to accessory port to vacuum-seal Foodsaver canisters and accessories, not included
Two speed controls
Two sealing levels
Lying flat, measures 16-3/4"L x 11-1/2"W x 4-1/4"H
UL listed; 1-year Limited Manufacturer's Warranty
Made in China
Reviews & Community QA
K28478 - FoodSaver Automatic Vacuum Sealer w/ Flip-Up Design & Acces.
179
179
Please BRING IT BACK !!!
This is the BEST model ever.. I have owned 3 Food Savers and this is the BEST Style... The last one i purchased was K34573, it's good But not as good as K28478.. Are we so lazy we need the "machine" to close the door for us ?? It is just "one more electrical" part to go bad.... BRING BACK K28478, it is perfect..
03-26-12
Great accessory!
LOVE IT! LOVE IT! LOVE IT! I have had this now for over 3 months and am so very happy with my purchase! Not one single complaint! I buy "marked down" meats and vacuum seal them and I save a ton of money! Would definately buy again!
02-29-12
Excellent saver and other perk of marinate.
I purchased this Foodsaver in 2009 and had it in storage all this time from when I had recieved it from new. My only words to say is Amazing I should have opened this the moment I had gotten it and started using it for all my storage needs two whole years of storage and countless items thrown away prior to using it was all I could think of after I had opened it for use. It's now a permanent fixture in my kitchen and anytime I can marinate food that can I just get that handy dandy container that holds the food that I season and connect the hose to the canister and wait ten minutes or more and Bamm! The food is marinated. Great Foodsaver applause applause is all I can give for this item that is a real Foodsaver!!!
01-08-12
Great device- Essential to the kitchen
This is our second Foodsaver. The first one we used for many years & it just wore out from use. This unit is as close to having the same features as our old one as possible. I like the improvements they have made since our original purchase. The sealing area is larger, there is a guide for the bag in the vacuum chamber, storage is easier with the flip up design. The Foodsaver has become an essential item in our kitchen. Besides the obvious savings by vacuum packing food, we also use it to reseal chip bags, veggie bags, etc. It really works great for keeping salad fresh & last longer as well. Would not be without it.
12-15-11
easy to use
i just used my food saver for the first time. honestly, I've had it for a while, but was kind of afraid of it; well, mostly that i wasn't smart enough to figure it out. but it was so easy, even i could do it. ha ha so far, I'm giving it an excellent rating. I'm hoping it doesn't give out like others have experienced.
12-04-11
Best Purchase Ever
I have enjoyed using my FoodSaver the first day I received it. The first sealing we did was vacuum seal my pecans (400 lbs. of fresh home grown and shelled pecans). My husband loves it more than me. He has used it over and over again. It is user friendly as well. Love it!
12-02-11
Short lived piece of junk!
Worked great for about 30 uses, then wouldn't stop vacuuming. When I pushed "seal" it would release the vacuum, fill with air, and seal. Wasted a lot more money throwing this in the trash than I saved on food with those few good uses! And it was more like $150 when I bought it. Short lived is a common complaint in reviews - chances of getting a lemon are too high, don't risk it.
11-30-11
GREAT!!!
Great item. Have used it all summer long and it works great. Only problem is that I don't have enough freezer space...
11-29-11
unhappy with purchase
I bought a FoodSaver vacuum sealer. It would seal the bag just fine but it would not extract the air. The company sent me a new seal and it still does not work. I purchased this item because of the name. The next vacuum sealer will not be FoodSaver.
11-28-11
COULDN'T DO WITHOUT
I bought my first unit when they came on QVC and upgraded a few years ago. One thing I always do when sealing fresh meat is, put the meat in the package, fold the top over and put it in the freezer for a half hour or so, take it out and seal it partially frozen so the juice doesn't get vacuumed out of the meat. When you remove it from the freezer, cut a hole in the top of the bag so the juices don't come out of the meat as it thaws. My other favorite use is wide-mouth canning jars, 1/2 & 1 pint for storing things like sandwich spreads or anything that will be in the refrigerator for several months. When the jar lid is vacuum sealed, the top of the product doesn't dry out.
11-16-11
Save money on cheese...
I recently purchased this Food Saver. I do not want to live without a Foodsaver. I bought my first in the late 1990's to store gourmet cheese. When you pay good money for cheese you want to know it won't mold in a week. If I used it for nothing else I would save $$$. But it has also been great for bulk spices. I literally have ground ginger I bought from a spice store 5 or 6 years ago that is still pungent because I have vacuum saved it. It also prevents freezer burn on meats, etc. I love the brand and have purchased several as gifts. The only downside is that I replaced the seals on my last Foodsaver (purchased in 2005) and I could not properly seat the new seals (the old one was difficult to remove) and the latch broke. The product is not perfect but definitely pays for itself even if I replace it every 5 years or so. I plan to always have one on my counter!
09-16-11
Great, but U may need these lil tips
Mine also had some issues with suction: ..I also need to occasionally re adjust the rubber seal around the inside ...also if it wont suction: check to make sure the ..area where U set the end of the bag is clean if not .this will cause the suction to malfunction, AND make sure the roughest side of the bag is on the upper side..or it wont work. Hope this helps lady's
08-29-11