Eagle-I Built-in Video/ Audio Recording Camera Sunglasses
In Stock
Sold Out
We're sorry. This item is not available at this time.
Pre Order Possible .
Low Stock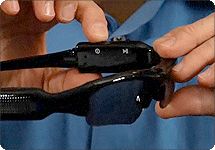 Watch and learn more about the Eagle-I Recording Sunglasses.
Description
Record what you see--hands-free--with these video recording sunglasses. They're lightweight, making them great for traveling, skiing, and other outdoor activities. And they capture all the action without any hassle.
Like ordinary sunglasses, these are designed with polarized lenses that provide UV protection. Plus, they feature innovative technology that allows a built-in video camera to record video and audio content for up to three hours on the internal memory. The camera is positioned over the bridge of the nose for minimal visibility, while still providing a wide recording range.
How does it work? Just push a button to start recording. A slot on the arm of the glasses allows you to input your own MicroSD memory card for more recording time--up to eight hours with a 2GB MicroSD card, not included. When you're done, you can easily upload the video to your computer with the included USB cable.
Grab these glasses as a unique gift for the hard-to-shop-for on your list--their unisex design makes them a great pick for men and women. Or get them for kids to use when jumping on the trampoline, playing wiffle ball in the backyard, or bike riding. From Eagle-I.
Includes recording camera sunglasses, USB cable, carrying case, and polishing cloth
One size fits most
Ages 12 and up
1GB internal memory
320x240 resolution
Requires six to eight hours to charge
Charges via USB cable
Memory card slot holds up to 2GB MicroSD card, not included
Records in 3GP format that is converted to mp4 format for uploading
High-tech ABS plastic with a modern glossy finish
Measurements: Sunglasses 6 -1/2"W x 6 - 1/2"L x 1 - 1/2"H; Case 6- 1/2"L x 2-3/8"H x 3-1/4"W
90-day Limited Manufacturer's Warranty
Made in China
Reviews & Community QA
H164863 - Eagle-I Built-in Video/Audio_Recording Camera Sunglass
55
55
junk do not buy
dont. buy the screen go blue on and off 90 day warranty booooo
05-12-12
LOVE THIS PRODUCT
Love this product but the CD was a little bent and will not read.Can i get software ?HELP
11-15-10
Gift that went bust!
Bought these for my brother last Christmas. Since they are sunglasses, he did not actually use them until early spring. Only then did he discover that that video recording worked but the audio did not. He has tried everything to no avail. How embarrassed am I? Would never recommend giving these as a gift. Not good.
11-08-10
Fun but difficult
I waited to write this review because I really wanted to use this product first. It has always worked and I have never had any functionality problems with the glasses. They are comfortable to wear and look good. The negative is that the video is takes is difficult to watch because of the quality and the shaking that occurs naturally with head movement. However, the biggest negative is that is it extremely difficult to operate the glasses. The "Push for on, push quickly to record, push again to stop recording, watch for blue blinking light (that you can't see in the sun)" Small switches would have been a lot easier. I don't think it was worth the price.
08-28-10
Tree-top memories
How else could I have gotten recorded evidence of my zipline canopy tour through a dense jungle in Costa Rica? What's a canopy tour? You wear secure harnesses the tour operator attaches to a steel cable connected from one platform to another -high in the mountain tree tops. We traversed 13 platforms. Before our trip I purchased an inexpensive eyeglass cord so I wouldn't lose them while zooming along. The ability to slip the sunglass lenses out of the frame was a big plus since the lighting was subdued amongst the trees. Since it was my first time using them, I forgot the video would follow every movement of my head. I didn't realize I tend to nod up and down when answering yes to someone. It takes a little getting used to the fact the recording will be slightly higher than your line of sight since the camera lens is in the bridge piece of the glasses. On the negative side, the only way to charge them is via a turned on computer's USB port. That meant I had to take my laptop computer on vacation which I hadn't intended to do. Also, figuring out if recording is in process without taking them off your face is a problem. I was able to eventually edit out those portions of recording but had a good deal of difficulty with downloading the program at first. Yet any new tech device has a learning curve which takes some getting used to. The video from these glasses is really cool!
08-25-10
Great product
These are great to have. Especially if you have someone thats camera shy or any children in the family that stop doing anything cute when you pull that camera out. Lol. I would recommend this to anyone that is looking for a great way to hide a camera.
06-27-10
A good start
I bought this for my husband who is an avid hunter. He is satisfied with them however it would be a hundred times better if it were a higher resolution camera and if you had the option to have clear lens too. So If you are wanting a clear picture farther than 10 feet then keep looking.
06-16-10
didn't work long
Thought these were great, first few times I used them all was good. Now I have video that says I can't move it because it has been edited, which it hasn't and most recently, When I plug into my computer the video does not come on and the glasses shut off. I have tried to reach tech support, they take a name and number but have not yet called me back. A lot of money for a couple of videos.
05-12-10
Could be great if not for some bugs.
Worked great the first timeI used them now their not working. Won't record when glasses are open only when they are closed will send them back and try to get another pair.
04-05-10
love this
i have so much fun with this . great for everyone they are fun for on the go
02-17-10
Surprised
I read other reviews and was surprised. My son in the service and he loves being able to be active and being able to video tape. He travels to areas that I will never get to enjoy and now I get to enjoy them with him. I disagree about quality I found for the price I expected less and was shocked at how well they recorded. I am ordering another one for myself.
02-15-10
My Husband Loves His Eagle-I
Bought this for my husband for Christmas and he just loves them. He loves to bike ride and do various trails and these were perfect for him to use while doing so. He was so excited when he opened them and coudn't wait to show all his friends/relatives - lol. The video quality was good and they are easy to use - not to mention he loved the style and is very picky about his sunglasses. I would recommend these to anyone looking to record video while being hands free.
01-30-10