CooksEssentials 6 qt. Round Digital Stainless Steel Pressure Cooker
In Stock
Sold Out
We're sorry. This item is not available at this time.
Pre Order Possible .
Low Stock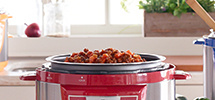 Pressure Cooking Simplified
Check out our Pressure Cooker Guide to help you properly use & troubleshoot your unit.
Description
A faster multitasker. Whip up mouthwatering meals in no time with this Cook's Essentials(R) 6-quart stainless steel pressure cooker. Its simple, multifunction panel puts you in control with 11 adjustable pressure settings and modes, so you can cook chicken, roasts, stews--even desserts--quickly and easily. Plus, this pressure cooker isn't the only multitasker--imagine all the things you could be doing while dinner cooks itself--including navigating the 40-recipe booklet for your next favorite meal! From Cook's Essentials Kitchenware.
Includes 1000W six-quart pressure cooker, glass lid, and recipe booklet with 40 recipes
Stainless steel exterior, round chassis
Functions: Vegetables/Fish, Potatoes, Rice, Soup/Stew, Beef/Meat, Chicken, Beans/Chili, Slow Cook, Brown/Saute, Steam, Keep Warm
LED digital control panel
Programmable timer; 24-hour delay timer with memory function
Manually set cook time up to 99 minutes, or up to 9.5 hours for slow cook function
Automatic Keep Warm feature
Dishwasher-safe nonstick inner cooking pot
Some assembly required
Measures 13"H x 13"W x 11-3/4"D, weighs 10 lbs 15 oz; Cord 39"L
ETL listed; 1-year Limited Manufacturer's Warranty
Imported
Reviews & Community QA
Rated

3.9

out of

5

 by

1023

reviewers.
Rated

5

out of

5
 by
Manotick
Love This
I use this item every day. It sits on my counter and I brown all my meats in it, cook my vegetables in it etc. I cook hard-boiled eggs in it and I will never make a hard boiled eggs any other way. Love it!
10-31-16
Rated

5

out of

5
 by
kmoris
Best purchase ever!
This cooks meals in minutes and the flavor is infused and awesome!!
10-30-16
Rated

2

out of

5
 by
KD in OKC
Great while it lasted
I had this six quart pressure cooker for not quite two years. Loved it. Easy to use and reliable results for pulled pork, pot roast, broccoli cheese casserole, meatloaf and anything with rice. I used it at least two or three times a week. With no warning while browning ground beef the display panel went dead. Tried a new power cable to no avail. It's dead. It was not what I consider an inexpensive disposable item. I feel like I should have gotten at LEAST five years out of it. Now I'm gun shy about Cooks Essentials electric items. I'm looking for a black Friday deal on another brand I've heard good things about instead.
10-30-16
Rated

2

out of

5
 by
Lpfarr
How sad
Bought this pressure cooker 1 year ago. Loved it, used it for so many things. Now it is erratic. Builds steam, then turns off. Browning doesn't work well anymore either. So sad...
10-27-16
Rated

1

out of

5
 by
FLceecee
Disappointed
After having used this product several times, I must say that it's a BIG disappointment. My first problem was the electrical cord, which wouldn't stay plugged into the unit. Next came the trial with a pot roast......never came to pressure......it "boiled" Tried it again with a pot roast and used only 2 measures of water......it burned...... Since I'm not a novice cook (in my 60's), I've used several different pressure cookers over the years and this is the worst. I'm surprised to find the level of product has gone down hill at QVC. What happened to the Q? I will donate the unit and perhaps someone will use it for parts.
10-22-16
Rated

5

out of

5
 by
Ornaments Not Good
ITS THE BEST
I came from a family that scared the heck out of you when you pressure cooked, those were the oldies I am 63 now. I visited my best friend in Michigan this past summer and she bought this same unit from QVC. It was so easy to watch here cook for a whole crowd at the last minute she made ribs lots of them, that I decided to buy one and its just great. The food is much more flavorful. its so easy to use, easy cleanup. I also bought The cookbook of Meredith's cooking under pressure..Very easy to follow..I have used mine and family has seen it and is now also ordering this pressure cooker, friends have tasted my roast and are now ordering it.. I am really good with roasts however I think this is my best yet due to the flavors and the time it took 55 minutes and also it just melted in your mouth..Try it people you will love it and use it lots..I cannot wait to bake a cheescake in it..yes cheescakes...
10-21-16
Rated

5

out of

5
 by
Shandawn
Love This...
Purchased this thinking I might use occasionally. I use it all the time! Meat is so tender, veggies are flavorful, and stews are delicious! I best part is that it takes just minutes to cook versus hours! Simple and easy to use! Easy to clean.
10-17-16
Rated

5

out of

5
 by
Ocracoke Pelican
Made Me A More "Frequent Chef"
What a timesaver! Makes cooking so much easier, too. This pressure cooker is just the right size! It is much simpler to use than the previous models that have the lid that remains attached to the pot when you open it. I found that model difficult because it was hard to get the lid to attach and unattach. This one is a snap. You just set the lid on top with the markings matched and turn. The controls are simple to understand. Most times I just use the timer feature. I don't have much experience with pressure cookers but have figured out the most important thing is to have enough liquid and that, if you are not sure how long to cook something, you can set it for short time periods and open it to check and reset the time and continue cooking if necessary. After you cook something once you will know how long it needs to cook and you won't have to keep opening and checking the next time. I was a little intimidated the first couple of times I used a pressure cooker but after cooking two or three dishes it begins to make perfect sense. I can now take most regular recipes and pretty much make it work in this pressure cooker. It is very nice to have the "keep warm" feature. It really does keep the food warm without drying it out. I love this pressure cooker! Here is my mother's favorite barbecue recipe if you'd like to try it in this pressure cooker. Annie's Beef BBQ: 3-4 pounds of beef (stew beef, beef roast, any kind); 3 teaspoons dry mustard; 3 tablespoons brown sugar; 1 tablespoon Worchester sauce; 6 cloves of garlic (peeled);2-3 bottles of Heinz Chili Sauce. Cut beef into cubes and put into PC with water to cover the beef. Add whole garlic clovers. Set cook time to 30 minutes. Open and check to see if you can shred the beef I mashing it with a fork and if necessary continue cooking in 10 minute intervals until that can be done. Remove the beef and the garlic cloves and pour out the water. Mash up beef and garlic cloves and return to the pressure cooker. Add dry mustard, worchester sauce, brown sugar and enough chili sauce to hold it togetherand stir well. Set the pressure cooker to the "keep warm" setting and let it sit for about a half an hour to let the flavors mingle and it's ready to go. Great on sesame seed buns with coleslaw. Even better the next day!
10-14-16