CooksEssentials 5qt Oval Stainless Steel Digital Pressure Cooker
In Stock
Sold Out
We're sorry.This item is not available at this time.
Pre Order Possible.
Low Stock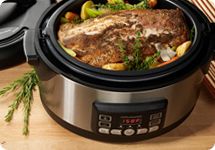 High Pressure. Low Price.
Click the link below to learn more about this Cook's Essentials® Pressure Cooker:
Reviews & Community QA
CooksEssentials 5qt Oval Stainless Steel Digital Pressure Cooker
770
770
All looks-no usage satisfaction!
This is a great looking machine, BUT I have repeatedly tried to use this with very limited success. There is no pressure to speak of and slow cooking leaves a lot to be desired. After seven hours today, the Swiss Steak was still tough, and the carrots were still half raw. As a previous reviewer said, I purchased this over a year ago, but because I was moving, usage was delayed. Well, of course, now it is too late, and it doesn't do the job as other Cook's Essentials products do and I have tons of them. Very disappointing since I am still living "out of boxes" and I counted on this machine to multipurpose cook for me for several months!
04-17-14
I loved this pressure cooker
I loved this pressure cooker but it wouldn't come to pressure after only a few uses. I had to return it and QVC was gracious enough to give me a full refund.
03-28-14
Disappointed
The first FEW times I used this, I was excited and so glad I had purchased..about the fifth time the floatie thing popped out and it never worked again. This was a huge waste of money. Because it was past the 30 day return policy I got stuck with it. Reluctant to purchase a different brand or similar product. I would NOT recommend this to anyone.
03-14-14
BEST $$$ ever spent!
I LOVE THIS APPLIANCE!! I have had this for about 9 months now and use it more and more and more. I am actually donating two appliances that I no longer use, my slow cooker and my rice cooker. I cook roasts, and chicken and chili and beans & ham and .. and .. and .. I use it as a slow cooker, as a steamer, and as a pressure cooker. It couldn't be easier and the food comes out AWESOME .. EVERY TIME!!!!
12-13-13
Big Disappointment
I received this item as a gift and was all excited to use it. It never worked at all. Product was defective as soon as I opened box
11-23-13
cooker
I love this it is grate love the browning the slow cooker it works grate use it all the time would make a wonderful gift for a busy family presser cooking is the way to go
11-16-13
CooksEssentials Boo Boo
I purchased this on a friends recommendation. The product works great before it goes out. I had to return the first one before 3 months because the plastic pressure gauge disintegrated. Received a replacement in June and it just quit working in the middle of cooking something. QVC let me know they no longer carry this product. My friends same model went out also. I don't know about the other models but this one you should stay away from. I love the way pressure cuts time and tenderizes meat. Mac & cheese in 6 minutes. I am going to try a different brand. Wish me luck.
10-22-13
Electric pressure cooker
I enjoyed the ease and quality of the meals I made in the pressure cooker. However, I have returned three of these due to flaw in the pressure relief valve.
09-08-13
junk
this item never worked from day one. I will never buy one again
09-08-13
not easy to operate
I purchased this pressure cooker in 2010. It sat in the box unused for over a year as I was preparing to move and busy work schedule didn't allow me time to figure out how to use it. The first couple times I used it, it worked like a charm. Around the 4th time I used it, the indicator for the "building pressure" never stopped, steam released slowly the entire time of cooking, and when I opened the lid, my food was scorched badly. Now, everytime I use it, I have to re-start it about 5-6 times to make sure it is building pressure and actually clicks over to cook without releasing pressure and drying out my food. I tried calling the customer service hotline and get a recording that I have to email customer service, and the message isn't clear about the email address. All I understand is custserv@(something sounding like deny).com?...frustrating.Going to call QVC to see if they have the contact info.
08-05-13
Disappointed
This was the second Cook's Essential pressure cooker I bought. Returned first one because it was defective. Replaced it with this one. Haven't used it as much as I thought I would. So, needless to say I was very disappointed when making a roast yesterday and the pressure wasn't coming up as it should. While trying to figure out what the problem was the pressure valve came shooting out. Can't get the valve back in. I will not be buying any more Cook Essential products. Poor quality for the price. Gave one star only because I had to.
07-21-13
Great...but doesn't last.
I'm on my second pressure cooker and am now replacing another part and possibly the entire lid. First cooker just stopped working after a few months. Like many other reviewers have said. QVC sent a return form and then a replacement. Then a few months later the pressure control valve plastic broke. Out of warranty I was able to order a new valve but it costs around $15 total to get the new part shipped. Today I turned the lid over to rinse it off and entire pressure control valve fell off. I think this will require a complete new lid. I can only imagine what that will cost. The company was responsive the first time but you have to leave a message and wait for a call. So I'm waiting. But given all the similar reviews its surely a defective model.
07-09-13