Collection by Korto Dress with Braid Detail
Recommendation Test Anchor, don't delete
Recommendation Test Anchor, don't delete
In Stock
Sold Out
We're sorry.This item is not available at this time.
Pre Order Possible.
Low Stock
Recommendation Test Anchor, don't delete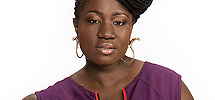 Inspiration from the Designer
Creating clothes has always been my dream, but designing for women of all sizes has been my passion. I designed this dress while keeping in mind all the frills and thrills a woman wants, but making sure she feels amazing, sexy, and, most importantly beautiful, when she puts it on!
—Korto Momolu
Reviews & Community QA
Rated

3.7

out of

5

 by

34

reviewers.
Rated

5

out of

5
 by
Connieooo
Cruise Dress
What a beautiful dress to wear at the Captain's table for our upcoming cruise!!! Since I'm a red head, I was so glad it was also offered in navy!!! Korto is such a great designer!!! I've loved her style from the very beginning! This dress' fit, form and design is PERFECTLY made for a "normal" sized woman!!! The material feels and looks like a very high quality... it makes me feel PROUD to wear an All Star dress!!! I wish we could see more of her designs offered on QVC! Thank you so much for sharing this dress on QVC!
02-02-14
Rated

5

out of

5
 by
luv luv ro shop
Just DREAMY!!!!!!
Got this in BOTH colors, in my regular size and all I can say is DREAMY. Modeled them for my BF and he hit the floor, we're planning where to go now. No BRA issues which was delightful. The flow and fit of the skirt is so FLATTERING, I feel like a princess. If I had been a fly on the wall I'd have whispered in the ear of the Project Runway judges, the following: This designer's finale collection is a mastery of cut and construction, and her taste level is unequaled. This group of garments look to be 100% silk and 100% cotton and instead of looking like a competition group they are couture quality as if already sitting in an upscale boutique. She is more than capable of putting on a runway show as her garments are cohesive and share elements that have been adroitly adapted for each piece. You can tell ALL the pieces have the signature of one designer who is seasoned and greatly talented. What an imagination. PICK HER.
01-18-14
Rated

3

out of

5
 by
newgran
Insulting size range
This is a dress that could flatter ANY body type, which I would think a curvy woman like Korto could understand. The fact that this is offered in limited sizes is just INSULTING! It needs to correct the issue with the bust size, and be offered in more sizes and colors. Until then, I would not recommend purchasing it.
01-17-14
Rated

4

out of

5
 by
Carolyn7777
Stunning! (but too tight on top)
This dress is GORGEOUS! I got the tangerine. I have olive toned skin, so the colors made me look really good. But, like others are commenting, the sizing is "off". I'm 5'5" and wear a 2 in dresses and 2/4 in pants with a 36" A cup bra size. And it fit perfectly until I went to zip it at the rib cage. Wouldn't zip up. In fact, I couldn't get both sides to even touch. And I know the 4 would be too big in the waist. So bummed, because this dress is just beautiful and so well made. Korto, please make more designs for us, but adjust the sizing because your designs rock and I want to own them!
01-16-14
Rated

2

out of

5
 by
no
No
This dress was wrong on many levels, the price, the color of orange is more fluorescent than a salmon orange which is not a good look very long, way to much going on with this dress!
01-15-14
Rated

5

out of

5
 by
QGuru
Elegance with Pockets ... SCORE!
Pockets. Pockets. Pockets. Yes! This a beautiful dress. The price is reasonable for the high end design. Incredible that the fit seems to work for almost any body type. For hourglass figures with a fuller bust and curves to match, this dress draws attention exactly where it should and covers up what needs to blend.The dress minimizes lower body curves with the drape of the layers and enhances the upper body with the fabric gathering in the bust, resulting in the appearance of a smaller mid section. YaY!
01-08-14
Rated

2

out of

5
 by
sephrap27
So Sad
I was so excited to get this dress. One reason was because I don't have as many elegant dresses in my wardrobe and it is nice to have one for that special date night or for a big event. Another reason for being so excited was because I love Project Runway and admire Lisa Robertson for her taste. I am 5' 10" and wear a size 10. As soon as I saw the episode, I ordered it right away because I couldn't wait to get it! When the dress came in, I put it on right away. It fit perfectly, until I started zipping it up. The dress by the belt was WAY too small. I am a singer, so I naturally have a bigger rib cage. I thought I would go up one more size and try size 12. Not only did it not fit once again on the belt by my rib cage, but the dress just looked too big around the hips as well as in the chest. I knew that even if I ordered a size 14 and it ended up fitting by the rib cage, it would look huge everywhere else. I am so truly disappointed. The fabric is absolutely beautiful and the pockets are just so fun. I love the colors and the draping on both the top and bottom. If the area by the sash was elastic, that would help the problem of being too small. Please remake this dress or do something like this again in the future because I guarantee I will be buying it.
01-08-14
Rated

5

out of

5
 by
justgem
Beautiful
I got this dress in a size 14. I love it!! Wore this to a New Year's eve party and got lots of compliments on the dress and how flattering the colors were for my complexion. Best of all was that I was comfortable all night. QVC please bring more items from Korto.
01-08-14
Rated

4

out of

5
 by
Vasilia
Very Pretty But Top Color Washed Me Out!
I have to say that this is a very flattering dress on. Yes it is super long but we are all different heights and we need to alter accordingly. I love the movement on the dress but being that i am fair the top color just washed me out.
01-07-14
Rated

2

out of

5
 by
Gym Bunny
Poor Design
I was so excited to get this dress. I am 5'11" and love maxi dresses. I am slender so ordered the size 6 in orange. The quality was very nice, but the design is very poor. The dress hit the floor and there is way too much fabric to be flattering. I can't imagine a petite woman being able to wear this dress. I couldn't zip up the top part and the bust was large on me. It's a pretty dress so it's too bad the proportions are off so much. I sadly had to send it back.
01-04-14
Rated

4

out of

5
 by
Dior
Loved the dress but....
The fit was right on. I am a 6. I did not have any problems with the fit of the korto dress. The top color was not flattering on me...sorry but I am sending it back. Maybe it would have worked better with ivory.
01-03-14
Rated

1

out of

5
 by
myles
Disappointed
So wanted my first fancy dress ever,even followed you on project runway. Bling not so bling,stones missing and I ordered before dress was even presented.Very disappointed Ms Korto.Maybe try jumpsuit next please try not to forget about the petite gals.
12-30-13
Rated

4

out of

5
 by
Bella55
Beautiful
I'm not large chested so I have no problems with fit there. And to be honest, I don't know many large chested size 4 people so thanks for making it so that it isn' hanging off of my chest. The lining and material is beautiful. It fits perfectly in the normal size I wear in other designer dresses. The zipper is hard to zip up right at the belt area, but that's really the only con I could find. So comfortable and great in the orange color.
12-30-13
Rated

4

out of

5
 by
Bunnylady
Beautiful design
The fabrication, design and execution of this dress are magnificant. It was SO long I couldn't even lift it wearing my highest platforms. Please remake the dress in petite lengths and I'll buy it again. It truly is one of the most beautiful gowns I've had on.
12-28-13
Rated

5

out of

5
 by
NICU nurse
Fits like a glove!
I hadn't tried on my dress prior to reading reviews and was scared due to being a 40DD. My navy gown fit me beautifully and was NOT tight in the bust! I am so excited now to wear on my cruise!
12-27-13
Rated

3

out of

5
 by
Joie T
Not QVC Sizing
Obviously Chinese do not have ample chests. I wear a standard size 10 and this does not begin to close on the top. A warning about this would have been nice to avoid costly shipping return
12-25-13
Rated

1

out of

5
Not flattering
I was really disappointed with this dress. I love the bottom. But if you're bigger in the bust it will not work. The nude color on top looks awful on me. It makes me look big and pale. I wear a extra small so if I go up it will not fit in the waste.Try again Korto and Lisa.
12-23-13
Rated

1

out of

5
 by
PITTYPAT
NOT FOR MOST
LOVED THE COLOR AND FLOW OF SKIRT...TOP DINGEY WITH SKIN TONE...RUNS VERY SMALL ON TOP...I WOULD NEED TWO SIZES UP, THEN SKIRT WOULDN'T FIT.BACK IT GOES
12-21-13
Rated

4

out of

5
 by
Grace5800
Fashionista Heaven
This dress is divine. The beautiful cascading chiffon is wonderful. The light colored top is very flattering for my skin tone. Very pleased with quality and finally, the opportunity to have a Project Runway design and by one of my favorite designers! I would recommend ordering a size up. The waist is very fitted.
12-20-13
Rated

3

out of

5
 by
dgmt
Lovely Dress, But
What a beautiful dress, very well made. Problem I have is like the others, if you are big busted stay away from this one. Personally, I think that it's the color up top, it could blend with your skin tone (which it did with mine) Not flattering at all. Going right back ):
12-19-13
Rated

3

out of

5
 by
mala80
Not for big bust
I ordered the dress in navy. It is pretty and well made. I would suggest ordering a size up just as you would for any formal dress. I am a 38DD and ordered my regular size but could not zip it up all the way. Aside from that the waist line did not hit me at a flattering position. I agree with another reviewer, if you are top heavy the dress may not be flattering for you.
12-19-13
Rated

3

out of

5
 by
Campion
Beautifully made, love Korto
This is gorgeously made--fully lined bodice, beautiful chiffon layered skirt. The bodice color, however, is nude-beige. If you are small busted, this is going to ROCK. If you are large busted, not so much, as it makes the bust look even larger due to the flesh color and the lighter-on-top effect, drawing up the eye and broadening the view. If you are top heavy, not so great. Bottom heavy, this is fantastic. I'm top heavy so : ( Love this dress, just not for me due to the color on top.
12-18-13