Clinique Self Sun Face Tinted Lotion
Recommendation Test Anchor, don't delete
Recommendation Test Anchor, don't delete
or 4 Easy Pays of $7.25
+ S&H and tax
In Stock
Sold Out
We're sorry.This item is not available at this time.
Pre Order Possible.
Low Stock
Recommendation Test Anchor, don't delete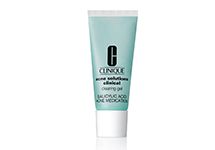 Gift with Purchase
Receive a 3-ml Clinique Acne Solutions Clinical Clearing with your credit card purchase of this & all other Clinique items thru 7/31 at 11:59pm ET. One per customer, while supplies lasts.
Reviews & Community QA
Clinique Self Sun Face Tinted Lotion
is rated out of
5
by
119
.
Rated

2

out of

5
by
DeeCat
from
Great color, horrendous smell
I purchased this product because I love Clinque products. The color is great, everything I ever wanted in a self tanner. However, the smell, I cannot put the product on without gagging. It smells like iron, like I'm smearing blood on me. Even the thought of the smell makes me want to gag. Every review I found said it smells "tropical". Well, maybe I could a defect product line or something but it smells far from "tropical". The smell stays and lingers all day long. Even after showering the next day. Eventually it smells like I was in a tanning booth all day, even after pouring perfume on me. If you aren't sensitive to smell, go for it. The color is great. But if you don't want to smell like iron then sweaty tanning salons, I would not recommend purchasing this product. I will say it's possible I got a defective product line as there is no way people think what I have smells tropical.
Date published: 2018-05-03
Rated

3

out of

5
by
barty
from
I am saying NO to this product
How i used it: tried to layer it under my spf moisturizer thinking that bronze color will outbalance ghost look coming from spf. Well, my skin got so irritated i had to wash away it immediately. So you can not combine this product with spf (I tried both of mine none worked). However, when trying to apply this product solely no irritation ocurred. Plus i gotta say you can see the results pretty fast. It is a good product just did not work for me. Also i hate the smell of self tanners in general. Pros: 1.Good value and price 2.Fragrance free 3.Goes on smoothly Cons: 1.Irritates when using with spf 2.Typical smell of self tanners may seem unpleasant for some 3.Needs some improvement overall
Date published: 2018-03-10
Rated

4

out of

5
by
SENorris
from
Tried this product for first time - looks amazing. Very
Tried this product for first time - looks amazing. Very natural looking. I made sure I followed directions by exfoliating and shaving first. Definitely use gloves for application. I recommend a very light layer first day - apply another light layer second day.
Date published: 2017-11-26
Rated

5

out of

5
by
MamaRed
from
Self Sun face lotion can give a nice glowingbronze
I used Clinique's self sun face lotion for the first time years ago and it's still the best product of it's kind I've tried! I learned to wash my hands after applying it so they didn't have a sun kissed look and recommend washing any place it goes that isn't desired well after using it because it starts working quickly! :) I also realized that putting on a little, thin layer then waiting a day and putting on another thin layer if needed was better than putting on a lot at once.
Date published: 2017-10-12
Rated

5

out of

5
by
pattycar
from
Just Right! Long time user.
I have been using this self tanner for at least 3-4 years. Sometimes during the winter to give myself a little color for a special event or during the summer to even out a real tan. It is very natural looking - not orangey at all. It lasts a few days, if I am reapplying I go every 2 or 3 days. I would recommend exfoliating on a regular basis so your face absorbs it evenly. Highly recommend.
Date published: 2017-07-21
Rated

1

out of

5
by
T34PIC
from
NASTY!
Wow, the smell was indescribably nasty. I use other Clinique products and love them, also have used self tanners for years...perhaps I received a bad one but the smell was almost like a rotten rusty nail....ugh!
Date published: 2017-07-09
Rated

4

out of

5
by
Smargaret
from
Overall would recommend
Gives even coverage and natural looking tan. Smells a bit strange and makes your face look oily on the first day of use. Also sometimes seemed to cause breakouts on my face. Lasts maybe 2-3 days if you wash + tone your face twice per day.
Date published: 2017-06-21
Rated

5

out of

5
by
Bellissima
from
Self Sun for Face is absolutely GOD ~ SEND!
I have tried virtually every self tanner in hopes of finding the perfect one for my face. I am acne prone and sensitive skinned and being that I am a licensed Aesthetician for 15 years ~ I know skin and have extremely high standards! I never thought a self tanner so inexpensive could be so RIGHT! I have tried the most luxurious and expensive to the clinical dermatologist - created ones and THIS one is exceeding superior above the rest. I can't believe how much genuine color it gave me and I use tazorac gel and exfoliants galore which can make self tanner a challenge to show up on my skin. Well this was surprisingly effective! It has not made me break out and other self tanners have and it was a challenge to find one that was NON - ACNEGENIC! So I thank you to the lab creators for this facial self tanner because it is truly God send and I use it every single day so PLEASE DON'T EVER STOP DISTRIBUTING THIS FORMULA! I love the subtle shimmer pearlescent glow it gives my skin... thank you and God bless all of you in search of your holy grail facial self tanner. I am so grateful to God to have finally found mine!
Date published: 2017-06-08