Clarisonic Mia 2 Next Generation Sonic Cleansing System
In Stock
Sold Out
We're sorry. This item is not available at this time.
Pre Order Possible .
Low Stock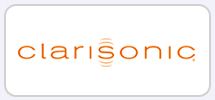 Portable, Personalized Skin Cleansing
Description
What is it: The Mia 2 takes the travel-convenient design users love about the original Mia, and improves it with two speeds and a one-minute T-timer setting to personalize your skin care needs. This rechargeable brush uses gentle sonic micro-massage action to cleanse deeply, helping other skin-care products absorb better. A bottle of purity made simple is included, so you can enjoy Clarisonic's high-caliber cleansing and philosophy's purity at once for softer, smoother, more beautiful skin.
Who is it for: All skin types.
Why is it different: It cleans pores, loosening dirt, makeup, and oil as it reduces the appearance of pores and wrinkles. Clarisonic cleansing is proven to remove six times more makeup than traditional manual cleansing with finger pads, allowing serums and moisturizers to absorb better. Skin is left soft, pampered, radiant, and younger-looking--without harsh abrasion or chemicals. It's so gentle, you can use it twice a day.
The Deep Pore Cleansing brush head is designed with a unique gradation of bristle firmness and dual-action movement, making it optimal for cleansing oily skin, skin with large pores, and targeting hard-to-reach and uneven areas of the face like the crevasses around the nose.
How do I use it: Charge unit for 24 hours prior to first use with included pLink charger. Use for one minute twice a day, every day.
First, remove eye makeup. Wet skin and brush head, and apply cleanser to the skin or directly to the brush head. Press the on/off button and gently massage the face in small circular motions, beginning on the forehead, then moving to the nose, chin area, and cheeks. The outer brushes are designed to contain any residual mist from the brush oscillation, so be sure to hold the brush head flush to your skin. Pressing too hard will impede the motion of the brush and reduce effectiveness.
From Clarisonic and philosophy.
Includes:
Rechargeable Clarisonic Mia 2 skin care brush handle
3-oz philosophy purity made simple facial cleanser
pLink charger
Deep pore cleansing brush head
Sensitive skin cleansing brush head
Protective travel case
Two speeds (low and normal)
One-minute pulsing T-timer
Brush head precision-designed to oscillate bi-directionally at sonic frequency
Brush made of plastic
Brush head made from non-porous, soft elastomeric material
Remove brush head and clean weekly with soap and warm water
It is recommended that brush heads be replaced every 3 to 4 months
Charge unit for 24 hours prior to first use
Mia 2 measures approximately 5-3/4"L x 2-1/4"W x 2-3/4"H
UL listed charging cradle; 2-year Limited Manufacturer's Warranty
Made in China/USA
Reviews & Community QA
A220561 - Clarisonic Mia 2 Next Generation SonicCleansingSystem
322
322
Transformed my skin!!
I was so amazed at the cleaning power of this little device. My skin has never been so clean and nourished. The brush heads are gentle but effective. My makeup looks better on my skin, has helped with redness around my nose and cheeks and transformed my skin overall!
02-22-13
Best Skin Care Device Ever!!!
I have the regular clarisonic and absolutely love it!! It totally changed the appearance of my skin.Anyone who would like a truly clean face needs a clarisonic. I purchased one for my daughter and one for my daughter-in-law. They were skeptical at first as to the need (one is in late twenties and the other in early thirties) BUT once they tried it , they use it all the time. This is definitely a purchase with which you cannot go wrong.
01-07-13
Everyday Love!
After just a short time I noticed a reduction in pore size and fine wrinkles. Basically it amplifies your skin cream. After sbout 10 months it died. I called QVC and they were out of stock but were willing to give me a credit. They slso told me to try calling Clarasonic. I did because I was really hoping for a replacement. I was beyond impresses with the customer service at Clarasonic! They sent me a new one, no fees, and didn't have to deal with shipping the broken one back. Very impressed and happily using my new one every day!!
12-18-12
My face feels so clean!
So happy with this purchase! My skin never felt so clean. I have had acne prone skin for my entire life and the Mia is very gentle to my skin. I bought this in the blue leopard and it is very pretty. This Christmas I gave my daughter a Clarisonic and she is happy with hers as well.
12-16-12
So Worth The Price!
Just what the Sonicare does for your teeth, the Clarisonic does for your skin! Won't ever be without my Mia! This was the second one I have purchased, only because my daughter was going off to college and we could no longer share! WORTH EVERY PENNY!!!
12-05-12
Great Product
I had to replace my original system. This is great!! I love the light & the 2 speeds, also the clean carry with you case. Thank you QVC & Clairsonic~
10-02-12
Clean skin
I really love how clean my skin is, how much more effective my EXPENSIVE products seem to be and the feeling that I am doing something great for my skin. I've been using this for about a month and I really think it was worth the money. My skin looks great!
10-01-12
My pores are smaller :)
I think this is a pretty good tool. I had to find the balance when I first got it, it made my skin a little irritated, no full blown break outs just tinly little red bumps, I have sensitive skin and using this everyday just won't work for me, but I use it 3-4 times a week and after using it for about 8 weeks my pores are definitely smaller and that alone is worth it. My skin is like clock work, as long as I wash off my makeup at night and mask once a week it stays clear, using this as an addition has made it appear better, especially up close. Plus it feels good.
09-08-12
Spend the Money!!!!
Ok, so I have watched this on air time after time and never wanted to splurge to buy a Clarisonic. OMG my skin feels wonderful. My face really feels as soft as a babys bottom :) This along with Purity Made Simple is a must have.
08-18-12
Love It!
This brush is amazing! My face is smooth, clean and even. I've gotten compliments from multiple coworkers about how great my skin looks. It's effective and surprisingly gentle. I used it after a long day at the pool and expected it to hurt on my sunburn, but it didn't. I love that it doesn't splatter all over the place while cleaning. It's great for over the sink cleaning. I am telling everyone I know about this brush. I can't imagine my life without it. SO worth the money.
08-17-12
Best Purchase Ever for this year
LOVE MY CLARISONIC!! My skin is looking like never before, super clean even my husband started using it. No more facials for me ... love it love it love it !!!
08-15-12
Comment on breakouts after use/Customer Svs
I've had my Clarisonic for probably 5 years now, and it worked so well I got one for each of my 4 daughters. Then my 2 sons each wanted one because it helped their shaving go smoother. My first Clarisonic died well after the 30 days for QVC's warranty, and probably a few months into use. I called the Customer Service at Clarisonic because it just seemed for something so expensive, the company should take care of it. They did. One of the head guys called me and said they would send the box for me to ship it back, pay for shipping, and they sent a brand new Clarisonic before they even got mine back. So their customer service is fantastic. Also, be sure you are taking the brush off and cleaning it with hot water (I swish it in a sink of hot water) & maybe put a little rubbing alcohol on it. I had that issue of breaking out too until I discovered cleaning the brush solved that problem.
08-13-12