Canon EOS 60D DSLR 18MP Camera w/ Lens, Bag, 16GB Card & Accessories
In Stock
Sold Out
We're sorry. This item is not available at this time.
Pre Order Possible .
Low Stock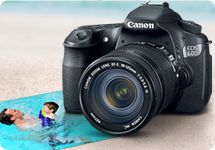 Capture the Moment
Watch the Camera Guy, Dave James, talk about some of his best photo tips.
Check out awesome accessories for the Canon 60D camera.
Read a blog post from Dave about this exciting bundle.
Description
The best moments happen in an instant. Capture them like a pro with the EOS 60D DSLR camera from Canon.
What makes the EOS 60D special? More than just a handheld camera, the EOS 60D with an EF-S 18-135 IS lens lets you shoot your most precious memories as they occur--in crisp, breathtaking detail. With a remarkable 5.3 frames per second in continuous shooting mode, this camera operates at the speed of life! From fun, family photos to high-action sports and birthday candle blowouts, the EOS 60D makes it easy to get the kind of picture-perfect clarity you want, so that you can relive all your favorite moments again and again.
What can it do for me? You'll be amazed at the quality of this 18-megapixel DSLR camera. Experience smooth images, vibrant colors, and crystal clear edges with each and every shot. Its automatic and in-camera technologies make it incredibly easy to use, too--with its automatic flash, focus, and white balance, you'll be taking pictures like a pro in no time! Snap a photo and place it in a frame to create the perfect gift; start a photo album to celebrate a wedding, graduation, or birthday; or upload and post what may be your most "liked" profile picture ever!
What else does it do? When a single moment isn't enough, the EOS 60D can record video in 1080p full high definition. Two- and 10-second self-timers allow you to get in the group shot. And multiple shooting modes provide options for almost any environment or subject.
What's in the box? EOS 60D camera body, EF-S 18-135 IS lens, 16GB SDHC card, battery, charger, HDMI cable, USB cable, A/V cable, strap, gadget bag, lens cap, dust cap, and tutorial DVD. You'll also receive software featuring Corel PaintShop Pro, Family Tree Heritage, and Serif CraftArtist Scrapbooks.
From Canon.
Please consult the manufacturer's documentation regarding the safe and proper use, handling, storage, charging, and disposal of products containing lithium-ion batteries.
Includes EOS 60D body, EF-S 18-135 IS lens, 16GB SDHC card, battery, charger, HDMI cable, USB cable, A/V cable, strap, gadget bag, lens cap, dust cap, DVD, software (ships separately)
18MP
High-sensitivity, high-resolution, large single-plate APS-C sized CMOS sensor
Canon EF lens mount
Vari-angle 3" diagonal TFT color LCD monitor, brightness control
DIGIC-4 image processor
Live View function
Dust deletion feature
Eye-level pentaprism viewfinder, depth-of-field preview, interchangeable focusing screen
3:2 aspect ratio
Multicontrol dial
RGB filter
Auto focus
Multiple focus modes
AF assist beam
Multiple scene/exposure control modes
63-zone TTL full-aperture metering
Multiple shooting modes
5.3 fps continuous shooting
ISO sensitivity from 100-6400 (expandable to 12800)
Auto white balance; multiple modes
Auto pop-up flash
PictBridge-enabled
SD/SDHC/SDXC
USB 2.0, HDMI ports
A/V out
With lens, approximately 5-3/4"W x 7"L x 4-1/2"H
UL listed; 1-yr LMW
Cannot ship to VI, Guam
Made in Japan
Reviews & Community QA
Canon EOS 60D DSLR 18MP Camera w/ Lens, Bag, 16GB Card & Accessories
29
29
So disappointed
I had high hopes for this camera, but it's going back. I hope it was an isolated issue - the mirror froze up and I haven't time to deal with potential repairs for a brand new camera. I have ordered the 70D in hopes that it will function as it should. Should have trusted the reviews on other sites. 60D is outdated - and has glitches. I have several Canons and love the manufacturer and their service has been outstanding for me. Hope the 70D works, would hate to convert to Nikon!
11-29-14
WOW !!!
This is a Great Camera!! I Have been taking picture for little over 12 years now for fun and for business and this is the camera i have been dreaming of getting for some time now and guess what I got it now :) and it is all that and more :) it took about a week to get it and i find it hard to put down now I Love IT Im Now at about 364 pictures iv taking in a 3 day time and all R Great pics and the price you cant bet it ! I did shop around and here is were to get it NO Joke you will Love it too im sure :)
11-24-14
BEST PURCHASE EVER!!!!!!!!!!!!!
I am a photographer i shoot portraits and weddings, my old camera i out grew and sold it then got this one and i don't regret this purchase at all! its amazing and the image quality is amazing i love it! THANK YOU QVC!
06-07-14
Best purchase I ever made
I did a lot of research before I bought this model. This camera had features I wanted that the newer model didn't. I am so glad I bought this one. My pictures are incredible!! I do not use Photoshop to enhance my pictures. I absolutely LOVE this camera. Night pictures are so vivid. I took pictures of a car fire late at night and the pictures turned out fabulous. Landscape pictures are the the very best!! I cannot believe how vivid the colors are and how clear every picture is. Needless to say you can tell I am in love with my Canon 60D!!! I wish I could post just one picture for everyone to see the quality of this camera's pictures...
05-21-14
Dead Battery
This camera was sent to me from QVC with a Canon battery that wouldn't charge. That was an additional $75 expense for me. The Canon website says that if it blinks orange rapidly, there is a communication error and that battery cannot be charged. That is what happened to me with this camera. QVC Quality Control fail on this item. In the future, I will buy from a brick and mortar retailer where I can try the camera first.
03-17-14
Best camera ever
This is my 8th Canon camera I have bought. My last camera was the XTI. I used that camera for 7 years. I dropped it, fell on it. I used it so much that the finish was rub off. I took the XTI every where. `I knew that my next camera would be an upgraded model for me. I saved for 3 years for it. When I got my camera, the battery would not charge, called Canon late at night, they told me that they had some problems with batteries and sent me a new battery free of charge, 2nd day air on FedEx. It is heaver than I thought. The camera is more than I thought it would be. It is a camera that i can grow with. Canon has never disappointed me in over 35 years of using them. I can't wait for vacation to enjoy it. I LOVE MY CAMERA!!!!!!!!!!!!!!!!
03-07-14
Great Camera
Great photos :) I'm still learning to use this camera but so far I'm loving it. This is my first canon camera and I hope it won't be my last canon.
03-06-14
LOVE THIS CAMERA!!!!
All I can say is WOW! Thank you QVC for your easy pay plan. This camera blows away my Canon T3i. My favorite new addition is the spin dial to go through pictures instead of having to push a button to go forward or backwards. It's beautiful, well made and takes excellent photos. The lens it comes with is pretty descent. Very solid camera...you can't go wrong. I'm no pro, but my pictures might fool you...ha ha!
03-04-14
WOWOWOWOOWOOWOOWOWOOWOOWOW
DID I SAY WOW ? THIS IS SUCH A NICE CAMARA. I LOVE IT....THANKS TO QVC FOR EASY PAY, OR I WOULD NOT HAVE BEEN ABLE TO GET IT.
01-29-14
Incredible pictures!
I bought this camera for my 17 year old daughter who is taking photography in high school and plans to take photojournalism in college.. I wanted to get her one step higher than the Rebel. I am so glad that I purchased this for her. In just two days, she is taking professional quality photos. The lens is amazing. Also, the Rebel lenses that we already own, fit on the Eos body. giving her more options. But even without the optional lenses, the one that came with the camera is far above just an average lens. Well worth the money!
12-28-13
Awesome
I good my d60 in october just before me and my wife went to our honeymoon in ireland. I love the fact just on the menu you can change from color to monotone.the pictures came out unbelievable. This canon was an upgrade from my t1i I bought on the qvc four years ago.if your looking for a camera that's easy to operate but yet takes awesome pictures I strongly recommend the d60
12-15-13
Camera battery wont charge
Just received this camera two days ago and I took it to work with me. it has been sitting on the charger over 8 hours. Not once has the light changed to green. I still tried to put it in the camera and the camera will not turn on. Am about to call Cannon and if it cant be fixed, Im returning.
12-06-13