Calista Tools Set of 12 Ion Hot Rollers with Clips and Travel Bag
In Stock
Sold Out
We're sorry. This item is not available at this time.
Pre Order Possible .
Low Stock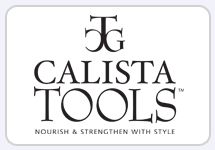 Tips & Tricks
Check out these how-to videos featuring Calista creator Maria McCool:
Description
What is it: Imagine quickly creating a head full of body, soft waves, cascading curls, or spiraling ringlets. Calista Ion Hot Rollers are designed to give your hair body, wave, or curl, in less time, with less effort. Unlike old-school hot rollers, Calista has combined hair curlers/rollers with Ion technology to ensure gorgeous style and healthy-looking hair.
Who is it for: All hair types--fine, coarse, thin, thick, short, long, layered, or one-length hair. Everyone can now get body, voluminous wave, and/or perfect curls in a short amount of time. The Ionic Hot Rollers also come in a travel case, so creating perfect curls is easy anywhere you travel.
Why is it different: These state-of-the-art curl rollers have the PTC heating element in the roller itself, allowing the rollers to heat quickly. Also, to promote healthy-looking hair, Ion technology infuses multi-element mineral powders into each roller when it is cast, lasting the life of the roller. This technology infuses moisture, which results in extra body and added shine. The roller hair kit is small enough to be considered a travel-sized hot roller, making it easy to take them wherever you go.
How do I use it: Plug in the base, place the rollers on it, and watch the red dot on the top of the roller turn dark in three minutes, letting you know they are heated. Roll sections of your hair onto a roller and use a clip to hold in place. Your long-lasting curl will be ready within three minutes, but the longer you leave the rollers in, the more tightly shaped the curl becomes. Because of the Ion technology, you will find the hot rollers add much more volume and curl to the hair. For softer looks, use less rollers than you would normally use with traditional rollers.
From Calista.
Includes:
One base with six roller stations
12 rollers
12 plastic butterfly clips
Zippered nylon travel case
Instruction manual
Measurements: Base 4-1/2"W x 5-1/2"L x 1-3/4"H; Cord 65"L; Travel case 12-1/2"L x 6"W x 4-1/2"H
ETL listed
Made in China
Reviews & Community QA
Calista Tools Set of 12 Ion Hot Rollers with Clips and Travel Bag
524
524
Good for Short Hair
I purchased for my short hair. The rollers worked great on my hair. I bought this product last year November 2012. I have been using them at least 2x month. The other times I use the Calista Styling Comb. I like that too. Best of all it does not dry out my hair.
11-01-13
Okay so far
I like the rollers vs using curling iron. The long ones are a bit hard to maneuver. But it takes practice. I only use them for date night. But I found the body lasts hours. You just have to leave them in a long time to achieve that about 20-25 minutes
10-01-13
Great Purchase
Love the product it is quick and easy. Curls last a long time. The only thing I wish is that you made a set that had 12 long and 6 short rollers. I have the long rollers and I have layered hair so I could of use some short rollers also.
09-23-13
Did not meet expectations
I am a college student who is constantly on the go. This product appealed to me because I could quickly roll my hair and be out the door. Because of the price, I expected these rollers to be awesome. I tried to roll my hair two different times, and after about 10 minutes my hair was flat again. Because of my super straight hair, I thought this product would be so great since the long rollers were an option and because of the heating capability. I feel like I could run to walmart and buy a $30 set and get better results. Because the rollers were so long, I had a hard time maneuvering them and getting the clips to keep the rollers tight. Disappointed.
09-09-13
Great performance but poor design for the price
THIS PRODUCT PERFORMS VERY WELL. . .I have a lot of short fine hair that has very little life (and I torture it further by regular coloring and highlighting) and these rollers gave me just the right balance of body, volume, and curl leaving my hair soft, shiny, smooth, and manageable. BUT THE DESIGN OF THE PRODUCT MAKES IT A POOR VALUE FOR ME FOR THE FOLLOWING REASONS: 1. The set of rollers will heat only 6 at a time, so you must put a roller on each time you take one off to try to keep the pace. But, I always ended up waiting for the additional rollers to heat (albeit, not very long) before I could use them. It took me about 10 minutes longer each day to curl my hair than when I used my previous method (curling iron). Doesn't sound like much until you start to add it up . . . about 1 additional hour per week. . .resulting in over 50 hours a year . . . just to curl my hair. 2. There is no off/on switch . . . so you must plug/unplug every time you use them . . which for me is everyday . . . and very inconvenient. I am also worried about how much wear and tear the constant pull out/plug in will have on the cord/plug itself. And if there was an on/off switch with a timed auto turnoff of 20-30 minutes . . . that would be perfect !! 3. Even though the small 6 roller base leaves a small footprint on your counter or vanity, you are tasked with what to do with the other 6 rollers and all the clips . . . which end up all over my vanity .. .in the way . . . and constantly knocked to the floor. 4. There are not enough rollers in the set for even my short hair, It somes with 6 small and 6 medium . . . but I could use about 2 more small and 1 more medium for my short hair . . . have no idea how folks with shoulder length or longer work with this. This unit seems like it is geared to the traveler . . . not to a home based user . . .and I AM WRITING THIS DETAILED REVIEW WITH HOPES THAT THE MANUFACTURER WILL TAKE A LOOK AND INCORPORATE SOME OF THESE CHANGES. With a bigger unit that would hold at least 12 rollers and an on/off switch with auto turnoff, I would gladly repurchase this unit. But . . .I am sorry to say . . I had to return this one !!
09-07-13
I love these!
I was skeptical about ordering these, but I absolutely love them! They are quick and easy and do everything I need. I have lots of hair, but it's fine and limp and with a little help from the rollers and styling products, I'm good to go all day long.
09-06-13
I'm Glad I didn't go with the negative reviews
This item has mixed reviews; however, I went out w/ my cousin recently and she used the rollers and told me she loved them. She has naturally curly hair, but the same length as mine (long); I still was very uncertain my hair would hold the curl the way hers did. I came on to order, I have watched these rollers on qvc many times but declined due to price. I got them on easy pay and they are fabulous. The BEST hot rollers I've ever used; have donated all my roller sets, and will continue with these. My hair looks great; the curl stays and we've even had some pretty humid weather! Can't say enough about them; wonderfully easy to use, the curl is perfect, and I'm a very happy customer. Thanks!
09-05-13
Recommended for long hair
I have long, thick hair. I set it in hot rollers almost everyday, but I have to use my flat iron to curl the layers to get a spiral look. I ordered these in the long length & tried them for the first time today. I am impressed! They stayed hot as promised, and if you roll them according to the directions, you will get springy spiral curls w/ no frizz or dry ends. I replaced the used roller w/ a new one as I went & they heated up quickly. I was concerned this would be inconvenient but it wasn't at all. The only reason I am giving it 4 stars instead of 5 is because the "travel" case is kind of a pain. It isn't really small enough to save spaces traveling & the design is inconvenient for storing & removing the rollers & fasteners. It's a bit floppy but a minor issue compared to my long lasting pretty curls.
09-02-13
Love these!!
Haven't used hot rollers since the 80's! LOL but these are great I use the short set and start with three medium and 3 small heating-- then add and rotate the others so i use all 12 rollers and they heat quickly. I spend less time standing there at the mirror with a curling iron and when I take the curlers out my hair is full and "bouncy". It also feels less drying and I spritz with my "wen hair products" and go. I think my hair looks healthier and shinier (usually on dry side). Glad I tried and the curl lasts for at least two full days!!
08-31-13
Not worth the money
I've already returned. Rollers wouldn't stay in my hair. Not any better than you can buy for less money. Nice that you can return but going to cost me the shipping to send back so there are risks if you don't like a product because it will still cost you.
08-31-13
Awesome
I bought these to go with my Tron curling brush for my morning routine. I haven't used hot rollers since I was young and had significantly less hair. They didn't work then because my hair is super fine, and they didn't work after my hair sent super thick after puberty because no set had enough. I tried Caruso, those Revlon ones that closed over the hair, old fashioned one, velcro ones, and nothing worked. The velcro, even those purported not to get stuck like on the other shopping channel, get stuck in my fine hair and wouldn't roll but less than a 1/2 sections worth. I got the large set because of my just-below-the-chin length hair is so thick. I do have problems getting them in if I don't use mousse the night before. I wash my hair and go to bed wet, since I'm going to style with heat anyway and blow drying takes around 40 minutes with sectioning it, and put the mousse in for the grip in the morning. I put them on to heat first thing, and do some stuff so they are super hot when I get to them, then quickly wrap them and get to work on the rest of my routine. I use between 10-12 of them every time based on how much curl I want in my crown. By then they are cool, pull them out, flip my head and spray. I haven't found the right products to keep the humidity from zapping my Texas morning hair into a loose beachy curl by the time I get to work 1 hour later. The humidity in south Georgia is killer. So I'm still working on the product. If I just stay at home, my curl lasts and lasts, but the moment I step outside, oy-vey.
08-31-13
didn't like at all - sent them back
I tried these rollers several times to give them a fair chance, but they are not any better or differant than using a curling iron, if not worse. When using the clip, they leave a ridge or mark in the front of the hair, tried using the clips in another position and the curler would fall out. I have sent them back. Not worth it, not a good value, do not recomend
08-31-13