Calista Set of 12 Ion Hot Rollers with Clips & Travel Bag
In Stock
Sold Out
We're sorry. This item is not available at this time.
Pre Order Possible .
Low Stock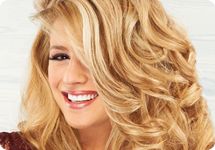 Learn More About Ion Technology
Description
Imagine being able to quickly create a head full of soft waves, body, cascading curls, or spiraling ringlets. Calista Ion Hot Rollers are designed to do just that, giving your hair body, wave, or curl in less time with less effort. Calista uses Ion technology to ensure gorgeous style. And for even more convenience, this set includes a larger, customer-requested base that holds all 12 rollers at once!
These state-of-the-art curl rollers have the PTC heating element in the roller itself, allowing the rollers to heat quickly and stay hot longer. Also, Ion technology infuses multi-element mineral powders into each roller when it is cast.
How do I use it: Plug in the base, place the rollers on it, and watch the red dot on the top of the roller turn dark in three to five minutes, letting you know they are heated. Roll sections of your hair onto a roller and use a clip to hold in place. Your lasting curl will be ready within three to five minutes, but the longer you leave the rollers in, the more tightly shaped the curl becomes. For softer looks, use less rollers than you would normally use with traditional rollers.
From Calista.
Includes base with 12 roller stations, 12 rollers, 12 plastic butterfly clips, and zippered nylon travel case
Short: includes six 1"Diam x 2-1/2"L rollers and six 1-1/4"Diam x 2-1/2"L rollers
Long: includes 12 1"Diam x 5-1/2"L rollers
Base measures approximately 9-3/8" x 6-1/4"
ETL listed base
Imported
Reviews & Community QA
Rated

2.9

out of

5

 by

1466

reviewers.
Rated

1

out of

5
 by
Karlita
Seemed very cheap
These seemed very cheaply made. I put them in my hair and waited until they cooled down and took them out. Made my hair very poofy. So they seemed to have worked but then not even 30 minutes later my hair was flat. Not a good fit for me.
10-27-16
Rated

1

out of

5
 by
lakalaka
so sad
Was looking forward to this set. Too bad The plastic rollers emit such a toxic odor. It permeates the whole area and makes your hair smell. Hazardous..?? Sent them back. It's 2016 the days of using bad plastic should be over.
10-27-16
Rated

4

out of

5
 by
Tbm
good value
My hair is long but baby fine. I did purchase the LONG rollers they are awesome ! They heat up fast they stay in and do not fall out, there was no smell as previous posts stated and the price was great. I recommend only using a few grabbing more hair and rolling only 3/4 of the way up for beachy natural curls. lasts longer than other systems I have tried I feel good about less damaging rollers.
10-26-16
Rated

5

out of

5
 by
sintwin
Works well
I have long fine hair. It is hard to get lift on the top. The fullness & lift does not last thru the day. But I understand that my hair just isn't meant to have that fullness. The hot rollers to give me lift and lots of bounce. It is so convenient to use these, instead of a curling iron. The curl from The Calista Hot rollers works well for me. I enjoy not having to use so much time with my hair. I set my hair in the Hot Rollers & get my makeup on & get dressed. By that time the Hot Rollers have done a fabulous job! My hair is soft looking & my boyfriend loves the results & the short time it takes me to get ready. Thank you for a product that does give me great looking hair & time saved.
10-25-16
Rated

1

out of

5
 by
ebrose
Had High Hopes
I bought two sets for medium to long hair. One set was for my daughter for Christmas and the other said was for me. I was really excited for them to arrive. The first set I tried only half of them heat up, I switch the rollers to the side that was working once I got them in my hair and all 12 heated up that way. Very disappointing that only half of it works. The other set worked all the way. My daughter has tried them thinking that they are mine and they do give her body in her hair however they don't hold for very long. We'll see how she likes them.
10-24-16
Rated

1

out of

5
 by
ginia
Not Good
I have tried using these twice now and the extra work it takes to use them is horrible. I'd rather use my curling iron. With the rollers I can't get my ends to stick to the roller so that I can wrap it. It's not a good product. If you have suggestions to help I'd appreciate.
10-24-16
Rated

1

out of

5
 by
JmbBwb
Stinky
I recently had my hair cut short and bought these rollers to help style it. I was so excited to receive it. When I opened the package it smelled like a moldy chemical smell. Yuck. I took it out of the packaging and placed it outside for a week to air out. Well I finally brought it in and used it. It was easy and just like they said on TV. However now my clean hair has that yucky moldy smell. What the heck? I am debating sending it back.
10-21-16
Rated

4

out of

5
 by
bjorkmadness
Great!
I have fine very long hair. Many hot rollers are not long enough or big enough to curl all of my hair. These are the only ones I have found that actually curl even the longest part of my hair and quickly! I don't have much time to do my hair and hate doing it since its long. But these rollers are done in no time and are super easy to roll hair up into. The only complaint I have is with the clips because they are too weak and do not hold the roller to my head like other roller clips do. I would have to use another brand's roller clips to make sure the rollers dont hang from my head and stay closely clipped to my head in place.But overall, great product that I love. heats up super quickly and the red and white indicators on the rollers make it easy to know when they are ready.
10-21-16