Bose Wave Radio II with FM/AMTuner Alarm Clock and Remote Control
Recommendation Test Anchor, don't delete
Recommendation Test Anchor, don't delete
In Stock
Sold Out
We're sorry.This item is not available at this time.
Pre Order Possible.
Low Stock
Recommendation Test Anchor, don't delete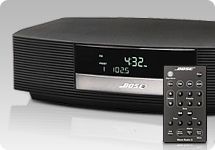 Reviews & Community QA
E167138 - Bose Wave Radio II w/ FM/AM Tuner Alarm Clock & Remote
24
24
Very Disappointing!
I have had this less than 3 years! Loved the sound quality at first, except for static of the radio at times, but thought that was possibly my location. Now my cd player has quit working. Very disappointing, as much as I paid for this system!!!!! But I had the cd changer, so I could still play cds...right....wrong! Now less than a week later, it has also quit working!!!!!! I use this maybe 5 times a month or less, I am the only user (no kids at home) and I had a different brand, less expensive system that had like a 100 cd changer that I gave to my son when I got this one! I used my old system for 15 yrs, he used it for 2, then gave it to my daughter, and she is still using it!!!!! I heard so many good things about the BOSE....but I will NEVER buy another one!!!
06-09-12
Great item
I pondered spending this amount for a radio but when my cheap clock radio died I decided to give it a try. I figured that if it wasn't as good as the advertisement I would send it back. It is the nicest way to wake up in the morning. I was able to pick up a station that I couldn't get with my cheap clock radio. The sound is wonderful. If you are sitting on the fence about this give it a try. You will wonder why you didn't treat yourself to this radio a long time ago.
06-05-12
great sound
do not like the fact if you lose the remote there is no way to controll it
05-21-12
Best Radio Ever!!!
I had been considering purchasing a Bose radio for a long time. I'm glad I finally bought one! This is a great sounding radio!!! It's well worth the price!! I will eventually purchase the CD player.
05-09-12
Incredible Sound Reproduction!
I purchased this with the CD player built in, a few years ago. To begin with, at first I thought it would not be worth the money. I received it from QVC a few days after ordering. I apparently had buyers remorse as I let it set in the box for 10 days before opening. I looked at other comparable radio/cd players (Sony, Phillips etc.) at displays at numerous stores during those 10 days. I could buy 3-4 radio/cd players for the money that Bose was charging. I almost sent it back without opening it. I decided at the last minute, since QVC would take it back anyway, to try it out. All I can say is HOLY COW!! I plugged it in, turned it on & I thought I was in the middle of a live concert!! I have over 2500 cd's & I played it for days straight, literally. This system looks like a nitestand clock radio & has sound reproduction of a large 10 speaker sound system. I have one of those with 10 speakers & I hardly ever use it. NO one will ever get this Bose from me for any price. You could pay 3 times that & it' would still be worth every penny! Just one of those products that I can not live without!! (P.S. Can only give it 5 stars, it should have 10!!)
04-25-12
Love the Bose!!!
This is my second purchase. I bought the Bose with the multiple changer a year ago and was so happy with it. We use it in our family room. I just received my second one yesterday ( without the multiple changer) for the bedroom. It was so nice to wake up with such beautiful music with a CD. Yes, it is a bit pricey, but you truly get what you pay for. I'm a musician and appreciate quality sound with my music. I think it's well worth the money.
03-08-12
If you're a high rise dweller this is not for you
I live in a fire proof hi -rise condo. I was unable to receive anything but static for 80% of the FM stations...no AM at all. When i was able to actuallt get a station the sound was great...But I'm not paying this kind of money to only be able to listen to 4 stations. I purchased an FM antennae and that improved things a bit..not significantly. Definitely not for persons living in a structure that is surrounded by steel girders. That eliminates a large percent of a city-population From speaking to others...this is not a new issue, very surprised it is not a topic that is openly discussed when presenting the product.
02-28-12
My Husmand's Favorite Thing
Okay, my husband says to let you all know this is HIS favorite thing. I like it to, but he is always listening and using the remote to up and down the volume. Considerate since I'm in and out of the room telling him to turn it down.
02-08-12
Love my Bose----but
We have three Bose radios in our home. They are absolutely the best!!! The sound is wonderful and we would never be without. I just purchased a replacement for the first one we bought years ago. That radio had all the buttons on top and was so easy to use. It also had a place for a CD on the top. Very convenient for a bedroom where one really doesn't need a separate unit to house several CDs. I miss that radio and wish that style was still an option. I still give it five stars, however, because it is the best radio ever!!!!!!
01-17-12
Beautiful sound quality!!
Listened to David Venable rave about his Bose until I could stand it no more. With easy pay, free shipping and expedited holiday delivery, my friend was blown away to find it under the tree!!! It puts out sounds we'd never heard from our CDs! We ordered the bundle which included the multi-cd changer and are very happy with them!!! Thanks, David!! :)
01-16-12
Great sound
This was a holiday purchase. I'm pleased with the sound, easy set up, low profile look. The only thing that kept me from giving it a 5 star would be the price point.
01-13-12
GREAT SOUND!
You must, however, read the instruction about placement to get the perfect sound. Also, please start carrying the accessories (for iPod and iTune hook-ups) for those of us who already have the basic unit.
01-11-12