Barbara Bixby Sterling & 18K Flower Gemstone Hoop & Charm Earrings
In Stock
Sold Out
We're sorry. This item is not available at this time.
Pre Order Possible .
Low Stock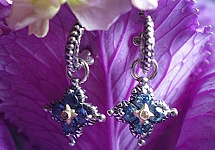 About the Design
"Taken from my couture collection, this is one of my favorite interpretations of the lotus. As the most important symbol in Asian art, the lotus grows from the mud and becomes a magnificent bloom as it reaches towards the heavens. I think this is a beautiful metaphor for our journey, as each of us strives to learn and come closer to an enlightened state every day."
—Barbara Bixby
Description
Flower power. Who needs a garden when you have these sterling silver and 18K yellow gold Barbara Bixby earrings? The beaded hoop, gemstone petals, white topaz accents, and a textured zigzag border create a look that blossoms. From Barbara Bixby.
Blue Topaz, Citrine, Rhodlite, Peridot, or Iolite.
Sterling silver, 18K yellow gold
Total gemstone weights are approximate: Blue Topaz 0.70 carat; Citrine 0.65 carat; Rhodlite 0.70 carat; Peridot 0.70 carat; Iolite 0.65 carat
White topaz is used as accent only
Beaded hoop with signature sterling flower; round gemstone petals; round white topaz centered in 18K yellow gold setting; textured, zigzag border
Posts and clutches, for pierced ears only
Measures approximately 1"L x 1/2"W
Imported
Reviews & Community QA
Rated

3.7

out of

5

 by

54

reviewers.
Rated

5

out of

5
 by
Sunnycat
DELICATE AND BEAUTIFUL!
These small delicate earrings work very well with my super short hair, but may be too small for ladies with long hair. Big earrings can be too much with multiple Bixby pieces such as an ornate chain and enhancer, a ring or a bracelet. If you wear several pieces at a time, try these. i have them in both iolite and garnet, love both.
08-22-16
Rated

2

out of

5
 by
parolelady
Disappearing Act!
All of my Barbara Bixby pieces have been substantial and are some of my favorites. These earrings are so tiny that I don't think you would notice them even with binoculars! If you have long hair, I don't know why you would bother to put them on. I was so excited to order them, but so disappointed when I opened the box. Even at the reduced price I would not purchase them. The style and detail are there, but they are so microscopic that it is hard to see the detail. I have returned these but I am sill a fan of Barbara Bixby's creations overall. I love her knowledge and inspiration for her pieces.
08-12-16
Rated

2

out of

5
 by
nypro
Lovely Earrings, Reorder Pair defective
I have the coordindinating rings, pendants and bracelets in Iolite and Peridot. When we ordered the second pair of these earrings, the hoop was different. It is smaller, and does not allow you to push the earring back over the design at the back of the hoop. Had to return, but now I have no earrings in Iolite! What is a girl to do? I would love to reorder these earrings so could someone advise me when this has been corrected. Obviously a manufacturing mistake. PLEASE do not forget me! I am a big Barbara Bixby fan and my jewelry box does not lie!
06-19-16
Rated

5

out of

5
 by
Elizabeth Rose
A bit of Dance and Sparkle!
How artists can create such detail in these small but very present Jewels of the Spirit I will never know and hope they take good care of their eyes and fine motor amazing fingers! As far as those who call these tiny or way tiny...I do not get it. While subtle, when does everything have to be gigantic? In my world, working every day, they are beautiful, spiritual gleams of LIGHT for myself and others without drawing undue attention...just the right message for the giver and receiver. I personally could not give these to a 13 year old...they haven't earned the appreciation or the value they have on many levels. I will LOVE passing them on and am so filled with their gentle message. I got the citrine and it was tough to choose even at the extreme reduction. I have been watching these for a long, long time so thank you. I have your Quan Yin Charm from quite awhile ago along with a peacock charm and they do touch me with their Spiritual Delightful Angelic presence. For those who hesitate because they think they are tiny....DON'T. They will dance and give a bit of Spirit sparkle to go through your day with, for you AND others!
06-12-16
Rated

5

out of

5
 by
Ridley
Lovely Iolite
I think I'm going to stick to BBs earrings for now on - less chance of losing them. I'm afraid to purchase her enhancers to use with her round connector links. THESE CONNECTOR LINKS ARE NOT RELIABLE - THEY UNHINGE!!! I've read many reviews about people losing their pieces due to the connector opening. Well, it finally happened to me and with my BRAND NEW, EXPENSIVE garnet & blak sapphire enhancer. Enjoyed it for four hours never found it. Thank the Lord QVC believed me and replaced it! Barbara, you MUST step up with this issue. These links are lovely, but now I'm afraid to use mine again for fear of losing another enhancer. You're jewelry is beautiful, but one shouldn't have to worry about losing a piece due to poor quality control. I don't want to resort to using fishing line or soldering on such expensive pieces. NOT HAPPY.
06-07-16
Rated

5

out of

5
 by
patsy
Such Pretty Earrings
These earrings are very dainty....Very small hoops (smaller than I would have liked), BUT they are really pretty. I got the green (forgot the color name). You really can't tell so much they are green, but rather just sparkly and delicate. If I didnt like them so much, I would have given to my 13 year old granddaughter. Really nice.
06-04-16
Rated

4

out of

5
 by
amc
Lovely, but soooo tiny
I read some of the other reviewers comments about the size of the earrings being really tiny, and yet I was still really shocked when I opened the package. They are very tiny. I must say though, that they are really well made and very beautiful. I know other reviewers commented that the post was too fragile, but I had the opposite experience. I did not have any trouble getting them on, but I found the ear post was too big for the holes in my ears, and wearing them hurt. It is only this reason that I must return them , because they really are lovely.
06-03-16
Rated

4

out of

5
 by
IndianaJane
Darling but Tiny
i ordered these in the very lovely peridot and am fortunate to have short hair. I was very surprised how tiny they were and how weak the silver that goes into the ear lop was. Hope it holds up. I am planning on these since I love green, the style is lovely, the sparkle is there that is for sure and luckily I have short hair and you will be able to see them when I wear them. Wish they were not tiny but larger and then it would cost a bit more but I would not mind because it had more substance. Would have ordered another color but the price too steep for such a little earring.
05-13-16