Baby Mary Beth Limited Edition Doll by Marie Osmond
Limited Edition of 750 pieces
In Stock
Sold Out
We're sorry. This item is not available at this time.
Pre Order Possible .
Low Stock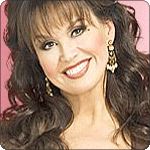 "What can I say...I love Mary Beth to pieces! From the first show I ever did with her, we connected so strongly I knew we'd be life-long friends. She's been there through it all, from the birth of my children to the passing of my parents. This doll absolutely captures Mary Beth's resilience and spark for life. I had to present her on my 18th Anniversary show because Mary Beth turns 50 a month before me. There's no better way to 'rub it in'! Smiles!"
— Marie Osmond
Description
Pink has never looked prettier. Baby Mary Beth--who is sculpted in the likeness of QVC host, Mary Beth Roe--is dressed head to toe in breathtaking pastel pink. From the bow in her hair to her organza and satin dress to her sweet shoes, she is an absolute vision. From Marie Osmond.
Includes doll and floating heart charm on a cream-colored, satin ribbon
Blond hair, blue eyes
Porcelain/cloth construction
Sculpted by Sonja Bryer
Limited Edition of 750
Manufacturer's Certificate of Authenticity; hallmarked with Marie Osmond's facsimile signature on the back of the neck
Seated, measures 12"
Made in China
Reviews & Community QA
C11062 - Baby Mary Beth Limited Edition Doll by Marie Osmond
5
5
Very very pretty!
This doll ia just gorgeous! Beautiful face, lots and lots of curls, lovely dress and shoes. She stays in a sitting position ( can't stand her up ) but this isn't a problem for me, she fit right in my curio/display case perfectly. Thank you Marie!
09-08-10
Love Marie Osmond Dolls !!!!!!!
I Just LOVE this doll. Marie Osmond and Mary Beth are my Favorite 2 people on QVC. I am an avid Marie Osmond Doll collector as well. I cannot believe that this doll looks sooooooo much like Mary Beth. Keep bringing the dolls to Qvc.
10-28-09
Little Disappointed
I have quite a collection of dolls by Marie, but this one does not stack up. At least the one I received did not look like the picture - her head appears much smaller than the rest of her body - am only keeping her because of the hassle of returning her
10-20-09
Beautiful!!
What can I say...what you see is what you get with Marie's dolls! They are always gorgeous. I have three daughters who collect the tiny tots dolls. They each got a larger doll for their 10th birthday. This is the one I ordered for my youngest daughter, who just turned ten. She absolutely loves her! I have never been disappointed with any Marie Osmond doll that I have ordered!!
10-17-09
Wonderful Item
I just love dolls. I loved Chatty Cathy dolls as a child and have been able to collect several that still "CHAT!" And then of course I love to collect Raggedy Anne dolls. But I have now added Marie's dolls. I have one Halloween "ghostly" doll and one dark haired beauty from the Buttons and Bows collection. And now have added this little charmer. I received Baby Mary Beth today and she is simply beautiful, The facial expression is simply perfect along with her soft eyelashes! Mary Beth is one of my favorite hosts and this doll is a true compliment to her and oddly enough I think the sculptor was able to capture some of Mary Beth's charm in the making of this doll. She is just lovely and would be a special gift for yourself or anyone you want to bring a smile to. I am postive I will enjoy her for many years to come.
08-26-09