Algenist GENIUS Liquid Collagen Auto-Delivery
or 6 Easy Pays of $19.17
+ S&H and tax Good until November 13, 2018 2:59 a.m. ET
In Stock
Sold Out
We're sorry. This item is not available at this time.
Pre Order Possible .
Low Stock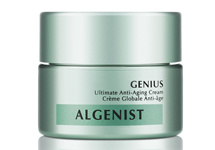 Bonus Item with Purchase
With this Auto-Delivery purchase, you'll receive a bonus 0.5-oz Algenist Genius Cream with each future shipment every 90 days for two years or for as long as you remain in the plan.* Cancel anytime.
*Not included in the first shipment.
Description
Introducing Algenist GENIUS Liquid Collagen. Created using patented technology, this liquid formula contains alguronic acid--a unique, patented, naturally occurring compound from microalgae, plus microalgae oil, niacinamide, vitamin B3, peptides, and collagen amino acids. And with this Auto-Delivery plan, you'll receive a new shipment approximately every 90 days for two years.
In a survey, after 10 days:
-91% of women agreed Liquid Collagen helps with bounce, resilience, and suppleness of the skin
-89% of women agreed skin's radiance was visibly improved
-88% of women agreed Liquid Collagen helped reclaim skin's youthful radiance
How do I use it: Unscrew cap and remove dropper from bottle. Push dropper button to empty air in pipette. Hold down on button while inserting back into bottle. Release button to allow dropper to fill up fully. Remove and push down to dispense. After cleansing and toning, apply to entire face, neck, and decollete.
From Algenist.
Each shipment includes 1-fl oz GENIUS Liquid Collagen; shipments arrive approximately every 90 days for two years
Future shipments only include 0.5-oz GENIUS Cream
Please click on the About Auto-Delivery tab for more information
Important Details
If you take advantage of both Auto-Delivery and Easy Pay™, it is possible that more than one Easy Pay installment could be due in the same month. For example, if your Auto-Delivery plan ships every three months and you select 4 Easy Pay installments, you would pay the fourth installment of your first shipment in the same month you pay the first installment of your second shipment.
Reviews & Community QA
Algenist GENIUS Liquid Collagen Auto-Delivery
is rated out of
5
by
124
.
Rated

5

out of

5
by
passion4beauty
from
will use forever!
i am hard on facial products because its very hard to find a good one but i will always use the liquid collagen along with the syrum they sell! it has changed my skin! my skin is tighter and more firm just by using the two Algenist products! i am going to write a review for the syrum as well! i understand the smell but it doesn't bother me and it goes away in seconds. I'd rather have to put up with that then go without my beautiful looking skin! love it!
Date published: 2018-10-22
Rated

3

out of

5
by
hope springs eternal
from
Love the product but not the bottle.
I would give the product 5 stars but the delivery system is terrible. The plunger on the dropper stuck and stopped working the second time I used it. The serum is very thick and now I have to remove cap and invert bottle and shake to get some product out. Too much work for me. I will not buy again unless they change the bottle.
Date published: 2018-10-20
Rated

1

out of

5
by
Anonymous
from
Smelled REALLY strong!
I don't even care if this stuff works or not. The overwhelming perfume smell was something I couldn't get past. Sent back after 1 use. Products this expensive shouldn't be throwing in cheap fragrances. Very disappointed!
Date published: 2018-10-17
Rated

5

out of

5
by
BJHISE
from
Don't Let Yourself Run Out Of This!
I didn't think it was doing that much. Then I ran out of it. It was the longest two weeks until I got it back. I would love to have it in a larger size. I will buy the duo today. Thanks for great looking slin.
Date published: 2018-10-17
Rated

5

out of

5
by
GLOSSY12
from
It works
I purchased the genius liquid collagen serum in mid August and began using it immediately along with the Algenist Restorative serum. On one occaision I heard the Algenist rep say to use the collagen serum once a day and on another occasion, I heard her say to use it twice a day. I use it alone in the am (I have oily combination skin) and in the evening with the restorative serum. I also use the Genius cream at night only on my lines because of my oily/combination skin. I find that the dispenser works for me and I use about a half of the dose in the am and half in the pm and it covers my face and neck without being too sticky or heavy. I am sensitive to scents and thought that I would certainly have a problem when I used it for the first time but while the scent was strong, it did not cause headaches or skin irritation. Additionally, I no longer notice the strong scent -not sure if this is an indication that the product has been exposed to air and the efficacy of the product has been negatively impacted or if I just got accustomed to the scent. I have been using the collagen serum consistently from mid August to today October 13 and I have about 25% left in my bottle so while it may not make it the full 90 days it will get me very close. I am 48 with oily combination skin that is sensitive to everything and I have had no negative reactions. I have deep laugh lines (I laugh a lot) and I have horizontal lines on my forehead and between my eyes (I'm very expressive) and this product has done an amazing job reducing the depth of the lines. My makeup no longer settles into my laugh lines which has been a persistent problem for me. I have tried PTR peels without any obvious change to these lines on my face. I tried Perricone which looked like it was working but my skin because irritated and rough so I had to stop using them.. Additionally, the overall smoothness of my skin has improved - if feels hydrated and refined - feels likes velvet and I couldn't be happier so I will be repurchasing. It is expensive but it is working so I feel that it is worth the investment.
Date published: 2018-10-14
Rated

3

out of

5
by
Linders59
from
Love the product but not the price or quantity
I have been using this product twice daily since I received it in early Sept (5-6 weeks ago) but unfortunately it's all gone now. I can see the results of the softening of those deep wrinkles. I don't believe that all of these reviewers that are complaining that it didn't last 90 days are wrong. I used barely a pea size and applied it to my face, decollete, and back of both hands. It did not feel sticky as some complained about so I think I was not over applying the product. I am sad because I will now have to wait 6-7 weeks before my next shipment. I hope that the results I have achieved over the past 6 weeks don't reverse. I hope they change the auto ship to every 60 days or supply it in a bigger bottle. I had no difficulty with the stopper - worked great for me.
Date published: 2018-10-13
Rated

2

out of

5
by
hippofu
from
disappointment
I was eager to try this product, and used it as recommended. However, if one is supposed to use this twice a day, and it is sent our every 90 days, we have a problem. Not to mention there is no consistency to how much product is 'sucked up' in the dropper. There is definitely not enough product to last 3 months. So, I have gone to once a day, and I'm frugal on the amount of product used. For the price, and the lesser amount of Genius used each time, I'm not seeing the results 'promised'.
Date published: 2018-10-07
Rated

3

out of

5
by
Chicago4
from
Not for me
I was excited to try this serum. First thing I noticed was the strong perfume scent. Also I had a hard time getting the serum out of the bottle. The serum felt nice going on my skin. A bit later my skin turned bright red and was hot. I was not sure if it was this serum so I tried it a few more nights. My skin was red and irritated after each use. I do have sensitive skin and there is something in this that does not agree with my skin.
Date published: 2018-10-05