"Recipes for Life" A Memoir by Linda Evans Autographed Hardcover Book
In Stock
Sold Out
We're sorry. This item is not available at this time.
Pre Order Possible .
Low Stock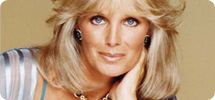 "My intention with Recipes for Life is to share all the wondrous and unusual experiences that have made up my life as a series of vignettes – a book you could open up anywhere and read as much or as little as you like. Along with those memories, I'll also share a recipe or photograph from my personal collection that says so much about the time, the people, and the events that make up my life."
—Linda Evans
Description
Best known as Krystle Carrington, the character she portrayed in the long-running hit series Dynasty, Linda Evans experienced a taste of everything that comes with fame and fortune--and managed to remain grounded and spiritual through it all. In her memoir, "Recipes for Life," Linda shares her secrets through a delightful assortment of anecdotes, photos, and recipes she's collected over the years.
Linda Evans, author
Autographed
Hardcover
288 pages
Copyright 2011
Made in USA
Reviews & Community QA
F09590 - "Recipes for Life" A Memoir by Linda Evans AutographedBook
5
5
Lovely book
I'm 35--I never watched Dynasty because I was too young when it was on. For the past 6 months or so we've been watching The Big Valley and wow! I was sucked right in. I truly don't think that there was a prettier woman alive back then! Not that prettiness is all that important. We watch the show for two hours a day from 12-2am. I got so excited when I found this autographed book! I told my husband that I was getting my book in the mail from Audra. lol I really enjoyed the book and I'm not even really a great cook. I just wanted her autograph and to read the stories about her life and those that were in it. Linda seems like such a wonderful woman and I wish her well and thank her for sharing her story with us all--and autographing all of those books for her fans. I am very happy with my purchase!
02-10-12
A Must for Every Woman!
Delightful to read! Great ideas to ponder for women of all ages!
11-13-11
Linda Evans Book
I love the pictures, the honesty, and the recipes in her book. I think a lot of people would not think she is so down to earth becasue of her glammor. She is beautiful, But she is just like any one else.
11-12-11
Interesting book
This is an interesting book. I've loved Linda Evans since her Big Valley days and Dynasty. She did mention Barbara Stanwyck and Lee Majors, but none of the other characters or guest stars from the Big Valley. I wish she would have written more about that time in her life. Her chapters are short and you can read them watching tv during commercials. I did enjoy her book and found it interesting. Hard to believe that she is friends with all the Derek ex-wives. And the best part is that she autographed her book!
11-07-11
Couldn't Put It Down!
I read this in three evenings. I have always admired Linda Evans since The Big Valley and Dynasty. It was great to hear all about Linda's life. It was interesting to know about her loves, friends, accomplishments and travels. I really look forward to trying the recipes. I also love Nolan Miller and enjoyed reading about him in the book. My husband will also enjoy reading this now that I've finished. She is beautiful inside and out.
10-23-11