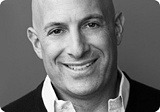 Beginning in the diamond district more than 25 years ago, David Kriss first cultivated his craft as a jewelry designer alongside his father, Richard Kriss, who started the family business over 50 years ago. Although he enjoyed being a professional rugby player, David decided to focus on jewelry design instead. Today, David Kriss is one of the most recognizable names in the jewelry industry, known for his unique styling and passion for quality.
Currently based out of a 15,000-square-foot facility in Manhattan's diamond district, this second-generation family business continues to carry out the tradition of providing customers with the highest quality products and unique designs and concepts, accompanied by first-class service.
After establishing a flagship store in Bangkok's Park Lane Mall and a bridal jewelry business with the most prestigious jewelers in the world, David announced the launch of the David English collection, a simulated gemstone and silver line for QVC.
This labor of love has been in the works for years. Inspired by travels around the world and time spent living in New York City and Bangkok, David puts a soft spin on edgy jewelry trends for the everyday woman to wear to work or out on the town with the girls.