About Thom Filicia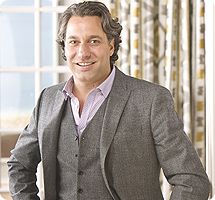 Thom Filicia is a fresh, vibrant, and extremely accessible designer who blends the worlds of mass media and interior design to create an overwhelmingly indelible impression.
Before Thom came into the public eye as the design guru on television's Queer Eye for the Straight Guy, he established a prolific and respected New York City practice, Thom Filicia, Inc. (TFI). Founded in 1998, TFI clients include high-profile celebrities, international luxury hotel chains, and prestigious clientele in the fashion, entertainment, media, real estate, and finance industries.
Thom is the author of Thom Filicia Style, which deconstructs his design philosophy and gives readers simple, step-by-step instructions on how to make their homes reflect their inner selves. He's also a contributing author to The New York Time's best-selling book, Queer Eye for the Straight Guy: The Fab 5's Guide to Looking Better, Cooking Better, Dressing Better, Behaving Better, and Living Better.
Thom received a B.A. in Interior Design at Syracuse University's School of Art and Design and has worked at the most venerable firms in NYC. He's been an environmentally-conscious designer for the past 10 years.
This year, Thom launched his multifaceted retail home collection, Thom Filicia Home, which includes furniture, textiles, floor coverings, broadloom carpets, wall art, bedding, lighting, and more.
Information provided by Thom Filicia.