About Angelo Surmelis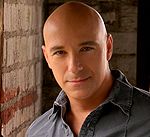 Angelo Surmelis and his family moved to the U.S. from Greece when he was six. Around that time, his parents remember him dragging furniture around to rearrange their Chicago apartment.
"I really believed, from an early age and still do, that your space can change the way you feel," remarked Angelo.
Years later, he figured it was time to take his "act" of moving furniture on the road. He moved around the globe and worked with various clients, spreading his message to a larger audience. Angelo has starred in five different design series on TLC, Lifetime, The Style Network, and HGTV and has appeared on popular TV talk shows.
"It's all been — and still is — good times, since at the end of the day, I LOVE what I do," Angelo explains. "There's no better feeling for me than looking into the eyes of homeowners as they see their home and themselves in it…and what it can really be for the first time. It's an amazing feeling and it changes lives. It changed mine. Now, go move some furniture! Oh, and speaking of furniture, I'm thrilled to introduce my new line of furniture, bedding, and accessories on QVC."
Information provided by Angelo Surmelis.