About Lisa Rinna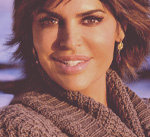 With her exotic looks, prodigious talent, infectious energy, and savvy business acumen, Lisa Rinna has become one of the most recognizable faces in Hollywood. She's appeared in numerous television shows including Days of Our Lives, Dancing with the Stars, Melrose Place, and opposite her husband Harry Hamlin in the TV Land reality show Harry Loves Lisa. Her credits also boast several Lifetime movie roles, two published books, fitness DVDs, and more.
In May 2002 Lisa embraced her life-long love of fashion and opened her own women's clothing boutique, Belle Gray, named after daughters Delilah Belle and Amelia Gray. Since opening the doors in the heart of Sherman Oaks, California, Lisa's trend-setting store has become one of Los Angeles' must-stop shopping destinations. In June 2005, she opened her second Belle Gray boutique, which is located in The Commons of Calabasas, California.
The Lisa Rinna Collection on QVC is designed in her California-cool style and features casual, comfortable, and chic skirts, shirts, dresses, jackets, and more in a variety of bold colors and ethnic and tribal patterns.
Lisa is a native of Medford, Oregon, and loves outdoor activities. A fitness fanatic, she also enjoys yoga, skiing, and tennis. Lisa resides in Los Angeles with her husband and two daughters.
Information provided by Lisa Rinna.