orYANY Brenda Haircalf and Leather Convertible Satchel
In Stock
Sold Out
We're sorry. This item is not available at this time.
Pre Order Possible .
Low Stock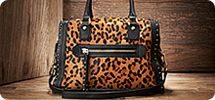 Description
Be among the first to carry this leather convertible satchel, offered from orYANY(R) for the first time in lush haircalf. Soft, sumptuous, and the epitome of luxury, haircalf is one of fall's most sought-after trends. And now, we're bringing it to you at a remarkable price!
It makes a dramatic entrance. Distinctive details like stud accents around leather trim and goldtone hardware offer upscale appeal. And it's perfectly sized with plenty of room for your essentials--plus pockets to keep them organized.
Love at first sight. Outfitted from top to bottom in impeccable style, this convertible satchel takes you from day to night without missing a beat. Don't wait, get yours today!
From orYANY.
Style: Brenda
Double handles, detachable shoulder strap, four bottom feet, zip-top closure, front-zip pocket, goldtone hardware
Two back-wall zip pockets, two front-wall slip pockets
Leopard: black trim
Zebra: cabernet trim
Cabernet: black trim
Black: black trim
Camel: cognac trim
Measures approximately 13"W x 9-1/2"H x 7"D with 15" shoulder drop and 7" handle drop
Body 100% cow hair; trim 100% leather; lining 100% cotton; weighs 2 lb 4 oz
Made in China
Reviews & Community QA
orYANY Brenda Haircalf and Leather Convertible Satchel
60
60
Wish I could return it!
Began using this handbag after the 30 day return policy. Initially liked the bag but after using it for two weeks the calf hair shredded and pattern wore off. I care for my handbags and have owned other brands with calf hair before, never had this issue. An expensive bag to use for two weeks and have to throw it in the trash!
12-22-13
A Real Classy Keeper
I really, really like this handbag!! It is the right size and shape. I have the leopard print which has generated many compliaments. The box shape is a plus not a detractor for it carries my business books, billfold, meds, and assorted items for kids. Would very much like to see a color block in this design!!
12-18-13
Redesign!
This bag is very pretty.........But..... It needs redesigned. Needs to be not as tall because it folds inward at the top when not full. Reminds me of a Dr's bag. The color I chose was Cabernet. Beautiful. I don't know if mine was defective, but the lining was not attached. Also the handles would not lay down to the side for carrying with shoulder strap. Pretty bag terrible design. Haircalf rubs against clothes. Just a matter of time it comes off not to mention what it does to your clothing. Sent mine back as I thought it wasn't worth this amount of money. Dooneys are made so much better.
12-02-13
Not to happy
When I first received this bag I was absolutely thrilled. The bag is a great size, the strap fit me just right. However, over time (after a month) the calf hair began to come off, not only did it come off it began messing up my sweaters and leggings because the calf hair was constantly rubbing against it. By the time I noticed, it was too late. What is even more upsetting is that I am still paying the installments but not even using the bag.
11-22-13
Calf hair came off
I purchased this bag when it was a TSV. I purchased the leopard and absolutley loved it, at first. I did not think it looked cheap or fakey. I liked the size and the shapeand even the color. However after carrying it around for a couple weeks, i noticed that the calf hair was coming off on the side the bag that was carried next to my body. I was so dissapointed, I had to return it. I think that if they had put the calf hair on the front side and not the back this would have prevented this from happening. Otherwise it was a lovely bag.
11-20-13
Disappointing
Purchased as gift for sister. Size of bag is fantastic but structurally it leaves little to be desired. Top part easily collapsed in and side zipper was wavy like a hoodie zipper looks after being washed and dried. She walked past the stair bannister and the bag brushed up against it. Some of the calf hair fell off. Very disappointed. Sending back and luckily during the gift extension.
11-13-13
Loved but disappointed!!!
I loved the bag when I got it at the insider price and easy pay, however when I walked in a brand name discount store yesterday and saw it for $50.00 less than I paid for it I was mad!!! I thought this was an exclusive! Will see if I can still return it, if not I know not to buy another orYany bag from the Q.
11-08-13
Not what I expected
I loved the look of this purse. Ordered it in the Cabernet. While the bag itself was beautiful, It collapsed easily perhaps because of it's size. What made me return it was the fact that the lining was not attached, whenever I took something out of it, if I grabbed the liner it too came out, thus my items in the purse. I really wish this had worked out, I received so many compliments on the look. I ordered a Dooney and Bourke. They attach their linings and I always like their purses.
10-29-13
VERY DISAPPOINTED WITH THE LOW GRADE LEATHER...
Received this bag in black and the handles squeak against the hardware when you carry it and there is no 'real' leather smell. In fact, the leather almost looks 'faux'! Not what I was expecting and definitely cannot stand up next to an LV, MJ or any other high end line, as some posters have said. Even Dooney's 'Florentine' has this beat by miles. It's sad, because I was really hoping it would meet my expectations for $300. I wouldn't pay $50.00 for a bag that squeaks, when you carry it. It could have been such a gorgeous bag, but the low grade leather just ruined it.
10-14-13
Beautiful Bag
The quality on this bag is amazing. You can tell immediately the leather is quality leather. The hair calf is very short. Looking at it from any distance to me it looks like leather. I do not understand the reviews that this bag looks cheap. My only negative is the bag is large. I would prefer a tad smaller. Keeping it though. It is not heavy on the shoulder.
10-14-13
Good Different
This is my first YANY bag. I have carried it 3 times now and I'm getting used to the size of the bag. I love the style and the contrast of the two materials. It's a keeper for me.
10-13-13
Amazing bag!!
I love this bag! The leather is exquisite and the haircalf is perfectly done. Sometimes the nap of the hair is a problem but this bag is great. The style is so on trend and looks so contemporary. I am thrilled with the bag and I tend to be a purse snob. I ordered the black and was afraid it might be a bit understated but it is a black bag with punch and character. WOW!! Great bag!
10-12-13