iGrow by Apira Science Hands Free Hair Growth Laser System
In Stock
Sold Out
We're sorry. This item is not available at this time.
Pre Order Possible .
Low Stock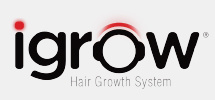 Extended-Return Item
This item comes with a 180-day return option—a special offer only available for select products that QVC specifically identifies as being eligible on QVC.com. All other terms of QVC's standard return policy apply.
Description
What is it: FDA cleared to promote hair growth in both men and women, the iGrow system uses the combination of lasers and LEDs to provide coverage to the areas of the scalp most affected by male and female hereditary hair loss.
Who is it for: It's engineered to help promote hair growth in both men and women.
Why is it different: The iGrow is a revolutionary, patented, in-home, hands-free hair growth system that provides full scalp coverage. It is fully portable, simple to use, and requires no manual movement. A remote touchscreen control allows for a variety of custom treatment settings for both men and women.
The iGrow features four adjustable-fit columns for optimum comfort during treatment. Earphones extend and retract to custom fit most head sizes. The headphone-based stabilizing platform has a standard audio port so you can listen to your favorite playlist, Internet radio, or enjoy an audiobook while receiving treatment. You can use the iGrow when you are responding to emails, shopping online, surfing your favorite sites, or just simply relax and listen to music or watch TV.
How do I use it: Simply place the iGrow canopy on your head and adjust if needed. Select the image that looks most like you on the remote, press the button, and the treatment begins.
Use it for 25 minutes every other day for a 16-week period. After the initial 16-week period, use it at least once per week to maintain results. Make sure to use as instructed specifically during the 16-week intensive therapy period, and make it part of your routine.
From iGrow.
Includes:
iGrow Hair Growth System
Measures approximately 12"L x 7"W x 4-1/2"H; weighs 1lb, 1.8 ozs
ETL listed; 1-year Limited Manufacturer's Warranty
Imported
Reviews & Community QA
iGrow by Apira Science Hands Free Hair Growth Laser System
is rated out of
5
by
220
.
Rated

5

out of

5
by
sunnyflgrl
from
IT WORKS!!!
IT'S ALL ABOUT CONSISTENCY and PATIENTS. The IGROW does work if you use it . I purchased it 11 months ago and i am very pleased with my results. I am in my 40's & i have typical hormonal hair loss along my bangs ( i had a 1/2 inch 1/2 moon sized bald spot )and i had a noticeable patch about and inch wide; literally a bald spot right where your bangs stop & your hairline takes a 90 degree turn south. The hair has grown back and i cant even begin to tell you how much better it makes me feel. The stress alone from watching your hairline recede is enough to make you go bald so i was very happy this worked. Everyone is different and I didn't start noticing hair re growth till about 7 months. It started as sparse peach fuzz but after 9 months it became more mature hair & there was more of it; so dont stop or get discouraged. It has been 11 months I was using it every other day for 7-8 months & now I use it every 3 days or so for maintenance. My husband also uses it & he had the circle balding spot on the back of his head which is fully grown back and his top was starting to thin & he's back to normal as well. We both did 25 minutes every other day. I highly recommend writing the day you start on your calendar. I also put a lower case i and circled it every other day and after i used the IGROW i would put a check over the i to keep track or you'll forget what day you did it. In addition, i purchased a cheap sun visor that has a thin coil strap to keep the red light out of my eyes (got it at the big drugs stores) . I like the IGROW because the helmet is so easy to use, you dont have to hold it or move it. I keep it in a basket by my computer or i do it while I'm watching the TV & the time is quick. I am very happy with my results. It really does work my bald spots were very noticeable for me & they are gone. you have to be CONSISTENT & PATIENT. HIGHLY RECOMMEND !!!
Date published: 2017-08-19
Rated

4

out of

5
by
Najara12000
from
It works!
my hair was falling out just to run my fingers through. I hated to even wash my hair because it was so sparse. I have fine hair to begin with but when i washed my hair i could see a lot of my scalp on top and the hairline had widened to plain skin. I have used it 10 months (faithfully) and my hair is so much fuller now. My hair still falls out but not like it did before. I really recommend this for anyone especially women. As long as you use the device every other day, you will get results. My first results I started noting after 4-5 months. If you can get the money and are willing to use the device every other day. It is well worth it because the alternative isn't pretty. I gave 4 stars. Unless I looked like a Chia after a few werks, I would have given 5 stars.
Date published: 2017-07-26
Rated

5

out of

5
by
loulou73
from
Best, best purchase ever
I started using IGrow 5 months ago. At one an a half months I had new growth all over the top of my head. I now have twice as much hair as when I started and am so happy with this product. It worked so well for me, and I my hope is it would work as well for others. The caveot of this is my hair is coming in curly again after pretty much losing all its natural curl. Way to go IGrow this is a wonderful product I would recommend to anyone. By the way, I just turned 80 so it works for us older folks to.
Date published: 2017-06-10
Rated

5

out of

5
by
alfordfarms
from
Wonderful results!
My hair was thinning due to medication. I was at my wits end. What had been my crowning glory was now disappearing! I tried the I Grow. My hair is thick again. My hairdresser is impressed......Not only is my hair thicker, but the gray is coming in blonde. He is very impressed! Well worth the money!
Date published: 2017-05-21
Rated

5

out of

5
by
trudiebob
from
IT WORKED!!
Looked at the iGrow helmet for a year. Finally did it when my hair stylist could no longer hide my "cowlick" in the top of my head, wanted to cut bangs for the front. and the monthly dye job was not coloring the skin in my part. I was losing hair all over plus the spot on top. Read all the reviews here and on Amazon, and came to the conclusion that it either worked or did not work. Not much in between. Problem for me was commitment and consistency of use. Made that promise to myself and stuck with it. My hair stylist noticed it first after two months. By month three, I could see it. Hair was thickening every where. Bonus: my eyebrows thickened up and lost a vertical gap in one. It has now been 7 months and still shooting out new hair with just the twice a week maintenance. I am 69 with white hair colored blonde. I feel sassy swishing my hair around and being fluffy on top. Best spot for my use was in front of computer playing games or reading books on my Nook. This is first review I have ever done for a product on QVC.
Date published: 2017-05-03
Rated

5

out of

5
by
cacconsu
from
Skeptical At First But No More
I was so skeptical I did not devote the time to using the Igrow but my daughter did. By the four month mark she noticed a difference by six month I noticed her hair was looking thicker. Now she's approaching a year of religiously using it 25 min every other day and her hair has almost completely grown back. Now I'm motivated and I am starting to use it. Hoping my results are as good as hers. At least for what this has done for my daughter it's worth the price
Date published: 2017-04-29
Rated

1

out of

5
by
shz1
from
Useless
I used this for one year 20 min 3x week and saw no results.
Date published: 2017-03-25
Rated

4

out of

5
by
tmt001
from
It Works For The Top, Not On The Sides
I got this helmet 6 months ago and have been using it every other day faithfully for 25 min each time. It took 4 months to see the improvement but I could see the new hair coming out like new grass. I don't have a severe baldness, but started seeing some hair loss in the middle part from having Cher style for a long time. I also have a hairmax comb (also bought it from QVC) which I used for the front and the sides where this helmet can't take care of. The combination use of these two tools have worked wonder for me. I would highly recommend them to those that are in the early stage of hair loss, not the ones that have had "full" baldness for a long time. One note: I still have hair loss during shower times, but I noticed that the amount of hair loss is cyclically aligned with my female cycle.
Date published: 2017-02-18