You Want It, We've Got It!
philosophy's iconic line of purity made simple products is taking over QVC on February 10 with the philosophy super-size purity 3-piece balanced skincare system Today's Special Value® (A303069)*, our best find of the day. InsideQ met with Sasha, an assistant beauty buyer and purity made simple devotee, to talk about this exciting all-purity made simple offer.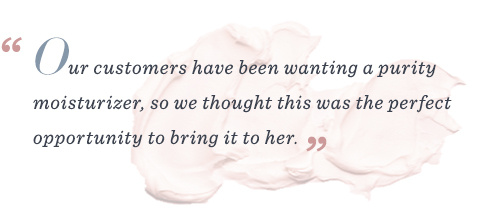 Why the Buy
According to Sasha, this Today's Special Value is a wish-come-true for many of our philosophy customers. "It has the purity made simple cleanser, which cleanses and gets your makeup off," she states. "Then you have your moisturizer—makeup applies nicely over it. And, of course, you have a treatment mask. These are the three heavy hitters in skin care, all at a great price. Not to mention, two of our customer's favorite purity made simple products (the cleanser and pore extractor) are super-sized in this offer. She already wants those two items, so getting the moisturizer to try with them is a win-win!"
How to Use It
"It's a very easy skin-care regimen," says Sasha. "You start by using the purity made simple cleanser every day, both am and pm. It removes your makeup—including eye makeup—cleanses, and tones, leaving skin feeling lightly hydrated. I think that's a big part of why purity is so popular."
Next in line comes the new purity made simple moisturizer. "You apply this ultra-light moisturizer after cleansing," Sasha tells us. "It's essentially a really rich moisturizer, but in a light lotion texture."
Sasha outlines the last step in the regimen: "The final step in this three-piece kit is the purity made simple pore extractor. You can use this product one to two times a week. It's a clay mask formulated with salicylic acid and exfoliates, addressing your T-zone and other oily areas. We launched this product in 2017 and it was a huge success with our customers. They really loved it. It helps scrub away blackheads, reduce the look of pores, and draws out impurities."
What's New?
According to Sasha, the unique components of this Today's Special Value are one of the things that makes it new and exciting. "We usually feature configurations that mix different philosophy lines, but this is an all-purity made simple offer." But there's more: "The purity made simple moisturizer is brand new in 2018, so we're excited to feature it in this Today's Special Value. There's a lot of beauty-industry buzz around it! Our customers have been wanting a purity moisturizer, so we thought this was the perfect opportunity to bring it to her. Plus, it's the first time customers are seeing the purity made simple pore extractor in a super-size five-ounce size."
*The Today's Special Value offer ends at 11:59pm PT on February 10, 2018.