Glossary of Computer Terms:
AMD (Advanced Micro Devices): A manufacturer of chips for personal computers.
ATA (Advanced Technology Attachment): A type of disk drive that integrates the drive controller directly on the drive itself.
Bit: A bit is the smallest unit of measurement for electronic data. A bit is one "on or off" signal. The number of bits determines how much information your computer can store and retrieve. Eight bits equals one byte.
Bluetooth: Bluetooth provides a way to connect and exchange information between devices such as mobile phones, laptops, PCs, printers, digital cameras, and video game consoles over a secure, globally unlicensed short-range radio frequency.
Blu-ray: A high-definition DVD format capable of displaying 1920×1080 (1080p) video. It uses a 405nm wavelength blue-violet laser, in contrast to the 650nm-wavelength red laser technology used in traditional DVD formats. The rewritable Blu-ray disc, with a data transfer rate of 36MBps, can hold up to 27GB of data on a single-sided single layer disc (compared to the traditional DVD's 4.7GB capacity), which amounts to about 12 hours of standard video or more than 2 hours of high-definition video.
Brightview Display Panel: A display coated to provide a brighter view with more vibrant colors on a display screen or monitor
Burn: To record data on a CD, DVD, or Blu-ray disc
Bus Speed: Bus Speed is the speed or frequency at which the data on the motherboard is moving
Byte: A byte is enough information to convey a single alphabetic character in a file. The number of bytes determines how much information your computer can store and retrieve.
Cache L2: A level 2 memory that is a high-speed storage mechanism that enables quick access to the most recently used data and instructions.
CardBus enabled: A current generation, high-performance 32-bit/bus master Interface for PCMCIA slots in notebooks. It improves input/output speed, increases the bus width to 32 bits, and supports lower voltage PC cards, while maintaining backward compatibility with earlier standards.
CD-RW (Compact Disc-Rewritable): A CD disk that can read and write files to a CD-RW disc. Information can be written and re-written multiple times.
CD-RW Drive: A drive that will both read and record (burn) compatible CDs.
CPU (Central Processing Unit): A chip on a computer's system board that does the main processing.
DDR (Double Data Rate): A type of SDRAM (memory) that supports data transfers that effectively doubles the speed of the RAM
Digital Media: Generally refers to memory cards used in digital cameras and handheld computers. It can consist of digital files containing pictures, video, or audio. This could be SmartMedia, CompactFlash, xD, Secure Digital, MultiMedia, Memory Sticks, Memory Stick Pro, Microdrives, etc.
DirectX: Software created by Microsoft for multimedia and video game programs
Dual-Core Processor: A CPU with two processors or "execution cores" in the same integrated circuit
DVD (Digital Video Disc): Similar to a CD, it stores and plays both audio and video. Stores about 25 times more information than a CD.
DVD/CD-RW Combo Drive: A single multimedia drive that plays DVDs & CDs and records CDs/DVDs.
DVD-RW, DVD+RW: This drive will play DVDs and CDs as well as record DVDs and CDs.
eSATA: An external, swappable drive solution similar to USB. SATA offers much higher speeds than the USB bus.
Expansion Slot: A slot set aside on your computer's motherboard where you can "expand" your computer functions. This is done by installing expansion cards.
Firewall: This hypothetical "wall" is actually a piece of software that protects a private computer from unauthorized access via the Internet. It prevents other computers from accessing your computer while on the Internet.
Firmware: In between hardware and software, firmware consists of modifiable programs embedded in hardware.
Gigabyte (GB): A gigabyte is approximately 1,000 megabytes, which is enough to store several hundred songs and several thousand images. Internal hard drives are measured in megabytes, gigabytes, or terabytes.
Graphics Card: Also called a video card. When installed in a computer, it permits the computer to display pictures. It can either be built into the motherboard or exist separately.
Hard Drive/Disk: A storage device measured in megabytes or gigabytes (either internal or external to a computer's system unit) that holds large amounts of data. It's the "memory box" of the computer where all files are stored.
Hard Drive Capacity: Hard drive space is measured in gigabytes (GB).
Hardware: The physical components of a computer system, such as the monitor, keyboard, CPU, etc.
HDMI (High-Definition Multimedia Interface): A digital interface for transmitting audio and video data via a single cable
Hertz (Hz): A unit of frequency equal to one cycle per second
High Definition: Means that the screen will be "widescreen" and presented as clearly as possible
I/O Ports (Input/Output): The connectors on a PC that connect its external devices
IEEE1394(Firewire): Allows high-speed communications between a computer and peripherals.
LAN (Local Area Network): A set of devices, such as computers, printers, or video games, physically or wirelessly connected for interactive communications wirelessly or through Ethernet connections.
LCD (Liquid Crystal Display): A type of HDTV that uses standard compact fluorescent tubes to illuminate the picture.
Lightscribe CD/DVD Burning Technology: Burns text and graphics onto the surface of a CD or DVD using the disc drive's laser and a specially coated LightScribe disc to create personalized labels for CDs and DVDs.
Lithium-ion: A light, rechargeable battery often used in portable electronics such as laptops and cellphones.
Megabyte (MB): Internal drives are measured in megabytes, gigabytes, or terabytes. The number of megabytes determines how much information your computer can store and retrieve. Usually hard drives have several thousand megabytes.
Megahertz (MHz): The number of cycles per second at which a processor works. The higher the number of megahertz, the faster a computer can process information.
Memory: The place where a computer keeps programs and data. There are three types of memory storage in most computers: hard disk, RAM, and cache.
Memory Card Reader:A device that typically has a USB interface and accesses data on a memory card
Microsoft Office Starter: A reduced-functionality version of Microsoft Office, featuring Word 2010 and Excel 2010 with advertising with no PowerPoint® or Outlook®. See below.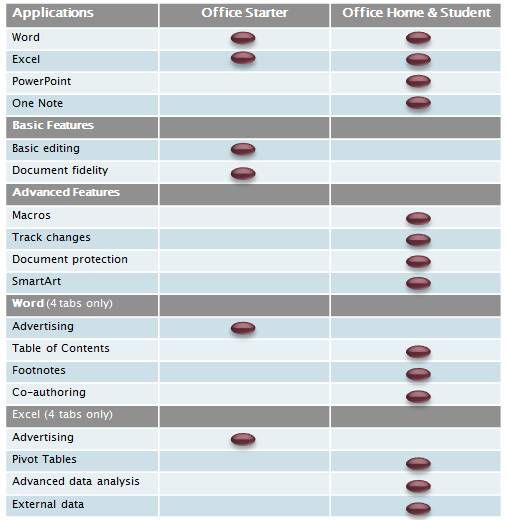 Network Card: A network card, network adapter, network interface controller, network interface card, or LAN adapter is a computer hardware component designed to allow computers to communicate over a computer network. It allows users to connect to each other wirelessly or by using cables.
Netbook: A small, portable computer designed for wireless communication and access to the Internet (primarily web browsing and emailing).
Notebook: A portable computer that uses an internal battery but can also be plugged in. Also called a "laptop."
Operating System (OS): Software that takes care of basic system activities such as reading forms and saving to disk. It controls how system resources are used and provides a user interface.
Optical Drive: "Optical" refers to lasers, which can "see" and read data on optical discs, including CDs and DVDs.
Processor: Also known as the CPU (central processing unit). As the primary element carrying out the computer's functions, it's effectively the "brain" of the computer.
Processor Speed: The rate at which the CPU performs calculations per second. It's measured in megahertz (MHz) or gigahertz (GHz). 1000MHz equals one GHz.
RAM (Random Access Memory): The place where a computer keeps programs and data when they are in use. It's measured in megabytes (MB) or gigabytes (GB). 1000MB equals one GB.
Refresh Rate: In televisions and monitors, refresh rate is the number of times the screen is redrawn in one second. It's expressed in hertz (Hz).
Screen Resolution: Maximum number of pixels that can be displayed on the screen. This number is a product of the number of columns and the number of rows. For example, a monitor with a 1920x1080 resolution can display 1,920 columns of pixels and 1080 rows of pixels.
Screen Size: The size of a television or computer screen, measured diagonally.
SDRAM: A type of memory technology that synchronizes the speed of the memory with the speed of the processor for increased performance from software applications.
Skin: A cover that adheres to the computer for decoration.
Sleeve: A cover for a notebook or netbook computer that protects the outer shell from scratches when transporting.
Software: Computer programs transferred to the hard drive of a computer that have different uses and functions.
Sound card: An expansion board that increases the sound capabilities of your computer
Terabyte (TB): A terabyte is approximately 1,000 gigabytes, which is enough to store several thousand songs and images. Internal drives are measured in megabytes, gigabytes, or terabytes.
TFT(Thin Film Transistor): A type of LCD flat-panel display screen in which each pixel is controlled by 1 – 4 transistors.
Touchpad: A pointing device used on many notebook PCs. You move the pointer onscreen by moving your finger over the touchpad.
TV Tuner Card: A computer component that allows television signals to be received by a computer.
USB (Universal Serial Bus): A high-speed serial port technology that allows a variety of input and output devices to be easily attached to a PC. A USB device can be plugged in or unplugged without turning off the PC and is automatically recognized and configured upon plug-in.
Webcam: The term webcam is a combination of "Web" and "video camera." The purpose of a webcam is to broadcast video on the Web.
Wi-Fi: Wireless networking technology that uses radio waves to provide wireless high speed Internet and network connections.
Windows 7 Starter: Windows 7 Starter gives customers the ability to run as many applications simultaneously as they would like, instead of being constricted to the 3-application limit that the previous Windows Vista and XP Starter editions included. This makes Windows 7 Starter a more attractive option for customers who want a small netbook for very basic tasks, like browsing the web, checking email, and personal productivity.
Wireless Connectivity: A notebook/netbook containing a wireless adapter that allows you to connect to high-speed Internet.