Worx Cordless Trimmer, Edger and Mini Mower Tool w/ Blower and 20V Battery
In Stock
Sold Out
We're sorry. This item is not available at this time.
Pre Order Possible .
Low Stock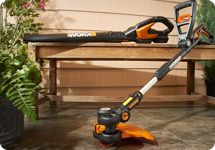 What Worx For You
Learn more about the Cordless Trimmer/Edger/MiniMower & Blower:
Description
Take the hard work out of yardwork! Trim, edge, mow, and blow away all your yard chores with this handy multi-purpose set from WORX.
Do it all--without the hassle of cords or gas engines. Thanks to lightweight design and a host of user-friendly features, this go-anywhere combo is the perfect set to tackle your everyday lawn-care challenges.
The trimmer/edger/mini-mower unit quickly coverts from a classic grass trimmer to a walk-behind edger. And just snap on the second set of wheels to use it as a convenient mini-mower for those areas where standard lawnmowers are just too big and cumbersome.
Deploy the flower guard to trim away grass and weeds around delicate plants or shrubs. Then, rotate the pivoting head 90-degrees to manicure edges of sidewalks or flower beds.
When you're ready to blow away debris, swap the trimmer/edger for the powerful blower. With air flow speeds reaching up to 115mph, cleanup is quick and easy.
These cordless, easy-to-use appliances are powered by an interchangeable 20V max lithium battery that powers the edger/trimmer unit for up to 13 minutes while trimming and up to 20 minutes while edging--that's enough time to handle 700 feet of walk-behind trimming on a single charge. On a full charge, the blower can run up to 15 minutes.
You've spent more than enough money on landscaping services and expensive lawn tools. With this incredibly affordable set, you can make your yard look picture-perfect for a fraction of the cost you pay for spring, summer, and fall upkeep.
Now's the time to complete your switch-over to cordless yard tools. This is QVC's only order of this versatile set for 2013. Once they're all gone, that's it for the season!
From Worx.
Includes trimmer/edger/mini-mower; blower; three spools of nylon trimming line (one is pre-installed), one interchangeable 20V max lithium battery, charging base, and user manuals
Trimmer/edger/mini-mower: nylon spools are easy-to-replace, line advances with the touch of a button; adjustable handle length
Trimmer: 12" cutting path
Fully re-charge battery in 3 to 5 hours
Approximate measurements: Trimmer/edger/mini-mower, with guard 45"L x 12 -1/4"W x 13"H; weighs 5 lb, 5 oz with battery; Sweeper/blower 35"L x 6"W x 8"H, weighs 3 lb, 11 oz with battery
ETL listed charger; 3-year Limited Manufacturers Warranty
Made in China
Reviews & Community QA
Worx Cordless Trimmer, Edger and Mini Mower Tool w/ Blower and 20V Battery
57
57
perfect
I only ordered the edger and it is perfect. It is lightweight and it does it's job. Yes the charge won't last for ever and it is not designed to clear a path in the forest- but as a standard edger it is perfect.
05-16-14
very disappointed
I watched the video of this and thought it would be great however, when I got it home I was disappointed. The battery does not hold a charge at all. You can only do a little bit before the battery dies. I gave it 2 stars because I like the weed eater but the battery definitely needs to hold more of a charge.
01-02-14
Not Pleased at all
I thought this would really help me but it doesn't. The trimmer is OK but the charge isn't nearly enough to get everything done. The line messed up on my trimmer and wasted a spool of it. The blower works pretty good but using the trimmer runs the battery down and can't blow until I recharge it. Not worth the money I paid for it.
12-23-13
It's a TOY
If you have a real yard do not buy . Maybe a roof top yard . Batteries will not last .
10-16-13
Disappointed
I purchased this product in March 2013 because I needed a lightweight grass/weed trimmer. It is lightweight and manageable but does not cut the tough weed growth without constantly getting grass and weeds wrapped around the spool area. When this happens (frequently does) the trimmer jams and stops working! I find that the grass and weeds are now getting thick and long this summer and the edging/trimming has gotten out of my control... Probably this product should be recommended for small property owners with only small regular grass trimming; not for larger yard needs, such as my South Florida 1+ acre yard. Blower works ok for loose dry pine needles and leaves, but doesn't have ample power for damper leaves and in humid weather, this too can hinder the job.
09-18-13
Feels like a toy
It would be ok for a small yard with basic trimming. Not for serious work.
09-15-13
The WORX works GREAT!
Great bundle...just buy the extra batteries for backup when using the blower (THIS SHOULD HAVE BEEN PRESENTED AND EXPLAINED DURING THE PRESENTATION, WHICH STATED THAT YOU WOULD GET ABOUT 3 HOURS, WHEN THE TIME IS LESS THAN 45 MINUTES). Now the batteries are on a waitlist.
09-14-13
Great Stuff
I had no problem with the weed eater ,the string is very strong just the one thread did my whole yard and the air blower was also strong, I had no problem blowing the grass where I wanted, the battery last about 25 minutes.
09-13-13
VERY DISAPPOINTER!
This is the second WORX Cordless tool that I have purchased from QVC. I guess I should have learned my lesson the first time after sending the first cordless back but since a year or longer had gone by I felt this may have been the improved tool that commercials/QVC said it was. But! After purchasing another one in Feb. 2013 & using from May until now (Sept.) I will never buy another one. I guess you get what you pay for. I sent the first one back shortly after the 30 days were up. QVC did credit my account but the new one is doing the same thing. Stopping after 5 minutes of use on a full charge. Light weight, no gas or pulling cord to work with but if it only works for a short time no use buying another one.
09-13-13
Nice Trimmer and Blower
Used it for the first time edged the driveway and landscaping beds they looked great! Had plenty of power and battery life, will be buying a extra battery just in case. Great for small yards!
09-07-13
Light weight and simple to use great Back saver
I bought the older version years ago it is still working GREAT, but decided to get this combo. I enjoy that I am free to walk around the property without the cords or the noise made by gas trimmers/ edgers. The best part is that when I need an edger I just make a few twists and there you go you have an edger. No more having to go back into the garage to get a different tool.. I use this for about 20-25 mins straight edging and of course it loses power. I purchased extra batteries and that solves batteries dying. I am satisfied with the Worx cordless trimmer, edger and the blower. I still use the older version it still works great. This saves me back pain and aches. Love it.
09-04-13
Was excited about it...BUT is not working for me:(
I'm disappointed...I don't see it's working for me. 1-The battery doen't last enough time to cut anything, needs a more potent and longer lasting battery , 2-It stops too often, 3-the line is too weak - need a sturdier line. The one that comes with it doesn't cut well. 4-I have only been able to use it for less than 5 minutes, then it stops and haven't been able to do anything. In the meantime the grass is groooowinnnnnggggg... :(
09-04-13