Women with Control "My WonderJean" Regular Stretch Boot Cut Jeans
In Stock
Sold Out
We're sorry. This item is not available at this time.
Pre Order Possible .
Low Stock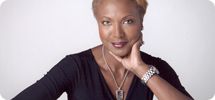 A Note from the Designer
"'My Wonder Jean' stretch denim goes through an enzyme wash that softens it to a knit-like feel. Soft to the touch and comfortable to wear, my denim is designed to provide comfort that lasts all day. This is my first denim pant, done in a classic boot-cut silhouette."
—Renée Greenstein
Description
Forget about diamonds, ladies--My Wonder Jean is sure to become your new best friend! Everything you already love about the Women with Control(R) collection--the comfort, the control, and the seamless design--all come together to create this sleek denim bottom--a first for the Women with Control collection.
Can you keep a secret? From the top of the waistband all the way down to the bottom of the hem, this stretch, bootcut jean offers maximum control within a comfy blend of cotton, polyester, and a hint of spandex. And the best part about it? No one else has to know! The denim material and five-pocket design won't give away a thing. Plus, it eliminates the need for shapewear underneath, which means no unsightly lines and no excess material to adjust.
The sky's the limit. When you start with a great foundation, your style choices are endless. A bootcut silhouette on this figure-flattering jean offers the kind of balance and proportion that looks great for any occasion. Dress up with heels and a jacket, or dress down with ballet flats and a solid top. With a chic, denim jean that slims and shapes in all the right places, you really can't go wrong!
Five-pocket design, zipper fly with button closure, belt loops
2, 4, 6, 8, 10, 12, 14, 16, 18W, 20W, 22W, 24W, 26W, 28W
Fitted; slightly below the waist; bootcut leg 2 thru 28W inseam measures 32"
76% cotton/23% polyester/1% spandex
Machine wash, tumble dry; wash before wearing
Made in China
To see the specific garment measurements for this item, click here.
Reviews & Community QA
Women with Control "My WonderJean" Regular Stretch Boot Cut Jeans
402
402
Too good to be true?
I bought these in Tall size and they were too long so I ordered them in regular length and am waiting for them in the mail. One thing....I am furious....i have only wore the tall ones 3 times and the zipper came off. It is a cheap zipper, the "teeth" don't even go all the way up to the top, that's why the zipper came off. I am so mad...I am lucky that I was at home when it happened, if I were out, I would have been so embarrassed! I hope to God the regular length doesnt have the same cheap zipper on it. How do you return a pair of jeans that you already wore and washed because the zipper was cheaper then dirt? I am so mad.
09-03-13
Great jeans
I agree with the other reviews that the waist fits tight, which is why I only gave them 4stars but I really love these jeans and will keep them. I wear them and love them, please bring more!
06-15-13
Positive and negatve comments, purchased 2 pair
I first purcased two pair of these and I absolutely loved the indigo, they were so so comfy andi immediatly became my very favorite pair of jeans! But the Olive were not, the fabric was compleely different, scratchy and uncomfortable, fit was different as well. I had thought that mnaybe there was a different fabric listed basrd on color but do not see one, so how could this be?? Very odd. And then after my third washing the zipper broke, i wasn't even wearing them at the time!!! So now my favorite jeans are broken and I only wore then 2/3 times. I purchased one of those quick zipper fix As seen on TV products, but haven't tried it yet and then after great consideration placed another order for the Indigo (that's how much I loved them!!) and they are on the waitlist. If when I receive a third pair (second of the Indigo) I supect that this zipper will break as well, but we'll see. I'll send an update in after I've worn them for a month or two. If ordering do so with alot of consideration is my recommendation at this time for Indigo only.
05-16-13
Bring These Back
I came across these in a Lunchtime Special & thought, why not? Unsure of numerical sizing, I got a 12 and a 14 & both fit! So I am keeping both, they have been pre-washed & dryer, Indigo, and came out this amazing, soft, stretchy, perfect looking jean, no ironing. Can fold or hang. No shrinkage. No sagging, bagging as you wear, has great stretch & recovery! I came back to get another 14 Indigo, and a 12 in Olive. Usually I wear a L in other WWC. Please bring these back, Renee! I also want charcoal and black, too!
05-05-13
Faded
I have these pants for over a year. I just started wearing them late last year. While cooking I spilled tomato sauce on the lower part of the leg, I cleaned it off n it looked like they faded in that spot. I washed them hoping that would go away but it didn't, now I have a faded spot. What's up with that. They didn't fade in the wash. Can I return them now?
04-17-13
Sizing is off depending on color
I ordered these in the charcoal and olive. The charcoal fit great but the olive's fit is about 1 size smaller. My major problem is the fading. I have only wore them a few times and they are already faded badly. I purchased to wear to work but they are about faded too bad to wear as a nice casual pant. Looking more like a faded out jean. Love the fit, just wish they held their color better. Wish the sizing was same throughout each color.
03-11-13
Love these
I already had a pair I adore and came back for two more. Most comfy jeans on earth.
03-06-13
LOVE LOVE LOVE
I love these jeans. I have been working on losing weight so I bought these in one size smaller than I normally wear and they fit. How excited was I !!!!!!!!! Thanks
02-12-13
Love these jeans...Purchased 2 colors....
I LOVE WOMAN WITH CONTROL.....MY NEW WARDROBE. I AM A SIZE 4 AND ALL OF HER PANTS AND TOPS AS WELL OF DRESSES FIT ME PERFECTLY. LOVE THESE JEANS, FIRST ORDERED THE BLUE, THEY ARE SO COMFY AND FIR ME PERFECTLY, THAN BOUGHT THE KHACKI. I REALLY NEED THESE IN OTHER COLORS...I HAVE TWO OF YOUR BLACK STRAIGHT LEG PANTS, AS WELL AS THEM IN EVERY COLOR, BUT i LOVE THESE TOO, A LITTLE MORE HEAVIER, NOT AS STRETCHY...BUT I LIVE THEM.....LOVE YOU, THANKS FOR GREAT CLOTHE.....AND SEXY TOO!!!!!
02-06-13
Love these !!!
I love this jeans!! The only reason I gave 4 stars is I feel they run big .. I believe because of the stretch material . Most of my D&C jeans are 18 but are tight so I ordered a 20 in these because I wanted to be comfortable in them on vacation but they were so big I could pull them off without unbuttoning them . So they went back and now waiting on a smaller size
01-30-13
Love These
WWC jeans are so comfortable and flattering. Love the talls but these are great for flats.
01-18-13
Wish didn't have to shorten them
I bought these jeans in the indigo because I have another very similar pair in the olive. The fit is excellent (got size 10) but about an inch too long (I'm 5'4"). My older pair serves me very well but this I may have to return or pay additional $15 to have them shortened. Still debating.
01-18-13