Windguard Automatic Open and Close Umbrella with LED Handle
In Stock
Sold Out
We're sorry. This item is not available at this time.
Pre Order Possible .
Low Stock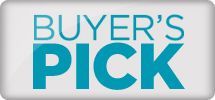 "Don't let the rain ruin your day. Add this fashionable yet functional umbrella to your wardrobe and you're sure to turn heads, even in the rain."
—Lauren, Handbag Buyer
Description
While you most likely won't be wishing for rain, this Windguard umbrella will help keep you dry when the drops begin to fall. The wind-resistant design--with a dual-layer canopy and Teflon-coated fabric--works to protect you from wind-driven rain, while the swivel LED handle helps light the way in dark conditions. In addition, the umbrella opens and closes with just one button.
Includes umbrella, sleeve, and 3 button-cell batteries
Dual-layer canopy
Teflon-coated fabric
One-touch push button open/close
LED-lighted, swivel handle
Measures approximately 37"Diam x 22"L
Steel/fiberglass framework; 100% polyester canopy/sleeve
Made in China
Reviews & Community QA
Windguard Automatic Open and Close Umbrella with LED Handle
45
45
You Can Multitask With It!
My first use of this item was on a recent morning when I walked my son's Mastiff early enough that dawn was just breaking & activity was minimal enough to keep his distractions limited. It was raining & blowing, but I was still actually able to keep the umbrella useful in one hand while keeping him under control with the other:) Upon our return to their house, I went about the business of making coffee while the rest of the family slept. None of the light switches seemed to illuminate the brewing area. I ended up using the flashlight feature to find the right Keurig buttons to push!!!
11-14-13
Broke after very little use
I purchased the giraffe print. I love the print, design and especially the LED handle, very nice! An inside support broke after using it only a few times, very light use, no heavy winds. I'm really disappointed, this is a great idea, too bad.
07-23-13
Worse umbrella ever
This was the worst purchase ever!!! Unfortunately, I purchased several as Christmas presents and mailed to family members before I realized what a horrible product this was. The umbrella opens with the push button, however, never close correctly. You cannot re-open the umbrella a second time unless you close it completely. Too much work with this umbrella while its pouring down rain. Also, the LED light never works. Not a good purchase; I would never recommend this product to anyone.
06-28-13
Fantastic Umbrella At A Great Price!
Got this after my friend broke another like it by Samsonite. She didn't know how to close it and pulled on the spines, breaking one set. It's my favorite umbrella because it holds up in very windy conditions and the flashlight has come in handy at the movies and theater. This Windguard is exactly like the Samsonite. Yes, it's heavier than other, flimsy umbrellas but so worth it! Get it at this great price. Opening and closing using the push button takes getting used to so be aware it's a learning curve. I suspect the person who posted hers broke got a bad one. I'd exchange it as these umbrellas are tough. I wish they had more colors, I'd buy them up!
06-18-13
Used twice no longer works
A total waste of money! I used this twice and on the third use, it would not open. I had to push it up manually since it was pouring rain but it would not stay open and then it would not close all the way. It is a heavy umbrella but the open/close thing is worthless! It cannot be used manually so it's heading to the trash can.
05-09-13
It held up in Sandy!
I bought this for me. In and out of the car easily folds and opens well. It didn't blow out when I took the dog out during Sandy! She was afraid to go out. Shining the light made her feel more a ease. I've used the light seems to work fine -- and I am a klutz, dropping things is something I do often.
03-05-13
the led never worked
I love the umbrella. It's pretty and does what it says it would EXCEPT, neither of the umbrellas I bought had an LED handle that worked. QVC sent replacement batteries & I also bought different batteries in hopes that I could get them to work but, they didn't. It's still a great umbrella without the light.
01-05-13
Fantastic Gift Idea
Love this fantastic bralley. I have purchased 5 of these umbrellas for myself and for gifts. It is a smart, forgiving, well made, practical gift. A little wind, no problem. The auto open/close along with a built in flashlight is brillant. The different colors and patterns are stylish and what you would see in Europe. Now on a gloomy rainy day you can exhibit a little panache.
11-27-12
Great Umbrella
Sturdy, reliable and pretty umbrella. You can't beat it!
11-17-12
Too heavy
I'm returning it.....it's way too heavy to be convenient
10-28-12
Very disappointed!
Very disappointed in this purchase as the umbrella is so much smaller than what I expected. Upon receipt and opening it up, I thought it was a joke and that I had received the wrong size. For the money, it should have been the size of a golf-size umbrella. Very disappointed in this purchase. Don't have original shipping package to send back now. Very disappointed!
10-26-12
Love the handle light
The light in the handle is very unique and a great feature. I walk in the early morning and this makes me more visable to traffic. The umbrella size is very generous.
10-20-12