Tria Beauty Precision Laser Hair Removal for Face & Beauty
In Stock
Sold Out
We're sorry. This item is not available at this time.
Pre Order Possible .
Low Stock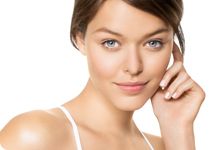 Smooth, Silky Results at Home
Description
What is it: An at-home laser hair removal system specially designed for treatment in smaller, sensitive areas, such as the underarms, bikini line, and the face from the cheekline down (women only). Weighing less than a pound, the feather-light, slim body allows for better control around the body's curves, while the tilted head enables maximum visibility to treat hard-to-reach areas. With the Tria Precision Laser Hair Removal device, you can experience how easy it is to achieve smooth, silky skin in the comfort of your own home at a fraction of the cost.
Who is it for: Women and men who want silky, smooth skin in those small, sensitive areas such as the underarms, bikini line, and the face from the cheek line down (women only). When used as directed, the technology is for use on woman with light to medium skin tones and brown or black hair.
Why is it different: Tria Precision Laser Hair Removal device is intended for permanently reducing hair growth and uses the same laser technology as professionals. This revolutionary solution can liberate you from a lifetime of shaving and waxing in those small, sensitive areas such as the underarms, bikini area, and the face from the cheek line down (women only). You can also use it for quick treatments in the smaller, targeted areas that you shave or wax the most. It's easy to use and helps to eliminate or reduce the need for other hair removal methods.
How do I use it: Cleanse, shave, and towel dry the small, sensitive areas you wish to treat. Turn the device on, select from one of three treatment levels, and place the laser tip on your skin. Simply lift and place the laser tip, moving along the selected treatment area.
Apply the SmoothStart Calming gel liberally prior to treatment for a more comfortable experience.
From Tria.
Includes laser handpiece, battery charger, power cord, and 4-fl-oz SmoothStart Calming Gel
Plastic construction
Three customizable treatment levels
Intended for use on light to medium skin tones and naturally brown or black hair only
Approximate measurements: Handpiece 1-1/2"W x 6-3/4"L, weighs 7.1 oz; Cord 40"L
UL listed; 1-year Limited Manufacturer's Warranty
Reviews & Community QA
Tria Beauty Precision Laser Hair Removal for Face & Beauty
116
116
Doesn't Work
Can't unlock it. I have used tria and had laser hair removal done successfully. This thing is junk.
10-31-14
Worked for me
3/4 Italian, 1/4 French. It worked for me from February through September and then quit. Tria customer service was excellent and sent me another which is working fine so far. It is worth a try - I see a significant difference for an affordable price. Test it out a lot during the warranty period and you can return it if it doesn't work. I think it's worth a try.
10-25-14
Preview Your Review
I only used this on my face which is why I bought it - I used the correct way on the highest level and it didn't work. Now I have to shave my face more then ever before. Seriously don't waste your money. I am extremely disappointed I wanted this to work so bad. Bummer!
10-13-14
Preview Your Review
Doesn't work like it says it does AND it stopped charging after 4 uses. Returned for refund.
09-24-14
dont waste your money
I bought my first tria precision laser and was working just fine until it just quit on me. So i sent it back. They sent me another one and I was thinking great now I can complete my session. I charged it fully, unplugged it, went to the website to activate it and it still wont unlock. tried on my!husband with fair skin and dark hair just like me. STILL wont unlock. I contacted Tria and waiting for response. I just want my money back. It's not exactly cheap and wish i never got it. Im out all this time and money. PLEASE save your money and time and Dont bother buying this poorly made hair removal device.
09-21-14
Preview Your Review
I used this 3 times and it stopped working. not sure if it was getting rid of the hair. will get a replacement from the company directly.
09-11-14
Not Perfect
I bought this and it stopped working after about 3 weeks. I returned it and gave it another try. I have fairly dark skin and was skeptical, but after several months I can definitely see a big difference. I still have some hair left, but much, much less. For the convenience of dealing with this issue in private, it was worth it. You do have to stick with it, so be patient. Also, I used the product more often than every two weeks. Sometimes twice a week. It definitely does sting though...
09-11-14
Sadly disappointed
Purchased this item and could hardly wait to use it. Charged it all up, prep the areas and zapped the areas. Waited 2 week period, charged it up again, prep the areas and zonk unit would not work. Since I had already used it once I knew it wasn't the operator. So I packed it up and sent it back for an exchange. New unit received, opened it up charged it up, all looking well lights indicated charged just like before, prep area and zonk. Unit would not even turn on proper. Pressed button to turn on and wouldn't. Again, didn't believe it was operator error. Packed it up went back today. I'm done! Paid two easy payments and only got one use. Not worth it, paying two advance payments, and having to go TWICE to Post Office to return.
09-09-14
I, too, had hopes...
I used the Tria religiously for three months with no results. Glad for the generous return policy...it's going back.
09-04-14
Really had hope... that was dashed.
I have medium tone skin and dark blonde hair, BUT the area I was trying to use the Tria on did have darker hair. When I tested it on my skin, the unit beeped as though it would be fine. I did feel the "zap" and thought this would work. After three months of consistent use there was NO decrease in the amount of hair and the hair did not seem finer at all. Because of the extended return policy I was able to return the unit. I would recommend QVC to anyone! They were fantastic. The Tria... not so much.
09-01-14
Terrible results
Let me start by saying I have very fair skin and the hair I was removing is black.From the product description I was the perfect candidate for this product.I started using it as soon as I received it and followed the directions to a T.This did absolutely nothing,my hair kept growing back just as fast and just as dark!I kept it right up to the three month mark with no reduction in hair whatsoever!This simply doesn't work!I wish it did!Don't waste your money!
08-13-14
Not perfect
I used this for the 3 months and I still have hair. It is much diminished so I am continuing to use it. I didn't have thick hair and use it one a week . I think it is still working on cutting down on the hair but is not 100% . Overall I think it was worth it even though it di not work as well as claimed, maybe works better for some people. It does give you a little zap sometimes but it's not bad. I am still glad I did it.
08-08-14