Tria Beauty Next Generation 4X Laser Hair Removal for Face & Body
In Stock
Sold Out
We're sorry. This item is not available at this time.
Pre Order Possible .
Low Stock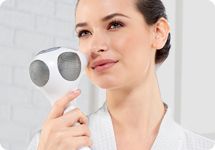 FDA-Cleared for Laser Hair Removal on Face & Body
Learn more about the Tria Beauty Next Generation 4X.
Description
What is it: An at-home laser hair removal device that is FDA-cleared for use on the face (cheek line down) in addition to the body. With five comfort settings and a simple-to-follow digital display, this laser is easy and convenient for the at-home user. It uses the same laser technology employed by professionals for in-office laser hair removal, and gives you long-lasting hair reduction for a fraction of the cost.
The SmoothStart Calming Gel is a great complement to the Tria Laser 4X.
Who is it for: Women and men who want smooth, stubble-free skin and are frustrated with the hassles of hair removal; anyone who wants to be free of the endless cycle of shaving and waxing and would enjoy long lasting hair reduction on their face or body.
It can be used on those with fair to light brown skin tones and light brown to black body hair. Best results are seen on those with fair skin and dark body hair.
It will not work on some hair colors and skin tones. Please see the chart above to see if you fall into the correct skin tone and hair color ranges for effective use.
Why is it different: It uses the same technology employed by physicians and delivers professional-like results on people with fair skin and dark hair. With its updated digital display featuring the Tria Pulse Counter, this innovative device lets you treat yourself with more confidence than ever. It works better than the Third Generation Tria laser hair remover and provides results in half the time. Use it once a week for results in three months!
How do I use it: Turn it on, select a comfort setting, and place the laser tip on your skin. The laser will beep, which signals that it is time to pick up the device and move to the next area. Underarms take 4-5 minutes per side; the bikini area takes 8-10 minutes per side; upper legs takes 25-30 minutes per side, and lower legs takes 25-30 minutes per side.
Apply SmoothStart Calming gel liberally prior to treatment and reapply following treatment.
From Tria.
Includes laser handpiece, battery charger, and 4-oz SmoothStart Calming Gel
Plastic construction
One-time online or telephone activation is required before use
Handpiece measures approximately 8-1/4" x 3"W x 5"D, weighs 1 lb 5 oz
UL listed; 1-year Limited Manufacturer's Warranty
Reviews & Community QA
Tria Beauty Next Generation 4X Laser Hair Removal for Face & Body
161
161
Expensive with little return on investment
Disappointed in the results...used it religiously for one yr...legs...face...hair is still there...only diff I did see was the peach fuzz on my cheeks...I am medium skin w normal hair growth and color...wish I could return...but I kept trying to get the product to work. A lot of money for little return.
03-31-15
Doesn't Work
Used this for three months exactly as stated in instructions. This does not remove hair. If you want permanent hair removal, you have to go to the laser center.
03-15-15
Really Does Work
I've had this item for about a year now and it truly does work. It takes several treatments to start seeing the results, and you have to do maintenance treatments about once a month or so, but this absolutely, positively works. Ever since I was 16, I've struggled with shaving, plucking, waxing, creaming, electrolysis, and even in-office laser treatments to reduce facial hair growth and nothing ever worked until this. I wonder how different my life would've been if I'd had access to the Tria laser 25 years ago. This is an amazing product, and one that I am so grateful for.
02-22-15
no results
I am disappointed that I spent so much money and still shave, would have returned it but kept hoping
01-21-15
Spokesperson Is Not From Tria!
I was not impressed with results. In hopes this would give great results for my honeymoon but it was a no go. Qvc has a wonderful return policy so I returned it, no problem. But after seeing the QVC Tria spokesperson on other infomercials, I was shocked! I felt dooped! Ereka Vetrini is not from the Tria company nor a Tria expert. Bummer QVC.
01-17-15
WORST PURCHASE EVER !
I purchased when TSV, should have returned. I kept thinking I had not given it enough time. It is sitting on my closet shelf. Expensive mistake. It was also painful and time consuming. Should have gone for the epilator. Less expense, less time and less pain Better results!
12-23-14
Patchy
Ok so I have a lighter medium olive skin with dark brown hair so it would work for me. I did this one 1x a week for 7 weeks on upper lip, arms, under arms and lets. DID not see any differnce in upper lip or under arms which I think is the most important. Did leave some spotty patches of no hair on legs and arms. Returend item becuase #1 area I wanted it for was upper lip and it did not work at all!!!
12-04-14
DO NOT BUY THIS ITEM!!!
I've owned this device for less than 20 months the it will no longer work. I contacted Tria and they offered for me to buy a refurbished device $129, after I've already spent over $400 on the original. I've rarely used this device as you can only use it on certain areas 1x a week. I own a Clarisonic which I've owned for 4 years and use 3x a week and it works perfectly. Poor customer service, poor results of the device. Buyer Beware!!!
11-21-14
A must buy!!
I have suffered with facial hair due to polycystic ovaries for the past 18 years. I have to shave every morning in the shower and by the afternoon I have the five o'clock shadow under my neck. It has been humiliating at times for me. This product has been my absolute saving grace for my facial hair problem. I had to use it daily on a setting of 4 for the first week. Then I used it every other day for the second week on level 4. I now use it once a week on level 4 and my facial hair is almost completely gone. I had black course hair. Anyone who has polycystic ovaries and suffers the unwanted facial hair then this is the product for you. It does hurt when you use it but I put an ice pack on the area I wanted to do first and that helped a lot. To me it is worth the pain for all the years of having unwanted facial hair!!
11-13-14
Gave up after 18 months
I've had this laser for a year and a half. I have the right skin and hair combination... white skin, dark hair. I thought at first it was going to work. The hair grew back quite slowly, that's about the only positive thing I can say about it. But after weekly treatments (I only missed 3 in a year and a half) all my hair grew back. Even the one spot of hair near a freckle that I concentrated extra treatments on, it all grew back. There doesn't seem to be any truth behind the theory to "keep treating the same area over and over to get the NEW CROP of hair". Every hair grows back eventually. Perhaps slower, but it grows back.
10-09-14
PATIENCE & DEDICATION - IT WORKS!!
Thrilled with the results! Use ice to numb the skin & don't bother using a setting below 5. The laser light must be absorbed into the follicle root to kill the hair root, so you want the strongest setting. And the hair MUST BE dark hair. Also, the light doesnt travel far, so hair needs to be right at skin level = freshly shaven. (I did a lot of research on laser hair removal.) Within a month my underarm hair was dramatically reduced. Honestly too, I used the laser more than they recommend, like every other night. I did that for a month. It's been 2 1/2 months now as I'm writing this review, and I no longer have to shave my underarms. Thrilled!! I'd also started doing my upper legs, and am just as thrilled with the results. Yes, it takes time, but so what; it's time well spent! It's just a ritual now in the evening; I sit down in front of the TV with a bowl of ice, a towel & my Trivia. (Numb area with ice then quickly towel dry. I do this everytime the ice wears off & I begin to feel the zap.) I pick an area on my body, & go over it & over it. I alternate body areas every evening. Scheduling appts at a salon & the time spent there - so time consuming. I did the professional salon treatments for my bikini area, and after 4 appts and over $500 spent with still more to go, I just lost hope & motivation. Definitely one of my best beauty purchases EVER!!! Just remember: patience, dedication and ice, ice, baby!!!
09-20-14
Stop using retinol / retin-a so it can work
I was getting great results & then suddenly the hair started growing back - it was truly bizarre! And then I realized I had changed moisturizers. I researched the active ingredients in my new moisturizer & found that retinol & retin-a repair damaged hair follicles & is even used in hair growth serums/creams for the scalp. Once I stopped using that moisturizer the tria started being effective again, thank heavens!
09-19-14