Tracy Anderson Method Metamorphosis Months 1-4 Body Shaping System
In Stock
Sold Out
We're sorry. This item is not available at this time.
Pre Order Possible .
Low Stock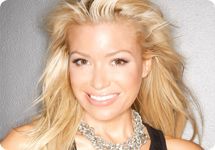 "The best way to work out to my DVDs is to feel the music, move to the music, and focus on the workout. It's my philosophy that you don't get as good of results if you're mimicking my verbal instructions. Follow my movements. It's OK if you miss a step, just continue with the workout, following the movements exactly with a focused precision, and complete the workout to the best of your ability. And have fun!"
—Tracy Anderson
Learn more about the Tracy Anderson Method.
See the results in Before & After photos.
View clips from the DVD workouts.
Description
What is it: Tracy Anderson Metamorphosis is a full-body workout that will help you create the body you never thought possible. Prepare to be challenged throughout this 90-day program that includes four discs of transforming muscular structure work (specifically designed for your specific body type), a cardio component, and a dynamic eating plan. Plus, get a fifth, bonus workout DVD for days 91-120 to help you continue your amazing transformation. Experience this total transformation through your own metamorphosis!
Who is it for: Perfect for all body types wishing to have a lean and sleek silhouette. Just choose the right workout for your body type.
Abcentric targets core and abdomen; Hipcentric targets hips, glutes, and thighs; Glutecentric targets glutes and thighs; and Omnicentric provides allover toning.
Why is it different: The overall mission of Tracy's method is to strengthen the smaller muscle groups so that these muscles can pull in the larger muscles--which results in a lean figure that's not bulky.
How do I use it: After selecting your body type, follow the appropriate workouts and nutrition plan to begin your 90-day transformation.
From Tracy Anderson.
As always, please consult your personal physician before beginning any diet or exercise program.
Take a realistic approach: If you work consistently and follow the program, you maximize your results.
Includes welcome letter, nutrition plan, tape measure, free membership to Tracy's online community forum, four 90-minute discs, and one 60-minute disc
Abcentric: targets core and abdomen
Hipcentric: targets hips, glutes, and thighs
Glutecentric: targets glutes and thighs
Omnicentric: allover toning
90-minute discs cover months 1 through 3
60-minute disc covers month 4
Total run time is approximately 7 hours
Made in USA
Reviews & Community QA
Tracy Anderson Method Metamorphosis Months 1-4 Body Shaping System
263
263
No structure, No direction, confusing
I happy for those who have had success with these videos. I used these videos as directed for over 3 month and was frustrated after every session. The 30 minute aerobic video is just Tracy dancing with no direction to the user. I called her company and told them of my confusion with the dancing and they said I can change my aerobic warm up to 30 minutes of moderate to high aerobic exercise, which I did. When it used the strengthening videos, again I was confused. She offered no explanation of the exercises, so you had to always watch the video as you did the exercise. Doing this defeats the purpose of the exercise because your head and neck must be in certain position to properly do the exercise. She does no counting and does not tell you when to change the exercise or change to the other side of the body for the same exercise. I found some exercises put me in positions that my body could not conform to. Many required excellent body balance, which I limited in. I adjusted the exercises when balance was required but doing that reduced the purpose of the exercise. I have to say that the exercises were challenging and I thought good enough to achieve the promised results. After dedicated use for over 3 months, I saw not results, did not improve in any doing exercises correctly and abandoned the program. I would have liked to achieve the promised lean body but the lack of instruction, counting and contorting of the body left me frustrated but not enough to quit until I was convinced that the lack of results was not worth continuing the program. I returned to my regular exercises which I use to keep a healthy aerobic and muscular body with weight loss mostly through diet. I cannot recommend these videos to people who cannot dance and are not open to free form exercise requiring unnatural body positions offering little direction when doing the exercises, Congratulations to those who had results, which I think can be achieved if you can follow exactly what she does.
05-06-13
Whew, but Whoa!
It's hard. Gotta get that out there right away. It's very challenging but it DOES work. For those who say it's too hard to follow, I disagree; I enjoy that there isn't unnecessary chatter. The dance cardio component is tedious, but can be fixed by using your own playlist. I only had a little weight to lose but wanted to firm up everywhere and Omnicentric worked for that. My butt is about an inch and a half higher than when I started. The food plan is good re: carbs but doesn't include enough good fat so I tweaked that with good results.
03-26-13
Too involved
I am sure this product works...for those who have an hour a day to spend 6 days a week. The exercises are tough. You definitely feel the effects the next day. However having Tracy not talk during the exercises is disconcerting. You do nother know when she has moved to the next exercise, and those are done on the floor. I also did not try the meal plan. If you have a lot of time to invest, do this. If you are like me (travel for work, long commute times) this is probably not for you. No offense to Tracy!
03-24-13
I'm Hooked
I have had amazing results in the first 30 days! It is a challenging workout in the beginning but it gets easier and the Dance Cardio is a lot of fun! Tracy's unique workout is incrediably effective and I plan to keep going past the 90 days. So glad I ordered the DVD's
02-28-13
Love the DVDs but...
I think the metamorphosis system is amazing (what I've done) I've completed the first ten days but the DVD is so messed up I can't finish the rest. It skips and freezes too bad. The first sequence did too but I could rewind it and watch the same leg twice. I can't do that with the second or third sequence. It's very upsetting.
02-19-13
Wanted to love it but...
I was so excited for this system and went in with an open mind but the cardio... Tracy basically hops around kicking with no rhyme or reason from what I can tell. She even says in the beginning that you won't be good enough to get an effective workout (or something to that effect). There are no cues, no real patterns to it so for $100, I could hop around like that on my own. I didn't go any further than the cardio disc because if I don't have that portion, it's no good to me. PLUS - that's the only cardio and I'm one to get bored and quit things. I will say after the flailing around (where I lost a lot of dignity, haha) my heart rate was up and I did break a sweat but it just wasn't worth it to me.
01-08-13
Yes it's hard in the beginning but it works
I would agree that if you have knee problems and back problems this may not be the program for you. However, I have had both back and knee problems for over 20 years and I know which moves on the dance cardio won't work for me so I modify the program. For those individuals who also have an issue with the limited cuing, I think it's because she just wants you to dance and have fun. I actually now mute the DVD and play my own music and make up moves as long as I am moving at the same intensity as the movements on the DVD. I think if you keep this in mind it is a great program. I gave it 4 stars because I am a picky eater and I struggled to come up with alternatives for her suggested meals. Also, I purchased abcentric and I thought that there would be more mat exercises for abs - I'm accustomed to entire DVD's entitled to abs. Even though the abs section of the DVD is shorter than I anticipated it is still pretty intense.
01-07-13
TOO HARD TO FOLLOW!!!!
This is way too difficult to follow initially.....sorry I didn't return! Way too much $$$$$!!!
01-02-13
Best Workout System
I love this program. Have been doing it now for almost a year. It is fantastic. Have seen amazing results that I thought my body would never be able to do. My hips have slimmed down, I'm feminine looking not hugely muscular. I've exercised all my life and have never had this kind of result. It is great to be able to do this at home, don't have to go to a gym and be limited to times for classes/and when the gym isn't busy. I fit this in each day as it works for me. LOVE! highly recommend. I don't do the eating plan. But do watch what I eat.I don't recommend it as a gift to someone else. It's really about your own decision to do it.
11-21-12
Bad Reviewers, please read this
First , let me start by saying that I am 51 years old and when I started this program I was in pretty good shape. I have been an avid exerciser for 25 years and have stayed within 8-10 pounds of my ideal weight for my entire adult life. Why did this program appeal to me?? I Have done P90X, P90X 2, Cathe Friedrich STS, and I have a library of about 50 at home DVD's.Like I said I was in shape, however I am also muscular and my legs tend to bulk up as well as my arms when I do these programs. I thought it was the way it was, in shape but a little bulky. I purchased this program, a lttle skeptical. I have a full weight bench and was using weight anywhere from 10 to 25 pounds, when I saw that Tracy only used 3 pound weight , I though COME ON!! It was against everything I have been taught over the past 25 years. I was wrong... I am on day 63 and my body has changed. Slimmed out, leaned out , it looks totally different. I am still strong but in a more feminine profile. I love it!! My legs are leaner and my stomach is flatter now than pre- children. I have 21 year old twins.This program is no joke, I think it is one if the hardest I have ever done but if you are committed, IT WILL WORK!!! Ignore the negatives, focus on the positive and it will change your body.. One more thing, I have not followed Tracy's food program and still have got crazy results I follow my own 90/10 rule, quite simply. I eat pretty well 90 percent of the time. 10 percent I enjoy what I want. Good luck everyone.
10-25-12
Amazing Results less than 30 Days
I don't normally review products, but due to the surprising and amazing results I have achieved in 16 days (down 8 pounds and 1.5 inches off my waist). I feel like I want the whole world to know that this program is working wonders for me. I actually started seeing results within the very first week. I will admit that I was already working out in the gym prior to starting TAM, but I had reached a plateau..not losing weight and excess inches hanging around my abdomen. I knew I needed to do something different to get the results I wanted. Low and behold on one of my sleepless nights, I caught the TAM presentation on QVC, I had seen the infomercial many times and wondered if it would really work. I took a chance, ordered it and I have been hooked since Day 1. I have ordered other at home programs like Insanity and they never held my interest, probably becauae I never felt like I could keep up. I like the fact that I can focus just on Tracy; watch and study her movements, and get my form exactly right. I agree with some of the other criticisms regarding video quality and lack of instruction. However, my response to those criticisms is that if you are TRULY committed to the program, you will figure out ways to make it work. I watch the video first and write down the exercise and number of repetitions. On the parts I find it hard to keep up with her pace, I pause the video, complete the number of movements at my own pace, turn the video back on and move to the next one. One of the many things that appeals to me is that the movements are not about time spent doing something (like Insanity) but about doing particular moves, a certain number of times to target specific areas of your body. I will admit that I don't do Dance Cardio because it was causing pain in my legs. I have a trampoline and do Tracy's trampoline workout instead. I am also following the eating program, yes, it is quite restrictive, but I was already eating small/moderate portions of food and I have been able to stick very closely to it. If I get hungry, I just add an additional healthy snack. All I can say is if you are 100% COMMITTED to changing your body and are willing to do some hard work, this may be the program for you.
10-04-12
no direction
I would probably like this better if Tracy actually gave direction to her steps...this is the first time I have ever came across this type of work out video where I don't know whats going to happen next. Gave the video set to a friend hoping they would have better luck with it...
10-03-12