Toshiba46"Diag. Ultra Slim1080p High-Def. 120Hz LED/LCD TV w/ Wi-Fi & Net TV
In Stock
Sold Out
We're sorry. This item is not available at this time.
Pre Order Possible .
Low Stock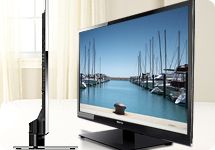 Always Connected
Learn more about the Toshiba LED HDTV.
Description
Unbelievable tech, unbelievable price. The ultra-thin 46SL417U 46" edge-lit LED HDTV brings high-def into your home, showcasing cutting-edge detail in 1080p resolution at just over an inch thick. A DynaLight backlight control optimizes image depth and clarity by monitoring the brightness level of every frame, and ClearFrame 120Hz reduces image blur in fast-moving scenes. Four HDMI inputs provide versatile, top-of-the-line connectivity with your Blu-ray players and video game systems.
With the built-in Wi-Fi and ethernet port you'll be online, accessing NetTV, NetFlix and other convenient widgets. With instant access to thousands of movies, TV series, and online videos, you'll never be without an ample supply of fantastic entertainment. From Toshiba.
With a TV that has a built-in high-definition tuner, HDTV may be received from broadcasting companies that transmit high-definition signals, or may require a subscription to a digital cable or satellite service to receive HDTV programming, where available. Contact your local cable or satellite provider for details and costs if you are interested in high-definition TV from your service provider.
Access to and use of the Internet may require payment of a separate fee to an Internet Service Provider, DSL line, or more.
For your own protection, this order will require an adult signature upon delivery. If an adult is not at home, we would require an alternative ship-to address for or an authorized adult to sign at the carrier location.
What's in the box: 46SL417U HDTV, stand, remote control, 6' HDMI cable, two 8" AV adapter cables, 8" component adapter cable, and manual
46" diagonal CineSpeed edge-lit LED display
1080p resolution
ClearFrame 120Hz frame rate
DynaLight backlight control
AutoView ambient light sensor
Native mode
Gaming mode
Expert mode
Invisible speaker system design
Two 10W speakers
Mute/half mute
Built-in Wi-Fi
DLNA Certified
Skype-ready; camera & firmware update required
Input labeling
Channel browser
Sleep timer
Universal remote control
Horizon motion GUI
Energy Star-compliant
VESA 400x400 wall-mountable
Two USB ports
Four HDMI-CEC inputs
Two composite inputs
ColorStream component video, high-res PC, ethernet inputs
Cannot ship to Alaska, Hawaii, Guam, PR, VI, Canada, and P.O. boxes
Approximate measurements: With stand 42-3/8"W x 28-5/8"H x 11-3/8"D, weighs 49.60 lbs; Without stand 42-3/8"W x 25-7/8"H x 1-1/8"D, weighs 40.57 lbs
UL listed; 1-year Limited Manufacturer's Warranty
Made in China
Reviews & Community QA
E167365 - Toshiba 46"Ultra Slim 1080p HD 120Hz LED/LCD TVw/Wi-Fi &Net TV
44
44
Disappointed!
We purchased this TV in May, 2011. Great picture but issues with the sound, needing to adjust constantly. Today the sound went completely out, replaced by a horrible screetchy static noise. In reading other reviews, sounds like this problem is a defect in this model. After paying $999 plus shipping & handling 18 months ago, we now have a TV that is useless. Will NEVER buy Toshiba again!!
12-13-12
No Quality No Value
I purchased this item in May 2011. Sound was never GREAT!! I did like the slim profile and ability to turn side to side easily. 16 months in the TV screen went black not functional. Called Toshiba they gave me name of repair shop. Waited 3 weeks to hear that parts are unatainable. Called Toshiba again they gave me phone # for 2 places that had parts passed info to repair shop. Waited again. Same response not able to get part. Will NEVER buy TOSHIBA again.Not customer friendly!!!!
11-09-12
Great item
Have had for a year now and I love my TV! Great picture and I love the thin, sleek design!
11-02-12
1st order from qvc!!!
First order from qvc!!!! I love the service qvc provided!! I love this t.v. Only thing wifi was a lil difficult to connect. TV is beautiful!! GO toshiba!!!
09-19-12
Do not buy
I bought this TV in 5/11/11 and I should have sent it back then because the sound was soooo awful. However, I chose to keep it because my granddaughter liked the apps, and now the piece of junk went out completely. NO MORE TOSHIBA'S FOR ME!!!
07-23-12
Unhappy with purchase
I purchased this tv two months ago and am already having problems with this tv. The HDMI imputs went out and I have called warranty for repair. My cable company had to hook my tv up with video imputs. I hope I don't have a problem with getting the tv repaired. I have looked at the reviews and have very concerned.
06-12-12
Never buy a Toshiba!
We have had issues with the volume on this TV since we bought it (like many others). It totally went out 11 months after we bought it, so it was still covered under warranty (12 months). Dealing with Toshiba's customer service was a nightmare. All we wanted was our TV fixed, what they promised us with the 12 month warranty. The part we needed to fix the sound was on backorder, it is now 2 months after the initial call and the part STILL IS ON BACKORDER, with no ETA of when it will be available. So here we sit with a broken TV. The only other options they offered us are another, refurbished model (someone elses TV they sent back and Toshiba fixed) or a dollar amount of almost half of what we paid, that won't even replace a tv. It has truly been an awful experience and I would never recommend this to anyone.
05-31-12
SOUND IS SOOO BAD
My husband and I actually really like all the apps and the TV itself but the sound is terrible. While watching TV the sound would actually go in and out during shows. Its unfortunate we have to return the TV but its not worth being constantly annoyed. I will say Customer Service was awesome and returning the item was easy.
05-16-12
Sound is terrible, picture okay
I purchased this tv based on reviews on QVC and Best Buy and found the reviews, as well as the cost made sense. After the tv was delivered, setup was simple and picture was good, especially when using blue-ray or HD cable. The bad about this tv is the sound. Without a home speaker system, you will be very disappointed. Although the sound is awesome with a home speaker system, customers should not be forced to have a system, when Toshiba should have made better tv speakers. This tv's sound goes in and out; sometimes you have to go to 99 and then you still barelyhear anything or its good sound on some channels and not on others. I have a cheap LCD tv from Walmart that has perfect sound. I will not be buying another Toshiba - I will stickwith Sony, Vizio, or LG; leaning more toward LG.
02-04-12
A Great Buy
I just bought this tv and got it in today.......i Have it set up and and am very pleased with our purchase......Although the sound is not the the best.........in a tv this thin what would you expect.......Tv has a lot of neat features and is very user friendly.....Over all it was a really great buy.......
01-04-12
HURRY UP AN RETURN TV
I brought this Toshiba in May 2011, and around October 2011 I started to have trouble with the tv example: for me to turn it off I have to unplug it wall and it will just shut itself off automatically, no I don't have the timer on. I call Toshiba about this problem, they know about this issue because other people have been calling them about it and I have been getting the run around about it getting it repair or replace. If this is a known problem, issue with it, I said why are Toshiba still putting in the mother board that is cause the issue. I have bee waiting since Nov 2011 for Toshiba to call me about coming to my house an replace it. So if you brought this return it right away. I AM SO UNSATISFYING WITH THIS PRODUCT NEVER, NEVER & NEVER AGAIN WILL I BUY TOSHIBA.
12-24-11
Very Pleased
This is my first LED HD TV. I am very impressed with the quaility of Picture. The sound isn't the best but go figure, no small speaker will give you what you want. Go buy a external sound system. I use a sound bar with a subwoofer and the combination is perfect. Now it's time to upgrade my cable service to Full HD. LOL! This is a great buy!!!
12-13-11