Topstyler Dual Heat Ceramic Styling Shells & Accessories
In Stock
Sold Out
We're sorry. This item is not available at this time.
Pre Order Possible .
Low Stock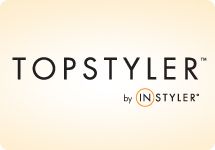 Convenient Curls
Learn more about the innovative ease of Topstyler below:
Description
What is it: The TopStyler is an innovative tool that reinvents hair styling. It uses heated styling shells to create bouncy, dynamic curls with volume that lasts all day long. With the TopStyler's 100% ceramic styling shells, a simple finger curl will create soft, bouncy curls without damaging the hair. Different-sized finger curls allow for tight curls; soft, bouncy curls; beachy waves; and tremendous volume.
Who is it for: The TopStyler is for all hair types and most hair lengths. It is for women who want to achieve various curl shapes and volume that last longer without damaging their hair.
Why is it different: Rather than wrapping your hair around a super-hot curling iron barrel, the TopStyler's patented C-Shells surround the curl in a warm chamber, reshaping the hair into the desired-size curl without damaging it. When the shells cool, the curl is locked in place, creating style that lasts all day. Your hair will feel soft, sexy, and full of healthy volume, with no damage. It is truly amazing.
How do I use it: The TopStyler is very easy to use. The secret is wrapping sections of hair into finger curls, also known as pin curls, and then placing the heated C-Shells over the formed curl. The C-Shell is then allowed to cool in place. After a short cooling time, the curl is dropped from the C-Shell. The curl is gently set into the shape that it was wrapped in, locking in the desired style.
From InStyler.
Includes:
Heated TopStyler base unit in zippered case
10 large ceramic C-Shells
10 regular ceramic C-Shells
10 sharp wave clips
Two EZ wrap styling combs
Quick Guide with DVD
Manual
Measures 12"L x 6"W x 4-3/4"H
ETL listed; 1-year Limited Manufacturer's Warranty
Made in China
Reviews & Community QA
A229061 - Topstyler Dual Heat Ceramic Styling Shells & Accessories
54
54
Sounds hard , BUT WORKS GREAT!!
The directions about how these curlers work looks a bit daunting at first - and I really didn't think it would work, but after trying it one time - and certainly not doing it perfectly - it made the best waves in my fine, curly hair. My hair is kinky and fine, blonde and and I have a hard time with heavy curlers. I just blew my hair straight and used the shells as per the written instructions. Made beautiful waves that lasted all night in humid Florida weather. Can't wait to play around with it more.... and actually watch the DVD :-)
02-21-13
Perfect example of a quaity hair tool!
This is an incredible design. Thank you QVC for bringing this creative and imaginative tool to your customers! I used hot curlers years ago and then started using a curling iron and threw out the hot curlers. Then I tried a straight iron but have fine, curly hair so they didn't work well for me. Then I bought the InStyler and love it for straightening my hair. But I love my hair curled so recently I tried two different sets of hot curlers from the Q. The first set I returned because they didn't curl my hair well. The second set is being returned because they're too heavy for my fine hair and too hot for my head to bear. But the Topstyler is perfect for my hair. First, everything is packaged so nicely and you get 20 clips. When I'm in a hurry, 10 clips work for everyday curl and volume. I had no problem using two fingers and one finger to wrap my hair and clamp the clips onto the curl. I leave them in until cool, unclip, run my finger through and spray and run out the door. It's fast! It's similar to using hot rollers. You roll a section of hair around your fingers and put the clip in. That's it. Let them cool, then unclip and put back on the holder and they're ready for the next day. I love that it only takes one hand to release the clip from it's holder and then return it. My curl stays all day and I've gotten so many compliments from coworkers about the style and shine of my hair. Try them!
01-29-13
Good concept - just not as easy as it looks!
I had really high hopes for this product. I am not one for styling (or being able to style) my hair -- its long, thick and I have a LOT OF IT! The presentation made me think, gee even I can do that. Not without a little aggravation! This kit does give extra c-shells, which is nice but it still was not enough. I had to keep rotating the clips, taking the cooled ones off my head and reheating to be able to finish my hair. I had the same problem as others that the shells kept sliding down my head after I clipped them (they are too heavy to just clip and stay). And the final result was OK. It DOES hold the curls really well ... a little too well, that I had to put my hair in a ponytail after my failed attempt. I think if I had an extra set of hands and someone else doing it for me -- it would work a lot better, but that defeats the purpose of being able to easily curl my hair myself. Back it goes -- I'll continue to leave styling to the professionals for those special occasions! May work for others but it just wasn't for me!
01-22-13
Difficult to use
I ordered the Topstyler because I liked the look of the curls on the models when demonstrated. They made it look easy to use when demonstrating it. However, I did not have the same experience. I have fine, straight hair and had difficulty getting the ends to stay in the styling shells. I did finally get them all in after about an hour. Way too long just to set my hair. I tried it again and used a styling spray on the ends, and it was a little better to work with. But, this tool might work better for thicker hair. I don't ave the patience to continue to make this work, so it's going back.
01-20-13
CLIPS ARE TOO HEAVY FOR MY HAIR
I thought I would love these shells--looked like they would make beautiful curls. I could not keep these in my hair. I finger curled my hair and put the shell right next to my scalp. And by the time I started to curl the next section of hair, the shell had slid down my hair about 4 inches. By the time I put the second shell in, the first shell had slid all the way down to the ends of my hair and then off onto the floor. I thought I had not secured it properly, so I redid it--and the same thing happened. I tried repeatedly to get these to stay in my hair. but they kept sliding out! I have long wavy hair and these shells were just too heavy to stay in my hair long enough to curl it. It looks like the curl might have been nice if I could have kept them in longer, so I am giving it three stars. But if you have finer hair, these might not work for you.
01-03-13
just didn't work for me.....
and maybe I didn't practice enough, but the whole rolling around my fingers wasn't working, and my hair is very fine and the shells didn't hold well. I am guilty of only trying it once and gave up and sent this item back, but the other reviewers really liked this, just for me, it didn't work. I found a much cheaper set of rollers and I don't have to put as much effort into using those and I felt I would have to w/ this product. Gave it 3 stars because it does seem like a nice product, has alot of pieces and a great carrying case, but just not for me and my fine hair.
01-01-13
Finally! Fantastic! Easy!
I have finally found something that I can use and makes my somewhat long, fine, layered, hair look full of body, with some waves. I just roll my hair into the clips, willy-nilly,(!) and it always come out great! No learning curve here! I lightly spray with a drug-store hair spray! Nothing works likes this! Heats up fast! This 57 year old glam-hippie-chick says THANK YOU, Q!!!
01-01-13
Curls, Body & Bounce, Oh My!
Let me just say that I ordered these just knowing that I would be sending them back. I have never been able to keep a curl (or even keep rollers in for that matter) in this fine, straight, soft as silk hair of mine....until now! I just love this product. It works. Needles to say that they are a real keeper. There was a small learning curve for me, about three tries, then I got it. The design is great too as you get plenty of shells and the top cover stores them all and other little extras that you might throw in there. Plus, I've not burned myself once, that's really saying something for me. Ladies, order this item.
12-31-12
hot to the touch
Lisa said the clips were not hot to the touch but they were. This is a good idea but not a good value and its not as easy to use by yourself like they say. I don't have time to practice I want it fool proof from the start and its not.
12-31-12
Getting the hang of it
I have been wanting this for some time, well over a year. I finally broke down and got it with the easy pays, and could easily return it if I didnt like it. (I love QVC for that!) It came very quickly, I am pretty adept at using hair appliances, techniques and other wise, but there was still a learning curve on this. The first time using it , some of my areas were frizzy, I almost didnt use it again and thought of sending it back. But I tried again, I used the combs to help get a consistent roll and that made it much easier. After running my fingers through, it started getting a little frizzy, so I just retwisted the hair in a few sections and then it was fine. On Christmas, guests arived early, and I only had them in my hair for 5 minutes, (I was just sprucing it up so I only had about 8 lg clips in it. I rushed to take them out as the guests were getting out of thier car and walking up to the house, I ran my fingers thru and my hair was perfect! I am going to try a few different techniques and placement of the clips, I want more lift at the roots. I used it iast night with great results and woke up this morning to some curl and lots of body. I use much less product with better results, I just use a heat protectant and a light spray after taking my hair out of the clips and before running my fingers through my hair, that seems to work best. Things that worked best for me: Do not use hairspray before putting in clips, made it frizzy. A light spray after releasing clips is all you need. Use less product overall for best results Use the combs to help with a consistent size curl-makes it easier to pinch before putting on the clips too. (I didn't realize until yesterday that the two combs are different sizes for different sized curls No need to let rest after you unclip-hair is already set Takes less time than traditional rollers to get a nice curl All in all I am happy so far, I am eager to see if the damage is less than other tools as the manufacturer claims. I would love a mini unit for travel, the clips heat quickly so a 5 clip slender heat unit would be great, right now the case is large and will take up alot of space in my suitcase, definitely cannot use for a carry on.
12-28-12
travel companion!
this product is awesome!...great curls!...more importantly, the top of the container can store the other clips or (for traveling) your makeup/shampoo/styling gel...its quite roomy. It heats up quickly...so easy to work with.
12-27-12
LOVE THESE CURLERS
I GOT THESE YESTERDAY.. COULDN'T WAIT TO GET... TRIED ONCE, GOT FRUSTRATED. I USED THE CLIPS TODAY...IT MADE IT A LOT EASIER--MY HAIR HAD CURLS AND REALLY "POOFED" UP MY HAIR.... THE FIRST DAY I WAS THINKING OF SENDING BACK.....LOOKS LIKE I WILL BE KEEPING THESE.... RECOMMEND... IF AT FIRST YOU THINK IT IS FRUSTRATING, JUST PRACTICE ...YOU WILL BE HAPPY.. THANK YOU... LOVE LOVE LOVE..
12-22-12