Making Dean's List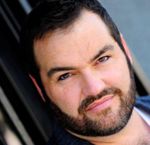 From a rural farm in Iowa with 15 siblings to the bright lights of Hollywood, Dean Banowetz, also known as "The Hollywood Hair Guy", is a key player in the world of cutting-edge hair tools and celebrity hairstyling. Dean's exceptional technical ability, detailed eye and uniquely creative approach to styling, has turned him into one of Hollywood's top go-to hair stylists.
After graduating from cosmetology school, Dean opened his first of three salons in Iowa and quickly became a local hair phenom. While attending the "On Set Motion Picture Hair Academy," during a stay in Los Angeles, Dean became an instant standout, which convinced him he should move to the city permanently. Soon after arriving, he landed the prestigious role as the lead stylist on the show EXTRA. Dean's outstanding work soon led to his role as key stylist on the set of American Idol.
Today, Dean devotes his time to his career as a full-time Hollywood hair stylist with an emphasis on continually bringing new, innovative products to the styling world. Dean's devoted A-list clientele knows that he can create the perfect styles for high-profile events.
Today, Dean is thrilled to be working side by side with InStyler to support the company's iconic product, InStyler the Amazing Rotating Iron. Invented by fellow celebrity stylist, Linda Flowers, Dean helped create the look and feel of the product and set the standards for product performance,. He also developed several of the techniques that can only be done with a TopStyler. He brings to the brand his unlimited creativity, signature style, and wide range of experience. As a co-creator of the InStyler brand, Dean is the company's resident expert and he shares his expertise with consumers via various marketing and public relations initiatives. With his unique point of view and keen eye for innovation, Dean advocates and demonstrates the InStyler's styling benefits nationwide. His no-nonsense style, charismatic personality, and amazing styling ability have quickly made him one of the most popular presenters on QVC. Dean is a key member of the design team who brought the company's latest highly innovative styling tool, the TopStyler, to market.
Information provided by InStyler.