Titanic Replica 1st Class Patterned S/2 Porcelain Teacups
In Stock
Sold Out
We're sorry. This item is not available at this time.
Pre Order Possible .
Low Stock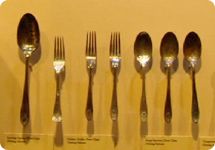 A Note About the Inspiration
Dinner service was meticulously designed and crafted for each of the saloons and eating establishments on Titanic. This set is based on a beautiful service that may have been used in an elite cabin suite, but was certainly intended for the wealthiest of passengers.
Watch a video of the original service from Titanic: The Artifact Exhibition.
Description
Regal in blue and gold, this porcelain replica teacup and saucer set is patterned after those found in the Titanic wreckage. It's most likely that the original sets were used during private dining services in the first-class suites. From the Titanic Collection.
Includes two teacups and two saucers
Porcelain
Not microwave safe
Hand wash
Measurements: Teacups 2-1/2"H; saucers 5-1/2"Diam
Made in the Philippines
Reviews & Community QA
Titanic Replica 1st Class Patterned S/2 Porcelain Teacups
9
9
Missed the mark on these!
Although beautiful cup/saucers they are not standard tea cup size and are much smaller than they appeared on TV. A more accurate description of these would be demitasse size (more like espresso size). They are very disproportional to the size of the teapot and looks off when set as a display. In addition to the small size, the cup itself does not sit properly in the saucer, given these were replicas of what was used on a ship the cup should fit in the indentation of the saucer without much movement, these cups slide around on the saucer - never would have been used on a ship! Sorry QVC, these are going back.
07-09-12
Nice Addition to Titanic Collection
The cups and saucers are very pretty in person. They are not the size of conventional tea cups. I think they look like hotel ware demitasse cups. They are very similar in size to a set of hotel demitasse cups and saucers from the early 1900's that I own. Although they are mainly for display, I plan to use them for fun once in awhile, for coffee. These should be rated five stars, but I took away a star for the size.
07-09-12
Small compared to the Tea pot
As with the cream and sugar set, these tea cups are child like. They look fine with the cream and sugar since both of them are small. However, next to the tea pot they look silly. I have these on display with the same shelf at the cream and sugar, and the rest of the collection on another shelf. I wish QVC would have made sure the tea pot, cream and sugar and tea cup would have all been the same size. Looks funny with part an adult size and the rest child size.
07-08-12
Nice and pretty tea cups
These tea cups are reminicent of original tea cups the Chinese first used, which were small handleless cups made of clay. It is unusual to see sets today that use the smaller size. Even antiques shops are void of such sets. I have one set I picked up at a rummage sale and the lady said the set was "NOT for children", and stressed it. Of course, tea cups have gotten bigger over time (as have many things including dinner plates, etc.). I'll be keeping mine and can't wait to host a tea party using them! The only reason I gave this four stars and not to recommend it for a friend is because while this set is fine for me-I study history, so I know about the tea cup size-they aren't ideal for everyone.
07-04-12
tea party!
The tea cups would be ideal for a six year old's tea party! The dinner ware, and teapot are adult size. The cups look foolish. What were they thinking?
06-30-12
Simply Gorgeous
I read the other reviews and I was stunned. WHO would USE these??? As a lifelong Titanic collector my opinion is, it's a memento, a remembrance. I have all of these objects in a glass case with lights shining on them. I think they are all gorgeous. My only complaint is I wish there were more of them.
06-30-12
Not What I Expected
The Teapot is nice...but the sugar & creamer and the teacups...way to small.. it looks like a espresso set.... I am sending it all back...Very disappointed,,,I waited so long for these and now I must spend on S/H....again...Not a good thing...
06-29-12
Love them!
My husband bought these for me as a surprise. The blue color of them looks so much better in person! As the prior poster said, they are on the small side but however... as I imagine a first class tea set would probably be on the small side. The US tends to have disproportional portion sizes. Tea cups were meant to be sipped in social settings where a host was more than willing to be filling these little cups as needed. Typically European tea cups were only 4-6 oz. Those from other areas such as Japan, only 1 oz. Not disappointed at all!
06-28-12
Beautiful but tiny (almost child sized set)
I bought two sets of these, the creamer and sugar bowl and the teapot. I received the teapot first. It is not huge but not tiny either. However, the teacups couldn't possibly hold more than 1/2 cup. They are gorgeous to look at but they are useless as far as using them. I will keep them because they are on my buffet and I don't want to spend the money to return them.. I would buy the teapot but NOT the creamer,sugar bowl, or cups and saucer. They just are too small!
06-26-12