Titanic Handmade Glass Paper Weight with Authentic Titanic Coal
In Stock
Sold Out
We're sorry. This item is not available at this time.
Pre Order Possible .
Low Stock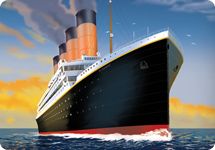 A Note About the Inspiration
Titanic consumed one pound of coal for every foot traveled; therefore, a sixty-pound lump could move the ship about 60 feet. Some passengers hadn't intended to travel by ship, but were transferred due to a coal strike. With coal in low supply, the ship owners pooled their resources and provided coal for some ships. The coal in this paperweight was recovered from the debris field.
Description
Created at the Kitras Art Glass Studio in Fergus, Ontario, Canada, every one of these glass paper weights is individually poured into a custom mold with the image of the Titanic fired onto the glass. What makes each paper weight so unique is that a piece of coal from the Titanic is placed and sealed inside the glass. The coal, which was excavated from the ocean, remains the only authentic artifact recovered from the wreck site that's available for purchase. From the Titanic Collection.
Measures 4-1/2"W x 4-3/4"H
Manufacturer's Certificate of Authenticity
Made in Canada
Reviews & Community QA
Titanic Handmade Glass Paper Weight with Authentic Titanic Coal
34
34
Not all I'd hoped for
This is such a neat idea, but the glass they made it from looks so cheap that it isn't elegant at all. I was going to give it as a gift to a big Titanic fan but changed my mind after seeing it.
07-16-12
3 times a charm?
I purchased this for my grandsons birthday. As soon as he opened it he was thrilled, until the charcoal fell out. I promised I would return it and get him another one. When I received the replacement, I decided to open it first. The back was off and the coal was loose in the packing. If this were just for me, I would not reorder this, but my grandson loves everything about the Titanic, so I will return it and try again. Also, the coal could have been a little bigger. I hope 3 times is a charm!!
07-08-12
nice piece of history
Bought this as a birthday gift for my daughter-in-law along with the boarding pass coasters. When I opened the box the plug was out of the back and had to search box for the coal! I know she will love it, I only wish it had been constructed better... The ship has to be off center due to the curvature of the glass...
07-03-12
A wonderful piece of HISTORY
I have been captivated with the Titanic for many, many years now and for me to be able to own even a tiny piece of it's history is beyond belief. I have placed this Titanic Glass Paper Weight w/Titanic Coal in a place of HONOR on a shelf in a special cupboard where we keep all our historical articules of interest for our grandchildren.
06-04-12
cheap looking
The decal is cheap looking it should have been painted on, or enclosed in the glass. I had to tape the plug on the back to keep the piece of coal from coming out. It's a neat idea, but it could have been better constructed. I waited too long to return it, so I'm stuck with it.
06-04-12
Nice piece of history, but...
I agree with others. The decal is a bit cheesy and it's also off center. They could have come up with something with more "wow". My piece of coal was of good size and the glass is very heavyweight so if kept on a shelf away from daily interaction, the painted decal shouldn't wear off. With that said, this was an "end of school year" gift for my son who is obsessed with the Titantic. For him, this was the coolest gift he's ever received. For that incredible reaction, this was well worth the investment and my tiny gripes are not relevant to the purpose of the gift giving!
05-31-12
Awesome
I took my mother when she was 85 to see the movie "Titantic". She was born in 1913. When it was over she turned to me and said "thank you so much for taking me to see this movie. I think of her when I look at the paper weight. A happy moment in her life. I think the Paper Weight is wonderful. Well done. The water at the bottom does have a watery look to it. The ship is certainly not a decal. It is in the glass. It sits up on my table so it is easy to see and read. The coal is amazing to me that this piece of coal that was at the bottom of the ocean 100 years ago is now on my table. It too is completely enclosed in the glass. My great, great uncle was one of the men who worked on the ship and did go down with it.
05-25-12
LOVE THIS PAPER WEIGHT
I WAS ON WAIT LIST FOR THIS AND IT WAS SURE WORTH THE WAIT. I ORDERED 2! ONE FOR ME AND ONE FOR MY FRIEND FOR HER BIRTHDAY! SHE ABSOLUTELY LOVED HERS TOO! WEIGHTY PIECE, NICE SIZE PIECE OF COAL, AND I LOVE THE DECAL OF THE BOAT. I DON'T SEE WHY ALL THE OTHER REVIEWERS HAD SUCH A PROBLEM WITH IT. WHAT A NICE PIECE OF HISTORY.
05-23-12
Disappointing
When I first took item out of box the paint on the front of the ship was all scratched...then the glass piece holding the cole in came right off...the cole fell on the floor which led to chipped pieces. So for the monies I was very disappointed.
05-19-12
Nice souvenir
Heavy paperweight or nicknack souvenir for the 100th anniversary, but I wasn't that happy with the picture of the titanic on it. I hoped it was nicer. If not careful, this will get scratched off eventually. It is neat, however, that there is an actual piece of coal in it.
05-18-12
A truly weighty Titanic Collectible!
This commemorative paper weight of the "Ship of Dreams" is just that for any Titanic enthusiast, or paper weight collector. Having seen the on-air presentation and read the online product reviews here, I was prepared for the piece of coal to be small. So I was stunned to see a hunk of coal in mine, so huge it nearly fills the entire bubble. The overall heft of the object is substantial too, and it has a nice wavy ripple glass appearance. The decal isn't bad, but I couldn't help wondering how much more special this piece would be if the image had been painted on instead. Imagine what the Fenton Glass company could've have done with this for instance. But the decal aside, I'm happy with my purchase of this item and would recommend it as a gift for anyone who's into the Titanic, ships, or likes art glass pieces.
05-18-12
Titanic Paperweight
I received my paperweight and am pleased with this product. However, I feel there should have been a different way of representing the ship, perhaps being etched in color. I'd gladly have paid a little more. I'd be afraid to clean this with anything but plain water with a mild detergent. The piece of coal is quite small from the other piece of coal I have acquired from another source supposedly also from the Titanic. I can see where the piece of glass holding the coal inside would be a concern. All in all, I think the paperweight is very nice.
05-18-12