Titanic .55 ct Oval Sapphire and Diamond Accent Sterling Ring
In Stock
Sold Out
We're sorry. This item is not available at this time.
Pre Order Possible .
Low Stock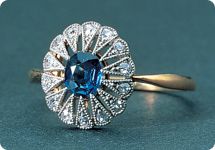 A Note About the Inspiration
This design is based on an 18K yellow gold and platinum dinner ring with a natural blue sapphire and multiple small diamonds set in pear-shaped petals. Although somewhat small, it may have graced the slim fingers of a young wife. One can imagine its sparkle commanded attention.
Watch a video of the original ring from Titanic: The Artifact Exhibition.
Description
Star of the sea. In this enchanting sterling silver ring, inspired by authentic artifacts recovered from the RMS Titanic, a prong-set, oval sapphire reminiscent of the deep blue hue of the ocean is surrounded by an openwork star design with a scalloped border. A single row of round, faceted white diamonds provides a delicate accent. From the Titanic Collection.
For more details on this ring's fit, please refer to the Ring Size Guide above.
Sterling silver
Total sapphire weight is approximately 0.55 carat
Diamonds are used as accents only
Prong-set, oval sapphire surrounded by openwork star design and scalloped border with single row of round, faceted white diamonds in rhodium plating
Collection is inspired by authentic artifacts from the RMS Titanic
Standard fit; sizes 6, 7, 8, 9, 10
Measures approximately 3/8"L x 3/4"W
Made in China
Reviews & Community QA
Titanic .55 ct Oval Sapphire and Diamond Accent Sterling Ring
44
44
Dainty and Sophisticated with much Sparkle
I cannot say enough about this little ring. It is sophisticated and dainty, and over the top beautiful. The sapphire is just the right colour in the ring I received. Not too dark. Have had many compliments, and I love wearing it. Usually wear a size 8 and had to go for a 9 since that was the only size left. It is a little big but a ring guard helps, and I just make sure it doesn't slide off my finger. I would be heart broken if I should loose it. It is small but has big sparkle.
07-12-13
Understated Beauty
I bought this many months ago, long before it was on clearance. I have not been disappointed & highly recommend it now that you can buy it at a great price. This looks like a lovely estate ring, the sapphire is so rich in color. I recently looked at a ring a major jewelry chain store, there was not one sapphire that could match the quality of my ring. It is hard to describe, but the ring does not literally stand out--by that I mean you won't accidently hit it against a door. The diamonds are small, but good quality. This is great for someone who likes a vintage looking ring without the high $$ associated.
05-25-13
More Than Pleasantly Surprised...
I had no idea what to expect with this, but I must say I am absolutely in love with this ring! Now, granted I just received it, so it could fall apart and be a mess in a few weeks, but we shall see! This ring is so elegant, classic, dainty...just beautiful. I love vintage style jewelry that has a lot of detail and is not ostentatious (yet still has quite an impact because of the craftsmanship and the sparkle). This is a small center stone with a diamond-like glimmer around it. I love how they cut corners by not putting diamonds throughout the 'halo'; just on the edges. You would never know it unless you looked very close. This ring could pass for something much more expensive, not only because it is a reasonable size, but also because the sapphire has dimension and the diamond (chips) really shine. Keep the silver polished and it could easily pass for white gold. If you're a "statement" gal who likes big stones and big settings, this piece is not for you. However, if you like understated, yet classic antique-y pieces, this is a beautiful choice to add to your collection.
05-22-13
Lovely And Elegant
This ring was worth the wait. Beautifully and delicately designed. I was expecting it to be small but it's even smaller than I thought, still it's really pretty with a lot of sparkle. The diamonds pick up the light nicely. The center stone it a little subdued but the overall effect is very nice and feminine. If you want a small elegant ring that goes with anything then this is it.
05-21-13
SUPERB Reproduction
I love the story of the Titanic, I love the movie, I love jewelry from the Edwardian era, I love sterling silver, & I love sapphires. All of my "loves" are combined in this ring! It is EXQUISITE! The only reason I gave it 4 stars instead of 5 is because the sapphire is quite dark. I do understand that that's what you get a lot of times with genuine sapphires, as opposed to lab-created ones. In my opinion, they did a remarkable job of capturing the true look of the original ring. The setting is lovely, petite, dainty, & feminine. If you're expecting something big & bold, that's NOT the case with this ring. I appreciate the detail on the underside. I love the fact that it's a very low profile, making it comfortable to wear & it won't catch on my clothes. The dark sapphire aside, I was very pleasantly surprised at just how much the diamonds in my ring sparkle! For the clearance price, it is worth it!
05-16-13
Beautiful! Love It!!
This ring is beautiful! I agree with other reviews it's small. I do wish it was a little larger but the setting perfect. It's a true blue color and the diamonds do sparkle a little. I would recommend this ring. You can barely tell that you are wearing it and the top is flat so it doesn't catch on things. I bought this on clearance and it was so worth it.
05-06-13
beautiful ring
I bought this ring because I've always been interested in the Titanic and things affiliated with the Titanic. It is an old fashioned setting. It's just beautiful on your finger. I think the Diamonds have a little bit of sparkle and the Sapphire is very nice although you can see striations in the stone.
05-05-13
Small but pretty
When I first saw this ring presented, I wanted it so badly but couldn't justify the price. When I saw that it was on clearance, I decided to take a chance. It is a lovely ring. The diamonds are very tiny but do sparkle. The sapphire is VERY dark---looks almost like an onyx (hence the 4 stars). The design reminds me of a ballarina style ring and very retro.
04-28-13
Elegant Affordable Luxury Love!
Amazing! I love it. Given to me as a gift from my Mom. Low bale makes it wearable and it has such a refined feel. The sapphire and diamonds are perfect. Beautiful design. I think it will look even better over time. Thanks Mom and QVC. This is a winner! I will treasure it.
04-26-13
Beautiful feminine ring
I just received this ring and it is beautiful. I thought it would be pretty when I saw it presented but it is even more lovely on the hand. This is a ring I will wear often. I highly recommend it to anyone.
04-22-13
almost exactly what i was looking for
i was recently in las vegas where we visited the titanic exhibit. as soon as i saw the original i was already thinking up ways of finding a ring like that...i fell in love instantly and needed to get my hands on that ring! they had one at the gift shop but it was only available in a size 9 and was $250. i did my research that night and found this ring. i was sold! i am usually a size 5 1/2. i ordered the 5 and it fit perfectly. my only complaint is that i wish it was gold, mostly because i am allergic to other metals and can't wear anything but gold earrings, because of that i like to match up my jewelry to my earrings and usually just buy gold jewelry, this is in fact my first silver piece of jewelry...but also because the original ring was gold. i would have had no problem paying some extra money for a this ring in gold. in fact if it became available on qvc i would order one even if i already have it in silver...i love this ring THAT much!!
03-29-13
Dynamite Comes in Small Packages!!
Absolutely love this ring!! It is the perfect choice for me - my son's birthstone (sapphire) and my husband's birthstone (diamond)! It is a smaller ring, but it has alot of impact! So glad I ordered this ring, it is truly gorgeous! Have received many compliments on it!
02-27-13